John Michael Higgins on 'Happily Divorced' and Improving with Elizabeth Banks in 'Pitch Perfect'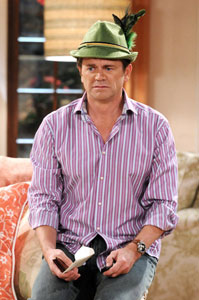 John Michael Higgins has appeared on dozens of televisions shows, from Frasier to Ally McBeal to Arrested Development, but now, he's finally in a series of his own, TV Land's Happily Divorced.
On the show, he stars alongside Fran Drescher as Drescher's character's gay ex-husband and he's thankful that the character he plays isn't a stereotype.  Though he has played gay characters before (perhaps most memorably as the shih tzu owner Scott in Best in Show), he points out that there's obviously no singular way to play a gay character.  He explains, "I don't believe there are a set of character traits to playing a gay character. It's like being asked to play a Catholic.  I've played gay characters that are over the top, but when you play a character that way those surface qualities wear thin, especially in a long haul.  With a character like this one, you have to go deeper and deeper. If you don't, the character will get flat for the audience and writers."
Portraying a multifaceted character that he can inhabit plays to Higgins' strengths, because even though it's been some years since Higgins worked with Christopher Guest for one of Guest's all-improvisation mockumentaries he seems to be at his best when he's working off-the-cuff.  Though he curiously says he dislikes improv, one recent opportunity he had to improvise was his role in Pitch Perfect alongside Elizabeth Banks.  The pair played unrestrained TV commentators, and as such they were encouraged to have a lot of fun.  He says, "We just sat in a booth and riffed. We may have worked one day. We just sat in a booth and they shot everything in one go through."
Happily Divorced airs on TV Land on Wednesday nights
via The Fresno Bee
http://www.dailyactor.com/wp-content/uploads/2015/10/Bridge-of-Spies-Tom-Hanks-Mark-Rylance.jpg
Tom Hanks on Working with Steven Spielberg and Mark Rylance in 'Bridge of Spies'
"Steven does this incredible thing when he casts you: He empowers you with the scene." - Tom Hanks on Steven Spielberg
http://www.dailyactor.com/actors-on-acting/tom-hanks-working-steven-spielberg-mark-rylance-bridge-of-spies/
http://www.dailyactor.com/wp-content/uploads/2015/09/Tom-Hardy-Legend.jpg
Tom Hardy on Playing Twins in 'Legend,' Being Seen as a Tough Guy, and Working with Philip Seymour Hoffman
Hardy speaks about why he challenged himself to play twins, what he thinks of his tough guy image, and working with the late Philip Seymour Hoffman, who directed him on stage.
http://www.dailyactor.com/actors-on-acting/tom-hardy-playing-twins-legend/
http://www.dailyactor.com/wp-content/uploads/2015/09/Emily-Blunt-Sicario.jpg
Emily Blunt on Action Movie Roles: "I think it's important to show different layers. Nobody is just tough, nobody is just vulnerable"
Emily Blunt touches upon why she has gotten into roles with an action bent and why she thinks there aren't more action movies with female leads
http://www.dailyactor.com/actors-on-acting/emily-blunt-sicario-acting-layers/
http://www.dailyactor.com/wp-content/uploads/2015/09/Jorja-Fox-CSI.jpg
Jorja Fox on Life After 'CSI': "I've always enjoyed not knowing exactly where the road leads"
"I think you kind of have to embrace the unknown if you're an actor." - Jorja Fox
http://www.dailyactor.com/actors-on-acting/jorja-fox-life-after-csi/
http://www.dailyactor.com/wp-content/uploads/2015/09/John-Turturro-Mia-Madre.jpg
John Turturro on the Life of an Actor: "It's a rough business. I wouldn't want my kids to do it"
"I am usually very well prepared. If you're a surgeon, you've got to know what you're going to take out today." - John Turturro
http://www.dailyactor.com/actors-on-acting/john-turturro-life-of-an-actor/