John Michael Higgins on 'Happily Divorced' and Improving with Elizabeth Banks in 'Pitch Perfect'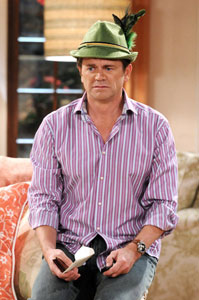 John Michael Higgins has appeared on dozens of televisions shows, from Frasier to Ally McBeal to Arrested Development, but now, he's finally in a series of his own, TV Land's Happily Divorced.
On the show, he stars alongside Fran Drescher as Drescher's character's gay ex-husband and he's thankful that the character he plays isn't a stereotype.  Though he has played gay characters before (perhaps most memorably as the shih tzu owner Scott in Best in Show), he points out that there's obviously no singular way to play a gay character.  He explains, "I don't believe there are a set of character traits to playing a gay character. It's like being asked to play a Catholic.  I've played gay characters that are over the top, but when you play a character that way those surface qualities wear thin, especially in a long haul.  With a character like this one, you have to go deeper and deeper. If you don't, the character will get flat for the audience and writers."
Portraying a multifaceted character that he can inhabit plays to Higgins' strengths, because even though it's been some years since Higgins worked with Christopher Guest for one of Guest's all-improvisation mockumentaries he seems to be at his best when he's working off-the-cuff.  Though he curiously says he dislikes improv, one recent opportunity he had to improvise was his role in Pitch Perfect alongside Elizabeth Banks.  The pair played unrestrained TV commentators, and as such they were encouraged to have a lot of fun.  He says, "We just sat in a booth and riffed. We may have worked one day. We just sat in a booth and they shot everything in one go through."
Happily Divorced airs on TV Land on Wednesday nights
via The Fresno Bee
http://www.dailyactor.com/wp-content/uploads/2016/04/Christine-Baranski-The-Good-Wife.jpg
Christine Baranski on the End of 'The Good Wife' and Going Back to Theatre
The final episode of The Good Wife airs on May 8, and it's been several weeks since series star Christine Baranski shot the final episode with her co-stars. She spoke to The Hollywood Reporter about the end of the series she has spent the last seven years working on and what she plans to do […]
http://www.dailyactor.com/tv/christine-baranski-the-good-wife-theatre/
http://www.dailyactor.com/wp-content/uploads/2016/04/jake-gyllenhaal-demolition.jpg
Jake Gyllenhaal on 'Demolition', Working with Chris Cooper and Directors Who Want Nothing to Do With Him
"I think storytelling is the most important part of movie-making over performance." - Jake Gyllenhaal
http://www.dailyactor.com/actors-on-acting/jake-gyllenhaal-demolition-chris-cooper/
http://www.dailyactor.com/wp-content/uploads/2016/04/don-cheadle-miles-davis.jpg
Don Cheadle: "Be scared. Be on the edge of your creativity"
"Be willing to fall flat on your face and be in an unknown place. If you're doing that, you're probably growing" - Don Cheadle
http://www.dailyactor.com/actors-on-acting/don-cheadle-scared-creativity/
http://www.dailyactor.com/wp-content/uploads/2016/04/jessie-eisenberg-louder-than-bombs.jpg
What is Jesse Eisenberg's "Most Fulfilling Acting Experience"?
"My absolute favorite thing to do is to write a play and then, after I finish, do the first reading of it with my friends around the table"- Jesse Eisenberg
http://www.dailyactor.com/actors-on-acting/jesse-eisenberg-most-fulfilling-acting-experience/
http://www.dailyactor.com/wp-content/uploads/2016/03/Lupita-Nyong'o-eclipsed.jpg
Lupita Nyong'o on Her Broadway Debut: "When we get up on that stage, you do not know what will happen"
"I think theater offers a chance to flex muscles that then only help to sustain cinematic work." - Lupita Nyong'o
http://www.dailyactor.com/actors-on-acting/lupita-nyongo-eclipsed-broadway/