Jessica Paré Talks About Getting 'Mad Men' Role and Being Certain She'd Be Written Out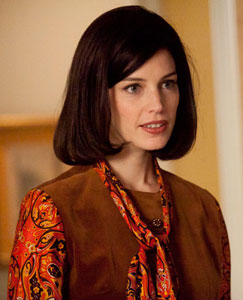 Since Don Draper goes through women like he goes through Lucky Strokes, Mad Men star Jessica Paré didn't expect to be on AMC's hit period drama for long (she had but one line in her first episode), but that didn't temper her excitement when she got the part of secretary Meagan in 2010.
"I remember I was so excited when I got it and they were like, 'Are you able to come to the table read tomorrow?' I was like, 'Yes! Of course! I can come to the table read! I have nothing else to do with my life! This is it,'" the 31-year-old actress recently told New York Magazine. "I waited up for the script to come that night and every hour passed excruciatingly slowly. I finally got the script and I had one line and it was, 'Yes, Joan.' You can picture me sitting there, like, quietly looking at, you know, Jon Hamm and John Slattery and Christina Hendricks and January Jones. I was freaking out."
Even those who work on the show, which centers around a fictional 1960s advertising agency, were sure Paré's clock was ticking the moment she walked on set. "When I had my first kissing scene with Don, the costumers were literally like, 'Well, it's been great working with you, you're on your way out. You know that, right?' she recalled. "When I got the part, I thought it was going to be maybe three, maybe five episodes; I didn't know what it was going to look like, but I was sure happy to have a job."
Paré also opened up about her early career, before she was instantly recognizable to TV fans as Hamm's Mad Men squeeze. "My parents made me finish high school before I started acting, and I did like two weeks of fine arts college before I was like, 'This sucks. I'm going!,'" remembered Paré, also touching on her brief nude appearance in 2010 comedy Hot Tub Time Machine. "My body is not a source of shame for me. I think tits can be funny."
http://www.dailyactor.com/wp-content/uploads/2016/06/jeff-bridges-hell-or-high-water.jpg
Jeff Bridges on Creating a Character, 'Hell or High Water' and Playing The Dude
"I use elements of myself—I see my parallels with a character—and find similar things in my own personality." - Jeff Bridges on Creating a Character
http://www.dailyactor.com/actors-on-acting/jeff-bridges-creating-a-character/
http://www.dailyactor.com/wp-content/uploads/2016/07/benjamin-bratt-actor.jpg
Benjamin Bratt: "For as limiting as the opportunities are for actors and actresses of color I've been very blessed"
"...it's dangerous to keep going down the same artistic path." - Benjamin Bratt
http://www.dailyactor.com/actors-on-acting/benjamin-bratt-ive-been-very-blessed/
http://www.dailyactor.com/wp-content/uploads/2016/07/watch-keegan-michael-key-explain.jpg
Watch: Keegan-Michael Key Explains Why "Improv actors are at war together"
Check out Key's points on why it's so important for improv actors to have each others' backs in the clip above.
http://www.dailyactor.com/actors-on-acting/keegan-michael-key-improv-actors-at-war-together/
http://www.dailyactor.com/wp-content/uploads/2016/07/norman-reedus-actor.jpg
Norman Reedus on Acting: "If it's something you really want, you have to roll with the rejection"
Norman Reedus is a fan-favorite star on The Walking Dead and was in the cult favorite film The Boondock Saints. However, in the dozen years between those two gigs Reedus had experienced ups and downs in his career and in many cases he was cast in very small roles in big movies or lead roles […]
http://www.dailyactor.com/actors-on-acting/norman-reedus-acting-rejection/
http://www.dailyactor.com/wp-content/uploads/2016/07/frank-grillo.jpg
Frank Grillo on Being Typecast: "I welcome it"
"I hear actors pooh-pooh the idea... people might see them as a certain thing. I welcome it" - Frank Grillo on Typecasting
http://www.dailyactor.com/actors-on-acting/frank-grillo-on-typecasting/