Jessica Paré Talks About Getting 'Mad Men' Role and Being Certain She'd Be Written Out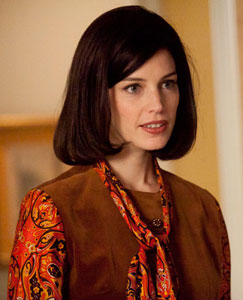 Since Don Draper goes through women like he goes through Lucky Strokes, Mad Men star Jessica Paré didn't expect to be on AMC's hit period drama for long (she had but one line in her first episode), but that didn't temper her excitement when she got the part of secretary Meagan in 2010.
"I remember I was so excited when I got it and they were like, 'Are you able to come to the table read tomorrow?' I was like, 'Yes! Of course! I can come to the table read! I have nothing else to do with my life! This is it,'" the 31-year-old actress recently told New York Magazine. "I waited up for the script to come that night and every hour passed excruciatingly slowly. I finally got the script and I had one line and it was, 'Yes, Joan.' You can picture me sitting there, like, quietly looking at, you know, Jon Hamm and John Slattery and Christina Hendricks and January Jones. I was freaking out."
Even those who work on the show, which centers around a fictional 1960s advertising agency, were sure Paré's clock was ticking the moment she walked on set. "When I had my first kissing scene with Don, the costumers were literally like, 'Well, it's been great working with you, you're on your way out. You know that, right?' she recalled. "When I got the part, I thought it was going to be maybe three, maybe five episodes; I didn't know what it was going to look like, but I was sure happy to have a job."
Paré also opened up about her early career, before she was instantly recognizable to TV fans as Hamm's Mad Men squeeze. "My parents made me finish high school before I started acting, and I did like two weeks of fine arts college before I was like, 'This sucks. I'm going!,'" remembered Paré, also touching on her brief nude appearance in 2010 comedy Hot Tub Time Machine. "My body is not a source of shame for me. I think tits can be funny."
http://www.dailyactor.com/wp-content/uploads/2016/08/imperium_daniele_radcliffe.jpg
Daniel Radcliffe on Playing a Neo-Nazi in 'Imperium': "It's still just horrible to say some of this stuff"
Radcliffe reveals how he played such a layered character and what it felt like to say his character's hate-filled dialogue.
http://www.dailyactor.com/actors-on-acting/daniel-radcliffe-playing-a-neo-nazi-imperium/
http://www.dailyactor.com/wp-content/uploads/2016/08/John-Cho-Star-Trek-Beyond.jpg
How John Cho Took A Stand for Diversity Early in His Career
"When one does speak one's mind, one might be surprised at how receptive people are." - Actor John Cho
http://www.dailyactor.com/actors-on-acting/john-cho-took-a-stand-for-diversity/
http://www.dailyactor.com/wp-content/uploads/2016/08/simon-helberg-florence-foster-jenkins.jpg
Simon Helberg on His 'Florence Foster Jenkins' Role: "I'm an actor and I want to stretch different muscles"
Helberg spoke about portraying his character in the film and whether or not he feels typecast by his Big Bang Theory role.
http://www.dailyactor.com/actors-on-acting/simon-helberg-florence-foster-jenkins-role/
http://www.dailyactor.com/wp-content/uploads/2016/08/Will-Chase-Something-Rotten.jpg
The Role That Got Away: Will Chase on Returning to 'Something Rotten!'
"I know that I am a poor man's fill-in-the-blank. And I know that there are poor man's Will Chases out there. That's just the nature of the business" - Will Chase
http://www.dailyactor.com/actors-on-acting/will-chase-something-rotten-role-that-got-away/
http://www.dailyactor.com/wp-content/uploads/2016/08/Julia-Stiles-Jason-Bourne.jpg
Julia Stiles on the Jason Bourne Series and Growing as an Actress: "There's always room for improvement"
"I like a director that encourages me to be playful. I don't really like being restricted or controlled by a director." - Julia Stiles
http://www.dailyactor.com/actors-on-acting/julia-stiles-growing-as-an-actress/