Colombian Soap Opera Actor Beaten and Robbed When He is Mistaken for His Tough TV Character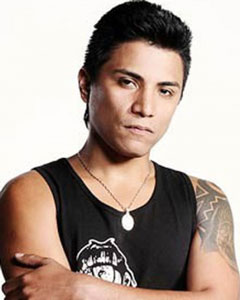 Sometimes it's hard to separate an actor from his or her characters.  For example, many are still surprised when they hear Hugh Laurie speak in his natural English accent because they heard him speak with an American accent for eight seasons on House.  That's not so bad — at least they don't expect him to answer medical questions, right?  Even in that case hopefully all he would have to say is the old "I'm not a doctor but I play one on TV." 
However, the situation could be much, much worse, like in the case of Colombian actor Mauricio Bastidas.  Bastidas played a villainous character on the soap opera Tres Milagros (Three Miracles). 
In the early morning of May 12 he was walking with his friend in the city of Bogota when four men nearly beat him to death while they reportedly screamed, "If you're so tough like you are on the TV, then you can defend yourself" as they did it.  After the beating they also robbed him. Meanwhile, Bastidas' friend only suffered minor injuries… perhaps because he didn't play a tough guy on television.
Bastidas was rushed to the hospital, where he had to be operated on because of his injuries.  Thankfully, he is expected to make a full recovery after several more operations.  Only one of the four men has been arrested, and he blamed the attack on drinking too much. 
http://www.dailyactor.com/wp-content/uploads/2015/10/Bridge-of-Spies-Tom-Hanks-Mark-Rylance.jpg
Tom Hanks on Working with Steven Spielberg and Mark Rylance in 'Bridge of Spies'
"Steven does this incredible thing when he casts you: He empowers you with the scene." - Tom Hanks on Steven Spielberg
http://www.dailyactor.com/actors-on-acting/tom-hanks-working-steven-spielberg-mark-rylance-bridge-of-spies/
http://www.dailyactor.com/wp-content/uploads/2015/09/Tom-Hardy-Legend.jpg
Tom Hardy on Playing Twins in 'Legend,' Being Seen as a Tough Guy, and Working with Philip Seymour Hoffman
Hardy speaks about why he challenged himself to play twins, what he thinks of his tough guy image, and working with the late Philip Seymour Hoffman, who directed him on stage.
http://www.dailyactor.com/actors-on-acting/tom-hardy-playing-twins-legend/
http://www.dailyactor.com/wp-content/uploads/2015/09/Emily-Blunt-Sicario.jpg
Emily Blunt on Action Movie Roles: "I think it's important to show different layers. Nobody is just tough, nobody is just vulnerable"
Emily Blunt touches upon why she has gotten into roles with an action bent and why she thinks there aren't more action movies with female leads
http://www.dailyactor.com/actors-on-acting/emily-blunt-sicario-acting-layers/
http://www.dailyactor.com/wp-content/uploads/2015/09/Jorja-Fox-CSI.jpg
Jorja Fox on Life After 'CSI': "I've always enjoyed not knowing exactly where the road leads"
"I think you kind of have to embrace the unknown if you're an actor." - Jorja Fox
http://www.dailyactor.com/actors-on-acting/jorja-fox-life-after-csi/
http://www.dailyactor.com/wp-content/uploads/2015/09/John-Turturro-Mia-Madre.jpg
John Turturro on the Life of an Actor: "It's a rough business. I wouldn't want my kids to do it"
"I am usually very well prepared. If you're a surgeon, you've got to know what you're going to take out today." - John Turturro
http://www.dailyactor.com/actors-on-acting/john-turturro-life-of-an-actor/