Clare Bowen on Getting Cast in 'Nashville' and Having Her Boyfriend Dump Her After She Got the Role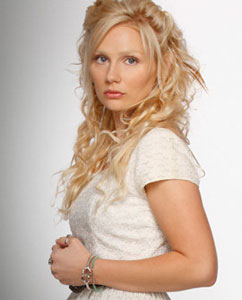 Australian actress Clare Bowen was starring in the Australian production of Spring Awakening when one of the show's producers — none other than Cate Blanchett — told her that she really needed to bring her talent to America.  So Bowen did, and now the twenty three year-old stars as Scarlett O'Connor on ABC's Nashville.  While she managed to get selected for the role without much difficulty, she tells The New York Post that her personal life wasn't so lucky.
Despite being late for her audition, Bowen's performance won the crew over.  She explains, "I was two hours late for the casting because of the rain. I called and said, 'I think I have to cancel. I don't want to keep them waiting.' And they said, 'They're waiting for you.' So I went. I looked like a drowned rat. I was soaking wet. I sang and [the casting director] said, 'I gotta get my camera.'"
The next morning she met with the show's creator Callie Khouri and co-executive producer R.J. Cutler.  She recalls, "I guess it could have been intimidating but they were really nice. So we sat there and talked for an hour and a half, making friends. And they said, 'We need to see you tonight at a recording studio.' I was actually going out on for a test on another project. I was about to sign the waiver that says you can't go out on anything else if you go out for this test. I was at the desk with the pen in my hand when the phone rang and my manager said, 'Don't you sign anything. You have to go [to] the studio right now, go.' The next morning they told me I had a job. And my whole life changed."
However, things didn't work out so smoothly in Bowen's personal life — her boyfriend dumped her.  She reveals, "I got told to fuck myself because I got Nashville. Someone that I loved. And I'm sure he's happy somewhere."  Nonetheless, Bowen says she has funneled that experience into her character, adding, "So Scarlett and I are discovering ourselves at the same time."
At the very least, Bowen prefers working in Nashville to the busy life of living in Los Angeles.  She explains, "It's nice to be hiding in Nashville.  There's nothing hard about this job except maybe putting in eye drops in the morning. You can't bat red eyes at people."
http://www.dailyactor.com/wp-content/uploads/2016/04/julia-louis-dreyfus-veep.jpg
Julia Louis-Dreyfus: "Opportunity for women in television has increased. It's because the landscape has widened"
"I did not come out of SNL as any kind of name. I didn't do anything particularly great when I was there. I didn't. It's fine. But I learned a tremendous amount."
http://www.dailyactor.com/tv/julia-louis-dreyfus/
http://www.dailyactor.com/wp-content/uploads/2016/04/Tituss-Burgess-Unbreakable-Kimmy-Schmidt.jpg
Tituss Burgess on How He Landed His 'Unbreakable Kimmy Schmidt' Role
Burgess reveals how his role on 30 Rock led to 'Kimmy Schmidt' and whether or not he'd consider returning to Broadway.
http://www.dailyactor.com/actors-on-acting/tituss-burgess-unbreakable-kimmy-schmidt-role/
http://www.dailyactor.com/wp-content/uploads/2016/04/Christine-Baranski-The-Good-Wife.jpg
Christine Baranski on the End of 'The Good Wife' and Going Back to Theatre
The final episode of The Good Wife airs on May 8, and it's been several weeks since series star Christine Baranski shot the final episode with her co-stars. She spoke to The Hollywood Reporter about the end of the series she has spent the last seven years working on and what she plans to do […]
http://www.dailyactor.com/actors-on-acting/christine-baranski-the-good-wife-theatre/
http://www.dailyactor.com/wp-content/uploads/2016/04/jake-gyllenhaal-demolition.jpg
Jake Gyllenhaal on 'Demolition', Working with Chris Cooper and Directors Who Want Nothing to Do With Him
"I think storytelling is the most important part of movie-making over performance." - Jake Gyllenhaal
http://www.dailyactor.com/actors-on-acting/jake-gyllenhaal-demolition-chris-cooper/
http://www.dailyactor.com/wp-content/uploads/2016/04/don-cheadle-miles-davis.jpg
Don Cheadle: "Be scared. Be on the edge of your creativity"
"Be willing to fall flat on your face and be in an unknown place. If you're doing that, you're probably growing" - Don Cheadle
http://www.dailyactor.com/actors-on-acting/don-cheadle-scared-creativity/