Bobby Moynihan Recalls His Audition(s) for 'Saturday Night Live'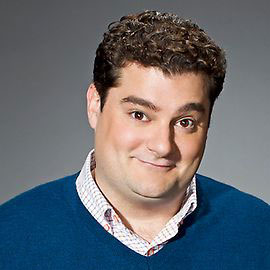 For comedians, the pinnacle of success is a stint on Saturday Night Live. That was exactly Bobby Moynihan's goal for years while he lived in New York tending bar at Pizzeria Uno and honing his improv skills at Upright Citizens Brigade.
It didn't come easy, but after years of working hard in anonymity, the producers of the longtime NBC show finally invited him to audition.
The 36-year-old comedian revealed, "I was absolutely terrified, but elated, because that's all that I've ever wanted to do."
Even though Moynihan was finally stepping into his dream scenario, it was a long road to get there. The actor had a four-hour wait in the dressing room before his audition and a nine-hour wait outside of SNL creator and executive producer Lorne Michael's office.
He didn't get the job right then and there. Moynihan had to wait out the 2007 writers' strike and then learned in early 2008 that the job wasn't his.
He shared,"They told me that [then-cast member] Maya Rudolph had had a baby during the break, so they had to hire a woman instead [as a replacement]. I was devastated."
He eventually auditioned again.
"When it was all over," he said, "I was more relieved, because it had been like a 14-month process."
Moynihan waited again. In fact it was such a long time, he moved back home and took an apartment across the street from his mother's office. He finally got a call from Michaels while he was sleeping.
The big day also involved an interesting wardrobe choice.
"I ran across the street [to his mother's office] in boxers and a T-shirt — didn't even think to put pants on — and ran across the street to my mom and told her that my life's dream had come true," said the NBC star.
That's an incredible way to find out your dreams have come true.
Via NPR's All Things Considered
http://www.dailyactor.com/wp-content/uploads/2015/10/Bridge-of-Spies-Tom-Hanks-Mark-Rylance.jpg
Tom Hanks on Working with Steven Spielberg and Mark Rylance in 'Bridge of Spies'
"Steven does this incredible thing when he casts you: He empowers you with the scene." - Tom Hanks on Steven Spielberg
http://www.dailyactor.com/actors-on-acting/tom-hanks-working-steven-spielberg-mark-rylance-bridge-of-spies/
http://www.dailyactor.com/wp-content/uploads/2015/09/Tom-Hardy-Legend.jpg
Tom Hardy on Playing Twins in 'Legend,' Being Seen as a Tough Guy, and Working with Philip Seymour Hoffman
Hardy speaks about why he challenged himself to play twins, what he thinks of his tough guy image, and working with the late Philip Seymour Hoffman, who directed him on stage.
http://www.dailyactor.com/actors-on-acting/tom-hardy-playing-twins-legend/
http://www.dailyactor.com/wp-content/uploads/2015/09/Emily-Blunt-Sicario.jpg
Emily Blunt on Action Movie Roles: "I think it's important to show different layers. Nobody is just tough, nobody is just vulnerable"
Emily Blunt touches upon why she has gotten into roles with an action bent and why she thinks there aren't more action movies with female leads
http://www.dailyactor.com/actors-on-acting/emily-blunt-sicario-acting-layers/
http://www.dailyactor.com/wp-content/uploads/2015/09/Jorja-Fox-CSI.jpg
Jorja Fox on Life After 'CSI': "I've always enjoyed not knowing exactly where the road leads"
"I think you kind of have to embrace the unknown if you're an actor." - Jorja Fox
http://www.dailyactor.com/actors-on-acting/jorja-fox-life-after-csi/
http://www.dailyactor.com/wp-content/uploads/2015/09/John-Turturro-Mia-Madre.jpg
John Turturro on the Life of an Actor: "It's a rough business. I wouldn't want my kids to do it"
"I am usually very well prepared. If you're a surgeon, you've got to know what you're going to take out today." - John Turturro
http://www.dailyactor.com/actors-on-acting/john-turturro-life-of-an-actor/