Bobby Moynihan Recalls His Audition(s) for 'Saturday Night Live'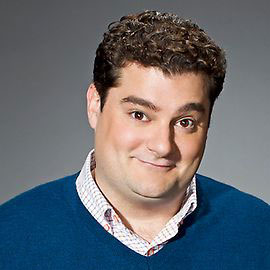 For comedians, the pinnacle of success is a stint on Saturday Night Live. That was exactly Bobby Moynihan's goal for years while he lived in New York tending bar at Pizzeria Uno and honing his improv skills at Upright Citizens Brigade.
It didn't come easy, but after years of working hard in anonymity, the producers of the longtime NBC show finally invited him to audition.
The 36-year-old comedian revealed, "I was absolutely terrified, but elated, because that's all that I've ever wanted to do."
Even though Moynihan was finally stepping into his dream scenario, it was a long road to get there. The actor had a four-hour wait in the dressing room before his audition and a nine-hour wait outside of SNL creator and executive producer Lorne Michael's office.
He didn't get the job right then and there. Moynihan had to wait out the 2007 writers' strike and then learned in early 2008 that the job wasn't his.
He shared,"They told me that [then-cast member] Maya Rudolph had had a baby during the break, so they had to hire a woman instead [as a replacement]. I was devastated."
He eventually auditioned again.
"When it was all over," he said, "I was more relieved, because it had been like a 14-month process."
Moynihan waited again. In fact it was such a long time, he moved back home and took an apartment across the street from his mother's office. He finally got a call from Michaels while he was sleeping.
The big day also involved an interesting wardrobe choice.
"I ran across the street [to his mother's office] in boxers and a T-shirt — didn't even think to put pants on — and ran across the street to my mom and told her that my life's dream had come true," said the NBC star.
That's an incredible way to find out your dreams have come true.
http://www.dailyactor.com/wp-content/uploads/2016/06/jeff-bridges-hell-or-high-water.jpg
Jeff Bridges on Creating a Character, 'Hell or High Water' and Playing The Dude
"I use elements of myself—I see my parallels with a character—and find similar things in my own personality." - Jeff Bridges on Creating a Character
http://www.dailyactor.com/actors-on-acting/jeff-bridges-creating-a-character/
http://www.dailyactor.com/wp-content/uploads/2016/07/benjamin-bratt-actor.jpg
Benjamin Bratt: "For as limiting as the opportunities are for actors and actresses of color I've been very blessed"
"...it's dangerous to keep going down the same artistic path." - Benjamin Bratt
http://www.dailyactor.com/actors-on-acting/benjamin-bratt-ive-been-very-blessed/
http://www.dailyactor.com/wp-content/uploads/2016/07/watch-keegan-michael-key-explain.jpg
Watch: Keegan-Michael Key Explains Why "Improv actors are at war together"
Check out Key's points on why it's so important for improv actors to have each others' backs in the clip above.
http://www.dailyactor.com/actors-on-acting/keegan-michael-key-improv-actors-at-war-together/
http://www.dailyactor.com/wp-content/uploads/2016/07/norman-reedus-actor.jpg
Norman Reedus on Acting: "If it's something you really want, you have to roll with the rejection"
Norman Reedus is a fan-favorite star on The Walking Dead and was in the cult favorite film The Boondock Saints. However, in the dozen years between those two gigs Reedus had experienced ups and downs in his career and in many cases he was cast in very small roles in big movies or lead roles […]
http://www.dailyactor.com/actors-on-acting/norman-reedus-acting-rejection/
http://www.dailyactor.com/wp-content/uploads/2016/07/frank-grillo.jpg
Frank Grillo on Being Typecast: "I welcome it"
"I hear actors pooh-pooh the idea... people might see them as a certain thing. I welcome it" - Frank Grillo on Typecasting
http://www.dailyactor.com/actors-on-acting/frank-grillo-on-typecasting/