Ashton Kutcher Tops Forbes List of Highest Paid Television Actors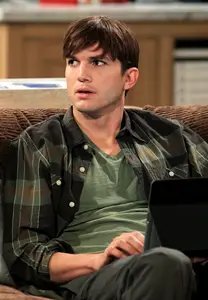 Forbes has released its annual list of highest paid television actors, and topping this year's list again is a star from ABC's Two and a Half Men.  Of course, this time it isn't Charlie Sheen… it's his replacement, Ashton Kutcher.
Kutcher tops the list at earning $24 million for his role on Two and a Half Men.  Ratings for the show have remained fairly consistent with the ratings for the Charlie Sheen years, making Kutcher's replacement of Sheen one of the few times a major character change on a sitcom hasn't led to a ratings drop.  Still, it's a huge drop from Sheen's paycheck last year — Sheen topped the list in 2011 with $40 million.  However, Sheen didn't make the list this year despite starring in a new show, FX's Anger Management.
Curiously, Kutcher earns a significant amount more than those who follow him on the list, with TV veterans Hugh Laurie and Ray Romano coming in tied for #2 with $18 million each.  However, Laurie's House ended last season, and Romano's Men of a Certain Age was canceled at the end of season.  Alec Baldwin follows at $16 million (his show, 30 Rock, is in its final season), NCIS' Mark Harmon at $15 million, Tim Allen at $14 million, Kutcher's co-star Jon Cryer at $13 million, Grey's Anatomy star Patrick Dempsey at $12 million, The Big Bang Theory's Jim Parsons and Johnny Galecki and How I Met Your Mother's Jason Segel at $8 million each.
The rankings are based on estimated earnings from May 2011  and May 2012 before deductions of agent and management fees or other expenses. 
http://www.dailyactor.com/wp-content/uploads/2016/05/Chris-Evans-Captain-America.jpg
Chris Evans on the Challenges of Being Captain America Outside of Acting
"It's part of the job, I've got to sell this thing. But it's just a gross feeling. It makes me insecure."
http://www.dailyactor.com/film/chris-evans-challenges-of-being-captain-america/
http://www.dailyactor.com/wp-content/uploads/2016/04/julia-louis-dreyfus-veep.jpg
Julia Louis-Dreyfus: "Opportunity for women in television has increased. It's because the landscape has widened"
"I did not come out of SNL as any kind of name. I didn't do anything particularly great when I was there. I didn't. It's fine. But I learned a tremendous amount."
http://www.dailyactor.com/tv/julia-louis-dreyfus/
http://www.dailyactor.com/wp-content/uploads/2016/04/Tituss-Burgess-Unbreakable-Kimmy-Schmidt.jpg
Tituss Burgess on How He Landed His 'Unbreakable Kimmy Schmidt' Role
Burgess reveals how his role on 30 Rock led to 'Kimmy Schmidt' and whether or not he'd consider returning to Broadway.
http://www.dailyactor.com/tv/tituss-burgess-unbreakable-kimmy-schmidt-role/
http://www.dailyactor.com/wp-content/uploads/2016/04/Christine-Baranski-The-Good-Wife.jpg
Christine Baranski on the End of 'The Good Wife' and Going Back to Theatre
The final episode of The Good Wife airs on May 8, and it's been several weeks since series star Christine Baranski shot the final episode with her co-stars. She spoke to The Hollywood Reporter about the end of the series she has spent the last seven years working on and what she plans to do […]
http://www.dailyactor.com/tv/christine-baranski-the-good-wife-theatre/
http://www.dailyactor.com/wp-content/uploads/2016/04/jake-gyllenhaal-demolition.jpg
Jake Gyllenhaal on 'Demolition', Working with Chris Cooper and Directors Who Want Nothing to Do With Him
"I think storytelling is the most important part of movie-making over performance." - Jake Gyllenhaal
http://www.dailyactor.com/film/jake-gyllenhaal-demolition-chris-cooper/