'Girls' Alex Karpovsky on Making Realistic Acting Choices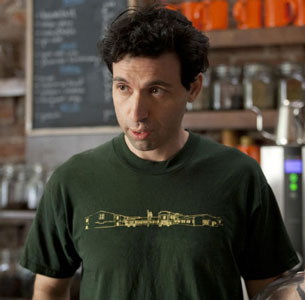 It would be easy to assume that men don't get as many juicy storylines as the women on HBO's Girls.  But one only has to tune in to Alex Karpovsky's character Ray to see that there is plenty of action to go around.
Ray first appeared in season one of Lena Dunham's hit series as a friend of Charlie's (Christopher Abbott) and has since joined the inner circle by dating Shoshannah (Zosia Mamet), the over-the-top prissy youngster.  In last week's episode, Ray revealed that he was living out of his car.
Karpovksy was able to make the scene realistically painful by drawing on some of his own experiences.  "When they do a lot of these scenes, I try to—without sounding too theoretical and dramatic about all this stuff—I do try to attach myself to specific and tangible notions rather than sort of overarching motivational backstory stuff," the actor said in an interview with The Huffington Post.  "That wasn't phrased very well, but that's sort of where I come from usually."
In fact, despite the show's success, Karpovsky still hasn't moved onto a mature living situation.
"In my case, I've never had my own apartment in my life.  I've never signed a lease in my life," the actor admitted.  "I want to, but I have commitment problems, and also I don't have credit, which is worse than having bad credit.  I've never had a credit card: I keep applying, and they don't want to give it to me."
Girls airs on Sundays at 9 p.m. on HBO.
http://www.dailyactor.com/wp-content/uploads/2016/08/imperium_daniele_radcliffe.jpg
Daniel Radcliffe on Playing a Neo-Nazi in 'Imperium': "It's still just horrible to say some of this stuff"
Radcliffe reveals how he played such a layered character and what it felt like to say his character's hate-filled dialogue.
http://www.dailyactor.com/actors-on-acting/daniel-radcliffe-playing-a-neo-nazi-imperium/
http://www.dailyactor.com/wp-content/uploads/2016/08/John-Cho-Star-Trek-Beyond.jpg
How John Cho Took A Stand for Diversity Early in His Career
"When one does speak one's mind, one might be surprised at how receptive people are." - Actor John Cho
http://www.dailyactor.com/actors-on-acting/john-cho-took-a-stand-for-diversity/
http://www.dailyactor.com/wp-content/uploads/2016/08/simon-helberg-florence-foster-jenkins.jpg
Simon Helberg on His 'Florence Foster Jenkins' Role: "I'm an actor and I want to stretch different muscles"
Helberg spoke about portraying his character in the film and whether or not he feels typecast by his Big Bang Theory role.
http://www.dailyactor.com/actors-on-acting/simon-helberg-florence-foster-jenkins-role/
http://www.dailyactor.com/wp-content/uploads/2016/08/Will-Chase-Something-Rotten.jpg
The Role That Got Away: Will Chase on Returning to 'Something Rotten!'
"I know that I am a poor man's fill-in-the-blank. And I know that there are poor man's Will Chases out there. That's just the nature of the business" - Will Chase
http://www.dailyactor.com/actors-on-acting/will-chase-something-rotten-role-that-got-away/
http://www.dailyactor.com/wp-content/uploads/2016/08/Julia-Stiles-Jason-Bourne.jpg
Julia Stiles on the Jason Bourne Series and Growing as an Actress: "There's always room for improvement"
"I like a director that encourages me to be playful. I don't really like being restricted or controlled by a director." - Julia Stiles
http://www.dailyactor.com/actors-on-acting/julia-stiles-growing-as-an-actress/