Trailer: Tobey Maguire & Elizabeth Banks star in 'The Details'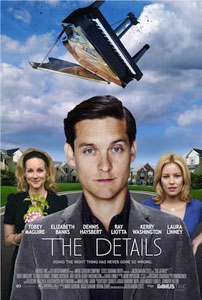 Directed and Writtten by: Jacob Aaron Estes
Starring: Tobey Maquire, Elizabeth Banks, Laura Linney, Ray Liotta, Dennis Haysbert and Kerry Washington
Synopsis: After ten years of marriage, Jeff and Nealy Lang (Tobey Maguire and Elizabeth Banks) have an idyllic suburban home… and a relationship on the skids.  But, when a family of hungry raccoons ransacks their perfectly manicured backyard, Jeff becomes single-mindedly obsessed with eradicating the pests by any means necessary. Soon the relentless rodents aren't merely uprooting the lawn, but also overturning the Langs' entire bourgeois existence, as the man-versus-beast battle leads into an absurd mess of infidelity, extortion, organ donation and other assorted mayhem.  Devilish throughout, THE DETAILS also stars Laura Linney in a stand-out performance as the Langs' eccentric neighbor, Lila.  Ray Liotta, Dennis Haysbert and Kerry Washington round out the cast in this darkly funny meditation on marital malaise.
On VOD October 5, 2012 and in theaters November 2, 2012 

http://www.dailyactor.com/wp-content/uploads/2015/09/Tom-Hardy-Legend.jpg
Tom Hardy on Playing Twins in 'Legend,' Being Seen as a Tough Guy, and Working with Philip Seymour Hoffman
Hardy speaks about why he challenged himself to play twins, what he thinks of his tough guy image, and working with the late Philip Seymour Hoffman, who directed him on stage.
http://www.dailyactor.com/actors-on-acting/tom-hardy-playing-twins-legend/
http://www.dailyactor.com/wp-content/uploads/2015/09/Emily-Blunt-Sicario.jpg
Emily Blunt on Action Movie Roles: "I think it's important to show different layers. Nobody is just tough, nobody is just vulnerable"
Emily Blunt touches upon why she has gotten into roles with an action bent and why she thinks there aren't more action movies with female leads
http://www.dailyactor.com/actors-on-acting/emily-blunt-sicario-acting-layers/
http://www.dailyactor.com/wp-content/uploads/2015/09/Jorja-Fox-CSI.jpg
Jorja Fox on Life After 'CSI': "I've always enjoyed not knowing exactly where the road leads"
"I think you kind of have to embrace the unknown if you're an actor." - Jorja Fox
http://www.dailyactor.com/actors-on-acting/jorja-fox-life-after-csi/
http://www.dailyactor.com/wp-content/uploads/2015/09/John-Turturro-Mia-Madre.jpg
John Turturro on the Life of an Actor: "It's a rough business. I wouldn't want my kids to do it"
"I am usually very well prepared. If you're a surgeon, you've got to know what you're going to take out today." - John Turturro
http://www.dailyactor.com/actors-on-acting/john-turturro-life-of-an-actor/
http://www.dailyactor.com/wp-content/uploads/2015/09/Matt-Damon-The-Martian.jpg
Matt Damon's Controversial Comments on Actors Keeping Their Real Lives a Mystery
"I think you're a better actor the less people know about you period. And sexuality is a huge part of that." - Matt Damon
http://www.dailyactor.com/actors-on-acting/matt-damon-actors-keeping-their-real-lives-a-mystery/