Trailer: Tobey Maguire & Elizabeth Banks star in 'The Details'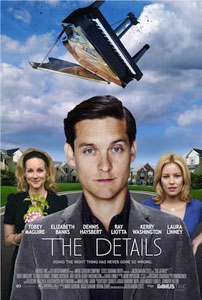 Directed and Writtten by: Jacob Aaron Estes
Starring: Tobey Maquire, Elizabeth Banks, Laura Linney, Ray Liotta, Dennis Haysbert and Kerry Washington
Synopsis: After ten years of marriage, Jeff and Nealy Lang (Tobey Maguire and Elizabeth Banks) have an idyllic suburban home… and a relationship on the skids.  But, when a family of hungry raccoons ransacks their perfectly manicured backyard, Jeff becomes single-mindedly obsessed with eradicating the pests by any means necessary. Soon the relentless rodents aren't merely uprooting the lawn, but also overturning the Langs' entire bourgeois existence, as the man-versus-beast battle leads into an absurd mess of infidelity, extortion, organ donation and other assorted mayhem.  Devilish throughout, THE DETAILS also stars Laura Linney in a stand-out performance as the Langs' eccentric neighbor, Lila.  Ray Liotta, Dennis Haysbert and Kerry Washington round out the cast in this darkly funny meditation on marital malaise.
On VOD October 5, 2012 and in theaters November 2, 2012 

http://www.dailyactor.com/wp-content/uploads/2016/04/julia-louis-dreyfus-veep.jpg
Julia Louis-Dreyfus: "Opportunity for women in television has increased. It's because the landscape has widened"
"I did not come out of SNL as any kind of name. I didn't do anything particularly great when I was there. I didn't. It's fine. But I learned a tremendous amount."
http://www.dailyactor.com/actors-on-acting/julia-louis-dreyfus/
http://www.dailyactor.com/wp-content/uploads/2016/04/Tituss-Burgess-Unbreakable-Kimmy-Schmidt.jpg
Tituss Burgess on How He Landed His 'Unbreakable Kimmy Schmidt' Role
Burgess reveals how his role on 30 Rock led to 'Kimmy Schmidt' and whether or not he'd consider returning to Broadway.
http://www.dailyactor.com/actors-on-acting/tituss-burgess-unbreakable-kimmy-schmidt-role/
http://www.dailyactor.com/wp-content/uploads/2016/04/Christine-Baranski-The-Good-Wife.jpg
Christine Baranski on the End of 'The Good Wife' and Going Back to Theatre
The final episode of The Good Wife airs on May 8, and it's been several weeks since series star Christine Baranski shot the final episode with her co-stars. She spoke to The Hollywood Reporter about the end of the series she has spent the last seven years working on and what she plans to do […]
http://www.dailyactor.com/actors-on-acting/christine-baranski-the-good-wife-theatre/
http://www.dailyactor.com/wp-content/uploads/2016/04/jake-gyllenhaal-demolition.jpg
Jake Gyllenhaal on 'Demolition', Working with Chris Cooper and Directors Who Want Nothing to Do With Him
"I think storytelling is the most important part of movie-making over performance." - Jake Gyllenhaal
http://www.dailyactor.com/actors-on-acting/jake-gyllenhaal-demolition-chris-cooper/
http://www.dailyactor.com/wp-content/uploads/2016/04/don-cheadle-miles-davis.jpg
Don Cheadle: "Be scared. Be on the edge of your creativity"
"Be willing to fall flat on your face and be in an unknown place. If you're doing that, you're probably growing" - Don Cheadle
http://www.dailyactor.com/actors-on-acting/don-cheadle-scared-creativity/