Trailer: 'Movie 43' Starring Every Comedic Actor in Hollywood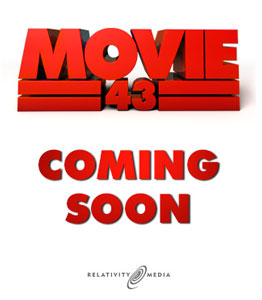 Here is the Red-Band trailer for Movie 43, a new film featuring a series of vignettes starring and directed by so many actors it's ridiculous. But, for all of the great talent, the trailer doesn't seem that funny. Maybe it's just me.
"In Movie 43, comedy is served steaming hot by director Peter Farrelly of The Farrelly Brothers (Something About Mary, Dumb & Dumber) in one of the most original comedies ever made. Starring Elizabeth Banks, Kristen Bell, Halle Berry, Leslie Bibb, Kate Bosworth, Gerard Butler, Bobby Cannavale, Kieran Culkin, Josh Duhamel, Anna Faris, Richard Gere, John Hodgman, Terrence Howard, Hugh Jackman, Johnny Knoxville, Justin Long, Stephen Merchant, Christopher Mintz-Plasse, Chloë Grace Moretz, Chris Pratt, Liev Schreiber, Seann William Scott, Emma Stone, Jason Sudeikis, Uma Thurman, Naomi Watts, and Kate Winslet, Movie 43 is jaw-dropping, uproarious, outrageous fun."
"Movie 43 is the outrageous new comedy from the twisted mind of Peter Farrelly and starring some of Hollywood's biggest names. Comprised of hilarious and offensive story lines and featuring tons of familiar faces we love, MOVIE 43 is the first of its kind, putting each actor in crazy and unique scenarios. This isn't spam, it's just celebrities gone wild… or perhaps it's just plain wrong!"
 In Theaters: January 25th
http://www.dailyactor.com/wp-content/uploads/2016/02/david-harewood-supergirl.jpg
David Harewood on 'Supergirl' and How He Was "Struggling to Get a Handle" on His Character
Harewood reveals how he relates to the character and how he eventually got comfortable playing him.
http://www.dailyactor.com/actors-on-acting/david-harewood-supergirlstruggling-to-get-a-handle-on-his-character/
http://www.dailyactor.com/wp-content/uploads/2016/01/Jeff-Daniels.jpg
Jeff Daniels Remembers a Terrible Audition for a Diane Keaton Movie
One actor that knows the ups and downs of the audition process is Jeff Daniels.
http://www.dailyactor.com/actors-on-acting/jeff-daniels-terrible-audition-diane-keaton-movie/
http://www.dailyactor.com/wp-content/uploads/2016/02/Jennifer-Jason-Leigh-The-Hateful-Eight.jpg
Jennifer Jason Leigh on Her First-Ever Oscar Nomination: "It's kind of phenomenal"
"He knew that I could, in his words, 'act the … out of it' and I'm not afraid to take a risk in terms of acting" Jennifer Jason Leigh on Quentin Tarantino
http://www.dailyactor.com/actors-on-acting/jennifer-jason-leigh-oscar-nomination/
http://www.dailyactor.com/wp-content/uploads/2016/02/Forest-Whitaker-Hughie-Broadway.jpg
Forest Whitaker on Making His Broadway Debut in 'Hughie': "His rhythms are starting to invade inside of me"
"I want to get better as an actor, to keep trying to work harder, trying to discover something different" - Forest Whitaker
http://www.dailyactor.com/actors-on-acting/forest-whitaker-broadway-debut-hughie/
http://www.dailyactor.com/wp-content/uploads/2016/02/alicia-Vikander-Ex-machina.jpg
Alicia Vikander on the Her First Trip to L.A. and the Acting Tip 'Ex-Machina' Director Alex Garland Gave Her
"You [get immersed in] a film and of course you think that that is it. And then you go away and you read a new script and you have a new crush" - Alicia Vikander
http://www.dailyactor.com/actors-on-acting/alicia-vikanderacting-tip-ex-machina-director-alex-garland-gave-her/