Trailer: Al Pacino, Christopher Walken and Alan Arkin are 'Stand Up Guys'
Director
: Fisher Stevens
Cast: Al Pacino, Christopher Walken, Alan Arkin, Addison Timlin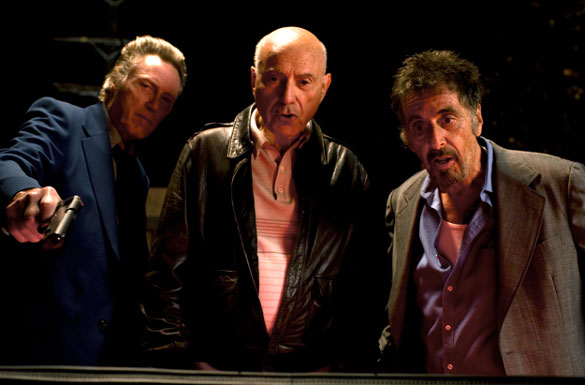 Synopsis: Val is released from prison after serving twenty-eight years for refusing to give up one of his close criminal associates. His best friend Doc is there to pick him up, and the two soon re-team with another old pal, Hirsch. Their bond is as strong as ever, and the three reflect on freedom lost and gained, loyalties ebbed and flowed, and days of glory gone by. And despite their age, their capacity for mayhem is still very much alive and well – bullets fly as they make a hilariously valiant effort to compensate for the decades of crime, drugs and sex they've missed. But one of the friends is keeping a dangerous secret- he's been put in an impossible quandary by a former mob boss, and his time to find an acceptable alternative is running out. As the sun rises on the guys' legendary reunion, their position becomes more and more desperate and they finally confront their past once and for all.
In Theaters: January 11th 
http://www.dailyactor.com/wp-content/uploads/2015/10/Bridge-of-Spies-Tom-Hanks-Mark-Rylance.jpg
Tom Hanks on Working with Steven Spielberg and Mark Rylance in 'Bridge of Spies'
"Steven does this incredible thing when he casts you: He empowers you with the scene." - Tom Hanks on Steven Spielberg
http://www.dailyactor.com/actors-on-acting/tom-hanks-working-steven-spielberg-mark-rylance-bridge-of-spies/
http://www.dailyactor.com/wp-content/uploads/2015/09/Tom-Hardy-Legend.jpg
Tom Hardy on Playing Twins in 'Legend,' Being Seen as a Tough Guy, and Working with Philip Seymour Hoffman
Hardy speaks about why he challenged himself to play twins, what he thinks of his tough guy image, and working with the late Philip Seymour Hoffman, who directed him on stage.
http://www.dailyactor.com/actors-on-acting/tom-hardy-playing-twins-legend/
http://www.dailyactor.com/wp-content/uploads/2015/09/Emily-Blunt-Sicario.jpg
Emily Blunt on Action Movie Roles: "I think it's important to show different layers. Nobody is just tough, nobody is just vulnerable"
Emily Blunt touches upon why she has gotten into roles with an action bent and why she thinks there aren't more action movies with female leads
http://www.dailyactor.com/actors-on-acting/emily-blunt-sicario-acting-layers/
http://www.dailyactor.com/wp-content/uploads/2015/09/Jorja-Fox-CSI.jpg
Jorja Fox on Life After 'CSI': "I've always enjoyed not knowing exactly where the road leads"
"I think you kind of have to embrace the unknown if you're an actor." - Jorja Fox
http://www.dailyactor.com/actors-on-acting/jorja-fox-life-after-csi/
http://www.dailyactor.com/wp-content/uploads/2015/09/John-Turturro-Mia-Madre.jpg
John Turturro on the Life of an Actor: "It's a rough business. I wouldn't want my kids to do it"
"I am usually very well prepared. If you're a surgeon, you've got to know what you're going to take out today." - John Turturro
http://www.dailyactor.com/actors-on-acting/john-turturro-life-of-an-actor/