New Trailer and 5-Minute Preview for 'Snow White and the Huntsman' starring Kristen Stewart, Charlize Theron & Chris Hemsworth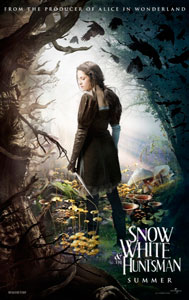 Here is another new trailer that debuted at WonderCon this past weekend. And yes, again I was in an interview room but I have to say, this looks pretty great too.
Snow White and the Huntsman looks better and better every time I see something from it.
Synopsis: In the epic action-adventure Snow White and the Huntsman, Kristen Stewart (Twilight) plays the only person in the land fairer than the evil queen (Oscar(r) winner Charlize Theron) out to destroy her. But what the wicked ruler never imagined is that the young woman threatening her reign has been training in the art of war with a huntsman (Chris Hemsworth, Thor) dispatched to kill her. Sam Claflin (Pirates of the Caribbean: On Stranger Tides) joins the cast as the prince long enchanted by Snow White's beauty and power. The breathtaking new vision of the legendary tale is from Joe Roth, the producer of Alice in Wonderland, producer Sam Mercer (The Sixth Sense) and acclaimed commercial director and state-of-the-art visualist Rupert Sanders.
Director: Rupert Sanders
Cast: Kristen Stewart, Charlize Theron, Chris Hemsworth, Sam Claflin
Writers: Evan Daugherty
In theaters: June 1st 
5 Minute Preview

via Latino Review
http://www.dailyactor.com/wp-content/uploads/2015/10/Bridge-of-Spies-Tom-Hanks-Mark-Rylance.jpg
Tom Hanks on Working with Steven Spielberg and Mark Rylance in 'Bridge of Spies'
"Steven does this incredible thing when he casts you: He empowers you with the scene." - Tom Hanks on Steven Spielberg
http://www.dailyactor.com/actors-on-acting/tom-hanks-working-steven-spielberg-mark-rylance-bridge-of-spies/
http://www.dailyactor.com/wp-content/uploads/2015/09/Tom-Hardy-Legend.jpg
Tom Hardy on Playing Twins in 'Legend,' Being Seen as a Tough Guy, and Working with Philip Seymour Hoffman
Hardy speaks about why he challenged himself to play twins, what he thinks of his tough guy image, and working with the late Philip Seymour Hoffman, who directed him on stage.
http://www.dailyactor.com/actors-on-acting/tom-hardy-playing-twins-legend/
http://www.dailyactor.com/wp-content/uploads/2015/09/Emily-Blunt-Sicario.jpg
Emily Blunt on Action Movie Roles: "I think it's important to show different layers. Nobody is just tough, nobody is just vulnerable"
Emily Blunt touches upon why she has gotten into roles with an action bent and why she thinks there aren't more action movies with female leads
http://www.dailyactor.com/actors-on-acting/emily-blunt-sicario-acting-layers/
http://www.dailyactor.com/wp-content/uploads/2015/09/Jorja-Fox-CSI.jpg
Jorja Fox on Life After 'CSI': "I've always enjoyed not knowing exactly where the road leads"
"I think you kind of have to embrace the unknown if you're an actor." - Jorja Fox
http://www.dailyactor.com/actors-on-acting/jorja-fox-life-after-csi/
http://www.dailyactor.com/wp-content/uploads/2015/09/John-Turturro-Mia-Madre.jpg
John Turturro on the Life of an Actor: "It's a rough business. I wouldn't want my kids to do it"
"I am usually very well prepared. If you're a surgeon, you've got to know what you're going to take out today." - John Turturro
http://www.dailyactor.com/actors-on-acting/john-turturro-life-of-an-actor/