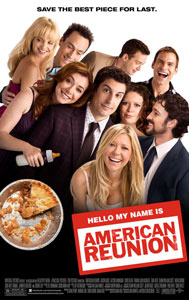 Here's a new red-band trailer, 5 clips and a featurette for American Reunion, which opens this weekend.
I loved the first one film – the 2nd, not so much. But, I think the cast works great together and they're like an old comfortable shoe that I can't wait to try on again.
American Reunion: It was summer 1999 when four small-town Michigan boys began a quest to lose their virginity. In the years that have passed, Jim and Michelle married while Kevin and Vicky said goodbye. Oz and Heather grew apart, but Finch still longs for Stifler's mom. Now these lifelong friends have come home as adults to reminisce about — and get inspired by — the hormonal teens they once were.
Director: Jon Hurwitz & Hayden Schlossberg
Cast: Jason Biggs, Alyson Hannigan, Chris Klein, Thomas Ian Nicholas, Tara Reid, Seann William Scott
In Theaters This Weekend Read more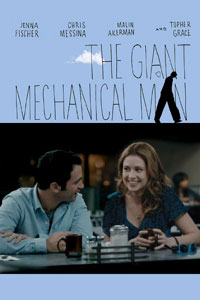 The Giant Mechanical Man: A romance develops between Janice, a woman in her 30′s who has yet to learn how to navigate adulthood, and Tim, a devoted street performer who finds that his unique talents as a "living statue" don't exactly pay the bills. Out of work and crashing with her overbearing sister, Janice is on the receiving end of well-intentioned but misguided pressure to date an egotistical self-help guru. Everyone seems to know what's best for Janice, but Tim helps her find her own voice and realize that it only takes one person to make you feel important.
Written & Directed by: Lee Kirk
Cast: Jenna Fischer, Chris Messina, Malin Akerman, Topher Grace, Lucy Punch, Bob Odenkirk, Rich Sommer
Available nationwide On Demand (Cable VOD, iTunes, Amazon) April 17 Read more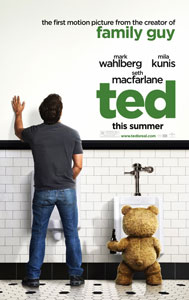 Ted: Family Guy creator Seth MacFarlane brings his boundary-pushing brand of humor to the big screen for the first time as writer, director and voice star of Ted. In the live action/CG-animated comedy, he tells the story of John Bennett (Mark Wahlberg), a grown man who must deal with the cherished teddy bear who came to life as the result of a childhood wish…and has refused to leave his side ever since.
Cast: Mark Wahlberg, Mila Kunis, Seth MacFarlane
Written & Directed by: Seth MacFarlane
In Theaters: July 13th Read more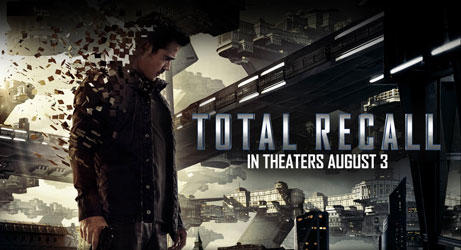 Total Recall is an action thriller about reality and memory, inspired anew by the famous short story "We Can Remember It For You Wholesale" by Philip K. Dick. Welcome to Rekall, the company that can turn your dreams into real memories. For a factory worker named Douglas Quaid (Colin Farrell), even though he's got a beautiful wife (Kate Beckinsale) who he loves, the mind-trip sounds like the perfect vacation from his frustrating life – real memories of life as a super-spy might be just what he needs. But when the procedure goes horribly wrong, Quaid becomes a hunted man. Finding himself on the run from the police – controlled by Chancellor Cohaagen (Bryan Cranston), the leader of the free world – Quaid teams up with a rebel fighter (Jessica Biel) to find the head of the underground resistance (Bill Nighy) and stop Cohaagen. The line between fantasy and reality gets blurred and the fate of his world hangs in the balance as Quaid discovers his true identity, his true love, and his true fate.
Director: Len Wiseman
Cast: Colin Farrell, Kate Beckinsale, Jessica Biel, Bryan Cranston, John Cho, Bill Nighy
Writers: Kurt Wimmer, Mark Bomback
In theaters: August 3rd, 2012 Read more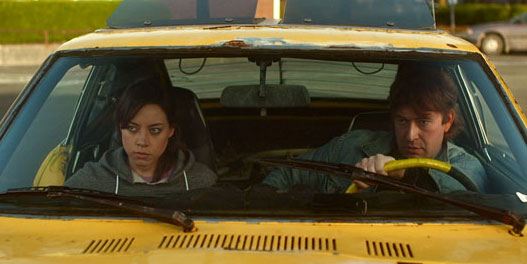 Safety Not Guaranteed was absolutely, hands down my favorite movie at SXSW.
Actually, I think it's my favorite movie of the year so far. I loved it and just watching this trailer makes me want to watch it again. Check it out below!
Safety Not Guaranteed: From the producers of Little Miss Sunshine – When an unusual classified ad inspires three cynical Seattle magazine employees to look for the story behind it, they discover a mysterious eccentric named Kenneth, a likable but paranoid supermarket clerk, who believes hes solved the riddle of time travel and intends to depart again soon. Together, they embark on a hilarious, smart, and unexpectedly heartfelt journey that reveals how far believing can take you.
Director: Colin Trevorrow
Cast: Aubrey Plaza, Mark Duplass, Jake Johnson, Karan Soni
Writers: Derek Connolly
In theaters: June 8th, 2012 Read more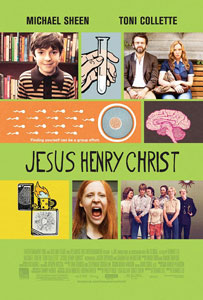 Jesus Henry Christ: Precocious doesn't even begin to describe Henry James Herman, a petri dish child who writes rabble-rousing manifestos on the nature of truth… at age 10. This boy-genius misfit's world turns upside down when–to the dismay of the doting single mother who raised him–he embarks on a search for his biological father.
Director: Dennis Lee
Cast: Toni Collette, Michael Sheen, Jason Spevack, Samantha Weinstein
In theaters: April 20th Read more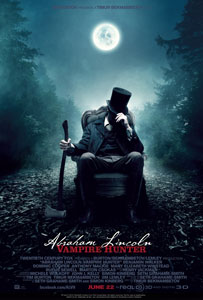 This was shown at WonderCon this past weekend and I missed posting it yesyerday.
This new trailer got a great response and I have to say, it does look pretty good. I really liked Timur Bekmambetov's Wanted and loved (loved!) star Benjamin Walker when I saw him on Broadway in Bloody Bloody Andrew Jackson. So, I have high hopes for this.
Synopsis: Abraham Lincoln: Vampire Hunter explores the secret life of our greatest president, and the untold story that shaped our nation. Visionary filmmakers Tim Burton and Timur Bekmambetov (director of Wanted) bring a fresh and visceral voice to the bloodthirsty lore of the vampire, imagining Lincoln as history's greatest hunter of the undead.
Director: Timur Bekmambetov
Cast: Benjamin Walker, Dominic Cooper, Anthony Mackie, Mary Elizabeth Winstead
In theaters: June 22nd, 2012 Read more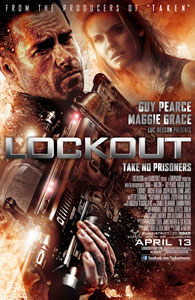 Last but not least from WonderCon is the trailer and clips for Lockout.
Starring Guy Pearce (Memento, Prometheus) and Maggie Grace (Taken, The Twilight Saga: Breaking Dawn), the film is set in the near future and follows a falsely convicted ex-government agent (Pearce). His one chance at obtaining freedom lies in the dangerous mission of rescuing the President's daughter (Grace) from rioting convicts at an outer space maximum-security prison.
I talked with Maggie Grace – the interview will be up soon – and she was really excited about the film. From the looks of it, it's one of those cheesy but fun actioners with a great cast (Lennie James, Peter Stormare). Check it out below!
The film opens April 13th. Read more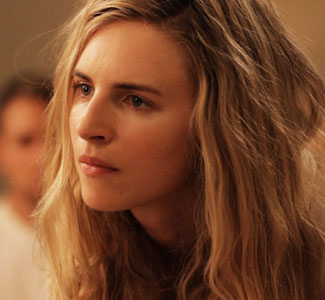 Here is the new trailer for Sound of my Voice starring Brit Marling which also premiered at WonderCon.
I got a chance to interview her and the director, Zal Batmanglij, this past weekend and she was as nice as she was the last time I talked to her. The movie looks really interesting and from everything I've heard about it, it pretty great.
Synopsis: In SOUND OF MY VOICE, Peter (Christopher Denham) and Lorna (Nicole Vicius), a couple and documentary filmmaking team, infiltrate a mysterious group led by an enigmatic young woman named Maggie (Brit Marling). Intent on exposing her as a charlatan and freeing the followers from her grip, Peter and Lorna start to question their objective and each other as they unravel the secrets of Maggie's underworld.
Director: Zal Batmanglij
Cast: Brit Marling, Christopher Denham, Nicole Vicius
In theaters: April 27th Read more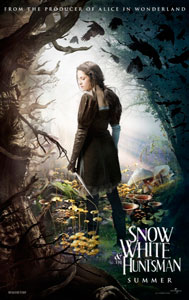 Here is another new trailer that debuted at WonderCon this past weekend. And yes, again I was in an interview room but I have to say, this looks pretty great too.
Snow White and the Huntsman looks better and better every time I see something from it.
Synopsis: In the epic action-adventure Snow White and the Huntsman, Kristen Stewart (Twilight) plays the only person in the land fairer than the evil queen (Oscar(r) winner Charlize Theron) out to destroy her. But what the wicked ruler never imagined is that the young woman threatening her reign has been training in the art of war with a huntsman (Chris Hemsworth, Thor) dispatched to kill her. Sam Claflin (Pirates of the Caribbean: On Stranger Tides) joins the cast as the prince long enchanted by Snow White's beauty and power. The breathtaking new vision of the legendary tale is from Joe Roth, the producer of Alice in Wonderland, producer Sam Mercer (The Sixth Sense) and acclaimed commercial director and state-of-the-art visualist Rupert Sanders.
Director: Rupert Sanders
Cast: Kristen Stewart, Charlize Theron, Chris Hemsworth, Sam Claflin
Writers: Evan Daugherty
In theaters: June 1st  Read more