Director
: Fisher Stevens
Cast: Al Pacino, Christopher Walken, Alan Arkin, Addison Timlin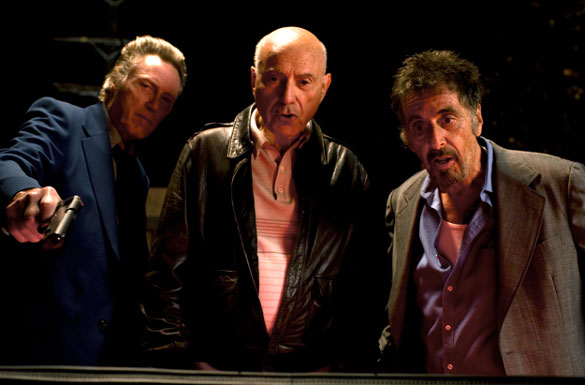 Synopsis: Val is released from prison after serving twenty-eight years for refusing to give up one of his close criminal associates. His best friend Doc is there to pick him up, and the two soon re-team with another old pal, Hirsch. Their bond is as strong as ever, and the three reflect on freedom lost and gained, loyalties ebbed and flowed, and days of glory gone by. And despite their age, their capacity for mayhem is still very much alive and well – bullets fly as they make a hilariously valiant effort to compensate for the decades of crime, drugs and sex they've missed. But one of the friends is keeping a dangerous secret- he's been put in an impossible quandary by a former mob boss, and his time to find an acceptable alternative is running out. As the sun rises on the guys' legendary reunion, their position becomes more and more desperate and they finally confront their past once and for all.
In Theaters: January 11th  Read more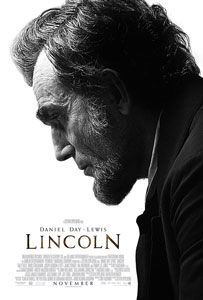 Director
: Steven Spielberg
Cast
: Daniel Day-Lewis, Sally Field,
Tommy Lee Jones
,
Joseph Gordon-Levitt
, Hal Holbrook, James Spader
Synopsis: In a nation divided by war and the strong winds of change, Lincoln pursues a course of action designed to end the war, unite the country and abolish slavery. With the moral courage and fierce determination to succeed, his choices during this critical moment will change the fate of generations to come.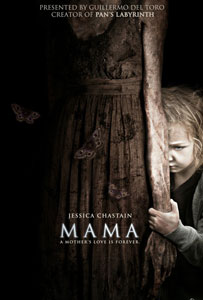 Director: Andy Muschietti
Cast: Jessica Chastain, Nikolaj Coster-Waldau, Megan Charpentier, Isabelle Nellsse
Synopsis: Guillermo del Toro presents Mama, a supernatural thriller that tells the haunting tale of two little girls who disappeared into the woods the day that their parents were killed. When they are rescued years later and begin a new life, they find that someone or something still wants to come tuck them in at night.
In Theaters: January 18th  Read more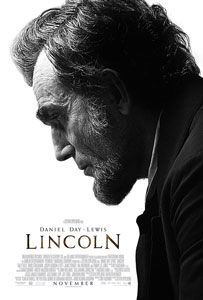 I hate this ridiculous trend of releasing a teaser trailer for an upcoming trailer. Just release the whole damn thing.
Anyway, here is the teaser trailer for Steven Spielberg's, Lincoln. The whole 20 seconds they show look great!
The full trailer will be released this Thursday at 7pm EST, 4pm PST on www.LincolnMovieHangout.com followed by a live chat with Spielberg and Joseph Gordon-Levitt.
Synopsis: Steven Spielberg directs two-time Academy Award® winner Daniel Day-Lewis in "Lincoln," a revealing drama that focuses on the 16th President's tumultuous final months in office. In a nation divided by war and the strong winds of change, Lincoln pursues a course of action designed to end the war, unite the country and abolish slavery. With the moral courage and fierce determination to succeed, his choices during this critical moment will change the fate of generations to come. Read more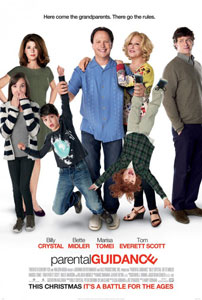 I know what you'll be doing Christmas Day. Anything else but seeing this movie.
Parental Guidance: Old school grandfather Artie (Billy Crystal), who is accustomed to calling the shots, meets his match when he and his eager-to-please wife Diane (Bette Midler) agree to babysit their three grandkids when their type-A helicopter parents (Marisa Tomei, Tom Everett Scott) go away for work.  But when 21st century problems collide with Artie and Diane's old school methods of tough rules, lots of love and old-fashioned games, it's learning to bend – and not holding your ground – that binds a family together. 
Cast: Billy Crystal, Bette Midler, Marisa Tomei, Tom Everett Scott
Director: Andy Fickman
In Theaters: Christmas Day  Read more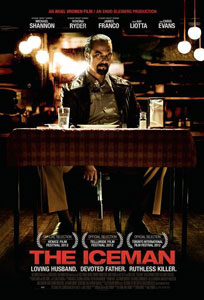 The Iceman follows Richard Kuklinski (Michael Shannon) from his early days in the mob until his arrest in 1986. Appearing to be living the American dream with his beautiful wife, Deborah Pellicotti (Winona Ryder) and their children, in reality he is a killer-for-hire able to keep his "job" hidden from his family. When he is finally arrested by the feds in 1986, neither his wife and daughters nor their neighbors have any clue that he is a murderer. Why did he do it and how did he get away with it for so long?
Cast: Michael Shannon, Winona Ryder, James Franco, Ray Liotta, Chris Evans, David Schwimmer
Director: Ariel Vromen
Coming Soon Read more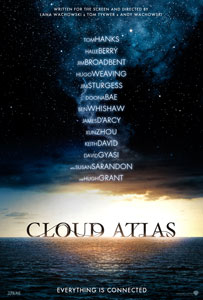 I have no idea what this movie is about…. but I think I already love it.
Cloud Atlas explores how the actions and consequences of individual lives impact one another throughout the past, the present and the future. Action, mystery and romance weave dramatically through the story as one soul is shaped from a killer into a hero and a single act of kindness ripples across centuries to inspire a revolution in the distant future.
Director: Lana Wachowski, Tom Tykwer, Andy Wachowski
Cast: Tom Hanks, Halle Berry, Jim Broadbent, Hugo Weaving, Jim Sturgess, Doona Bae, Ben Whishaw, James D'Arcy, Zhou Xun , Keith David, David Gyasi, Susan Sarandon, Hugh Grant
Writers: Andy Wachowski, Tom Tykwer, Lana Wachowski
In Theaters: October 26th  Read more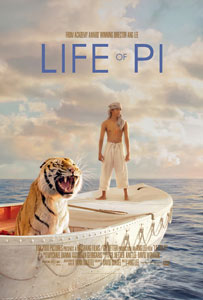 One word for this trailer: Wow.
Life of Pi: Director Ang Lee (Brokeback Mountain, Crouching Tiger, Hidden Dragon) creates a groundbreaking movie event about a young man who survives a tragic disaster at sea and is hurtled into an epic journey of adventure and discovery. While marooned on a lifeboat, he forms an amazing and unexpected connection with the ship's only other survivor — a fearsome Bengal tiger.
Director: Ang Lee
Cast: Suraj Sharma, Gérard Depardieu, Irrfan Khan, Tabu
Writers: David Magee, Yann Martel
In Theaters: November 21st Read more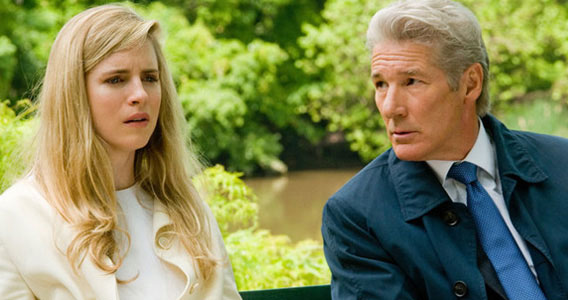 Arbitrage: The feature-directing debut of writer Nicholas Jarecki, is a taut and alluring suspense thriller about love, loyalty, and high finance. When we first meet New York hedge-fund magnate Robert Miller (Richard Gere) on the eve of his 60th birthday, he appears the very portrait of success in American business and family life. But behind the gilded walls of his mansion, Miller is in over his head, desperately trying to complete the sale of his trading empire to a major bank before the depths of his fraud are revealed. Struggling to conceal his duplicity from loyal wife Ellen (Susan Sarandon) and brilliant daughter and heir-apparent Brooke (Brit Marling), Miller's also balancing an affair with French art-dealer Julie Cote (Laetetia Casta). Just as he's about to unload his troubled empire, an unexpected bloody error forces him to juggle family, business, and crime with the aid of Jimmy Grant (Nate Parker), a face from Miller's past. One wrong turn ignites the suspicions of NYPD Detective Michael Bryer (Tim Roth), who will stop at nothing in his pursuits. Running on borrowed time, Miller is forced to confront the limits of even his own moral duplicity. Will he make it out before the bubble bursts?
Director: Nicholas Jarecki
Starring: Richard Gere, Susan Sarandon, Tim Roth, Brit Marling, Laetitia Casta and Nate Parker
In Theaters & VOD: September 14th Read more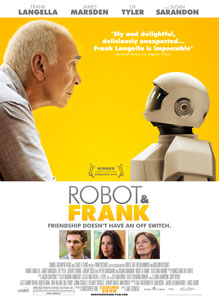 Robot & Frank: The feature film debut of commercial director Jake Schreier, was a festival favorite at the 2012 Sundance Film Festival where it world premiered and was co-winner of the Alfred P. Sloan Feature Film Prize. 
Set in the near future, Frank, a retired cat burglar, has two grown kids who are concerned he can no longer live alone.  They are tempted to place him in a nursing home until Frank's son chooses a different option: against the old man's wishes, he buys Frank a walking, talking humanoid robot programmed to improve his physical and mental health. What follows is an often hilarious and somewhat heartbreaking story about finding friends and family in the most unexpected places.
Starring: Frank Langella, James Marsden, Liv Tyler, Susan Sarandon, Peter Sarsgaard, Jeremy Sisto
Director: Jake Schreier
In Theaters: August 24th