Zach Galifianakis is already pretty recognizable after breaking out in the first two Hangover movies.  But the comedian has to admit that he doesn't like getting recognized.
"I have a really strange relationship with it," he told Moviefone.  "I was walking down the street the other day and I see this poster for this movie The Campaign and I just look at it and in the back of my mind I go, 'Oh yeah, I'm in a movie.'  You're forced to talk about yourself.  That's the big difference—trying to keep observing things that are funny and not be defensive.  I don't like to be recognized and I try to keep quiet and I don't go to parties.  I don't do that kind of thing.  The hardest part is to observe things that are funny, like I used to observe, without worrying about high schoolers wanting to talk to me.  Who wants to talk to a high schooler?  Before I was in the movie business I used to cross the street if I saw teenagers coming down the street.  Now I've got to chat with them?" Read more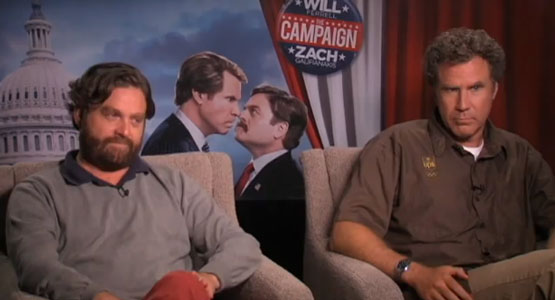 I've missed the screenings for The Campaign, the new Will Ferrell and Zach Galifianakis comedy about a two Southerners vying for a seat in Congress. I've heard rumblings that it's just "OK" but knowing me, I'd probably love it. I'll find out this weekend.
Here are two videos the have Ferrell and Galifianakis doing what they do best, making me (and you?) laugh. In this first video, they read portion of Fifty Shades of Grey out loud.
Check them out below! Read more
Will Ferrell has had a reputation for being a hard actor to approach in public, and was even named as the worst celebrity autographer in 2007 in Autograph magazine. But in an interview with USA Today to promote his upcoming film The Campaign, Ferrell seems to suggest it isn't him that lets people down — it's their own expectations.
Ferrell admits that he disappoints people who expect him to be as funny as his on-screen characters.  He says, "I know I am continually letting people down when they come up to me.  They approach me with the sense of, 'He's going to do something funny.' I don't feel any pressure to have to do it. Sometimes you're in a mood to be playful. Other times you have to be somewhere or you have your family. I have no problem with going, in a polite way, 'I have to go.' When someone yells out a line from a movie I've done, a lot of times I can't remember what the line is."  Still, there is one aspect of being approached in public that he enjoys: when he is mistaken for someone else.  Ferrell says, "I love when you get mis-recognized. I love when it's totally the wrong movie.  Or when you're asked to give the résumé. 'Where do I know you from?' I go, 'I used to be on St. Elsewhere. How can I help you?' " Read more
Zach Galifianakis was a standup comedian with a cult following before appearing in The Hangover and becoming one of the most popular film comedians in Hollywood today.  But Galifianakis isn't the type of actor to fit in any sort of category, especially since he himself hates actors.  Huh?
According to Galifianakis, his years as a standup comedian weren't exactly empowering.  He explains, "I didn't have a lot of options in life… Standup is a desperate art form. I just did it. That was my life and I just did it for a long time."  But it doesn't seem that Galifianakis is a fan of his current life as a movie star because he claims he actually doesn't even like actors.  According to him, "I just find actors so shitty, I just hate them.  Ego is funny to me…. I just wanted to mock celebrities." 
Will the real Zach Galifianakis please stand up?   Read more
The Hangover Part II: Phil (Bradley Cooper), Stu (Ed Helms), Alan (Zach Galifianakis) and Doug (Justin Bartha) travel to exotic Thailand for Stu's wedding. After the unforgettable bachelor party in Las Vegas, Stu is taking no chances and has opted for a safe, subdued pre-wedding brunch. However, things don't always go as planned. What happens in Vegas may stay in Vegas, but what happens in Bangkok can't even be imagined.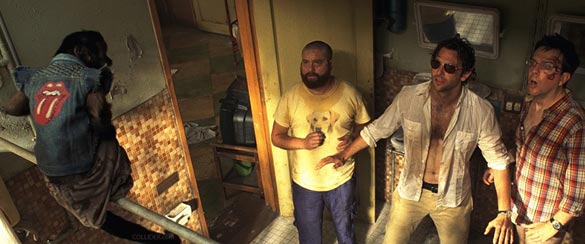 In theaters: May 26th, 2011
Director: Todd Phillips
Cast: Bradley Cooper, Ed Helms, Zach Galifianakis, Justin Bartha, Ken Jeong
Writers: Todd Phillips, Scot Armstrong
Zack Galifianakis and Director Todd Phillip's took some reader questions in this latest Unscripted to promote their upcoming film, Due Date.
Among the questions asked was if Zack pulled pranks on set ('I dont pull pranks on set. It's work!," he says) and what is the worst piece of acting advice he's ever been given.
The best is when he's asked how he chooses his roles:
Agent:  Zack, you have an audition somewhere.
Zack: Where is it?
Agent: Burbank.
Zack: I'm not interested. (He lives in Venice)
Due Date has a due date is November 5th and they've just released a couple of film clips. We've seen snippets of these in the trailers but I still think they're funny.
Here's Peter (Robert Downey Jr.) and Ethan (Zach Galifianakis) as they talk in an Atlanta diner.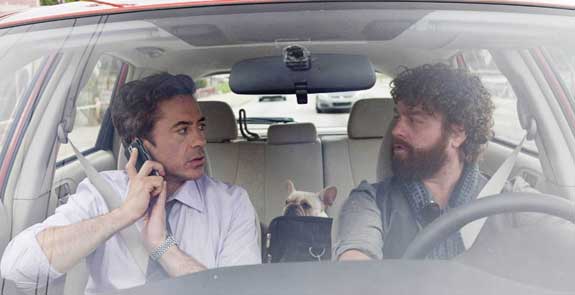 Due Date
:
Robert Downey Jr.
stars as a businessman racing across the country for his child's birth, saddled with the unwanted baggage of a wannabe actor (
Zach Galifianakis
)
Director: Todd Phillips
Starring: Robert Downey Jr., Zach Galifianakis, Jamie Foxx
>
From MovieFone:
How was acting with green screen?
The acting towards nothing is pretty intimidating, but you get used to it. There's really no practicing you can do — and you're talking to guinea pigs! So there're a couple of variables there that you have to keep in mind while you're saying the lines.
You talk to a fly, too.

Mooch [the fly] doesn't really talk back, so it makes it a little bit easier. He just kind of buzzes back, and somehow I understand what he's saying. The fly thing was difficult because he's flying around, and also, there's a scene in there where, I hope people get the joke, I say, "I don't like it when my fly is down." After I said that the director goes, "Cut. Why are you talking about your zipper down?" I'm like "Oh God, he didn't get the joke." [laughs]
While you were filming 'The Hangover,' did you have any inkling that it was going to be so huge?
Well, we knew it was going to be good. We didn't really expect anything more than just a good, entertaining, funny movie. I don't think anybody expected it to be what it is now.
In the end credits, you get it on with a senior citizen. Do older women hit on you now?
You're talking about 'G-Force,' right? [Laughs] I hope no women of that age have seen that movie ['The Hangover']. But that woman, when we were shooting that, I was so embarrassed for her and for me. But it turns out, I said, "Ma'am, I don't want to make you feel uncomfortable, you just tell me what to do here." It turns out she was an old porno actress … and she's the voice of Juarez! [laughs]

In the end credits, is that you or is that a stunt penis?
That's fake.
How much of your dialogue in 'The Hangover' was improvised?
A lot. Many, many lines. The structure of the script, the outline was very strong, and all the set pieces. But as far as the dialogue and things that had happened and the undercurrent stories like me emulating Phil or me having a crush on Bradley Cooper's character, none of that was in the script.
I saw The Hangover yesterday and it was pretty great. Zack Galifianakis pretty much steals the scenes he's in.
Oh, and when you see it, definitely stay as the credits roll. Its almost as funny as the movie itself.
From EW.com:
In the film, you play Alan, the deranged, jockstrap-wearing, socially awkward brother of the bride. How in the world do you prepare for that kind of role?
Well, I wish I had a concrete answer to that. In my mind, I just gave him [a] history. So the history was that he used to carry records to raves for a DJ. And one time when he was at a rave 15 years ago, he dropped too much acid. He wasn't born really dumb, but the drugs made him really stupid, and [he's] missing a part of his brain that is responsible for normal social interactions. And then when we shot [the film], these other subplots [popped up], like that he's not supposed to get near children. But that storyline is not that he did anything malicious. He just wanted to hang out with anybody that would hang out with him, and sometimes those were 12-year-olds. So it was never a sexual thing. It was just, hey, there are kids in the park skateboarding, so I'm going to see if they can be my friend. And the other subplot I think was the fact that he had this kind of adulation for Bradley's character and wanted to be really good friends with him.
That's a very specific character that you've created. Do you know someone like him?
There's a guy I know named Zach Galifianakis. Well, I think we're all guilty of it, [but] not to that extreme of wanting to fit in and wanting everybody to like us. We all know someone that is kind of the fifth wheel. So I wanted him to be — even though it was only four of us — I wanted him to be this fifth wheel. And the only reason that he is there is because his sister is the one that's getting married. So it's by force. If that had not been the case, the characters would have never been in the movie. That's what I like about it. It's this forced thing.
Was there a lot of improvisation in the film?
Yes. A lot. The one improv that will haunt me for the rest of my life, is the — I don't know how you can put this poetically — is [the scene where I] make the baby [unknowingly mimic a sexual act]. So that was improvised not with a real baby obviously, but a doll. Often, when you work with babies, they have a life-sized doll. So I just did it. I was like, "Todd [Phillips], look at this." And Todd, the director, was like, "Oh, we have to put that in the movie." And I was like, "No." And then he's like, "C'mon let's ask the mom if we can do it to a real baby." The next thing you know, there's this conversation and then she agrees, but my fear is that 20 years from now, I'm going to be walking in an airport, and some guy is going to tap me on the shoulder and go, "Are you the dude from The Hangover?" "Uh-huh." "Well, I'm that f—ing baby."