With all the success Jane Lynch has been having, it's a little shocking to hear her describe how she once thought of hanging it up.
On a hiking trip with a friend, Lynch confessed, "I think I'm done.  I don't know where I'll go or what I'll do.  Maybe I'll just go somewhere and teach theater."
The friend said, "Don't you dare.  You just keep doing this," Lynch recalled.  "So by the time we got to the bottom of Fryman Canyon, I was back in the game.  And I'd gotten a good workout too."
In an interview with Huffington Post, Lynch remembered, "I must have been 37 or 38 at the time.  Don't get me wrong.  I had a pretty nice career going.  I was making a good living doing a lot of voiceover work for radio.  A guest spot here and there on television.  But I just wasn't able to break through to the next level." Read more
Being somewhat of a real-life cartoon character himself and having a distinctive voice, John C. Reilly seems like he is a perfect fit for an animated film.  That's why it's so surprising that Disney's Wreck-It Ralph is Reilly's first lead role in an animated film, but also that Reilly tells Moviefone that he generally would prefer not to work in animation.  So what type of films does Reilly want to do?  He talks about how he ended up agreeing to do Wreck-It Ralph and what genre he'd like to do in the future.
Curiously, Reilly ended up taking the lead role in Wreck-It Ralph after telling director Rich Moore why he'd rather not do an animated movie.  He reveals, "I told him all the reasons that I didn't want to do it: That animation was boring for actors, that you just stand in a room by yourself and they don't even give you the whole script, you have to just kind of be a trained chimp or a marionette. Rich was like, 'You know what, you're right. That is the way most animated movies are made. But we can make this movie however we want to make it and if you want to improvise, it's fine with me. If you want the other actors in the room with you so you have someone to react off of and riff with, that's fine. We'll do it that way. If you want to come to story meetings, or you want to meet with the animators…' So he really included me in the whole process, which I think is fairly rare for actors in animation, and as a result, it ended up being something I'm really proud of. They put a lot of heart in the character and he ended up resembling me in a lot of ways… it became written just for me in the process of all of us working this way. I tailor-made myself into Ralph and Ralph was tailor-made for me." Read more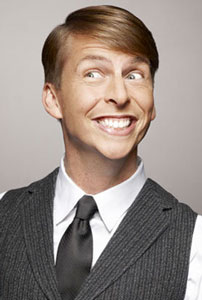 Though a long-time supporting player, comedian Jack McBrayer has since broken through with his starring role on 30 Rock over the last few years.  He's also putting his familiar voice to work voicing Fix-It Felix, Jr. in Disney's latest animated film, the classic arcade game-inspired Wreck-It Ralph. 
McBrayer spoke to NBC New York about his role in the film and about his dedication to becoming a success after years of trying.
While McBrayer has always been working, it's only recently that he has become successful after all of his hard work.  He explains, "I was very hungry right before things came into play. I got my start in Chicago doing Second City, which is where I met Tina Fey. So this is like from 1996 to when 30 Rock started in 2006, between living in Chicago doing Second City, moving to New York, doing the comedy scene there – Conan O'Brien was shooting his show there – and then I moved to Los Angeles. I was still temping and struggling. It was a solid decade. It was ten short years in the making before I finally got a break where I could eat three meals a day. But I was always happy to do the work because I knew what I wanted to do, and I was going to do whatever it took to get there." Read more
Though John C. Reilly is probably best known for his comedy movies alongside Will Ferrell, he has received much of his acclaim (and an Oscar nomination) for his hard-hitting dramas like We Need to Talk about Kevin and Carnage. He takes a break from his recent dramatic films to return to comedy with Disney's latest animated movie Wreck-It Ralph, for which he voices the title character. 
He spoke to NPR about his different approach to comedy and drama and while he wanted to record his voice parts alongside his co-stars.
Reilly explains that his approach to each genre depends on being as honest with the material as he can.  He says, "If you take a piece of material like We Need to Talk About Kevin and you play it really honestly, then it's heartbreaking and disturbing. … I just try to be as truthful as I can, and if the circumstances are ridiculous, then you're in a comedy, and if they're more serious, then you're in a drama."  Read more