In a recent interview with New York Magazine, actress Kathryn Hahn opened up about why she and Paul Rudd keep bumping into each other on-screen and why she tries not to control anything – in life or in comedy.
"A lot of actors are like, 'Why do I do this? My character wouldn't do this? This doesn't make sense.' And in a comedy, you kind of just need to walk into the door," explained the 37-year-old, who stars in recently-released comedy Wanderlust and has an upcoming arc on NBC's Parks and Recreation. "In this business, you just can't (be a control freak). It's just a game. As soon as you take a deep breath, you have the rug pulled out from you."
Comedy everyman Rudd also stars in Wanderlust and is in the middle of a guest run on Parks and Recreation as well. He and Hahn also worked together on last year's Our Idiot Brother and 2004's Anchorman. Is there something more than meets the eye? If twice is a coincidence and three times is a pattern, then what's four co-billings? Read more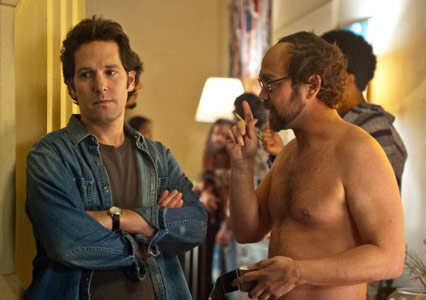 Opening this weekend is the comedy Wanderlust, starring Paul Rudd and Jennifer Aniston, about a couple who decides to join a free love commune. 
The film reunites Rudd with a number of his past collaborators — not just Aniston (who Rudd worked with on Friends), but also producer Judd Apatow and director David Wain.  Rudd talks about reuniting with them and both the easiest and most difficult parts of making the film.
Though Rudd is a solid member of Wanderlust producer Apatow's comedy circle — he has appeared in films directed by Apatow (The 40-Year-Old Virgin, Knocked Up, the upcoming This is Forty) and produced by Apatow (Anchorman, Forgetting Sarah Marshall), he has also worked with Wanderlust director David Wain's Wet Hot American Summer and Role Models.  Read more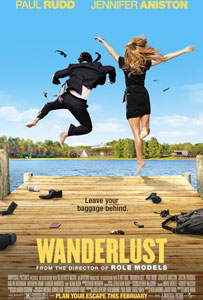 Wanderlust: Paul Rudd and Jennifer Aniston star in Wanderlust, a raucous comedy from director David Wain (Role Models) and producer Judd Apatow (Knocked Up) about a couple who leaves the pressures of the big city and joins a freewheeling community where the only rule is to be yourself. George (Rudd) and Linda (Aniston) are an overextended, stressed out Manhattan couple. After George is downsized out of his job, they find themselves with only one option: to move in with George's awful brother in Atlanta. On the way there, George and Linda stumble upon Elysium, an idyllic community populated by colorful characters who embrace a different way of looking at things. Money? It can't buy happiness. Careers? Who needs them? Clothes? Only if you want them. Is Elysium the fresh start George and Linda need? Or will the change of perspective cause more problems than it solves?
Director: David Wain
Cast: Paul Rudd, Jennifer Aniston, Justin Theroux, Malin Akerman, Kathryn Hahn, Lauren Ambrose, Ken Marino, Joe Lo Truglio, Kerri Kenney-Silver, Alan Alda
Writers: David Wain, Ken Marino
In theaters: February 24th, 2012 
Read more