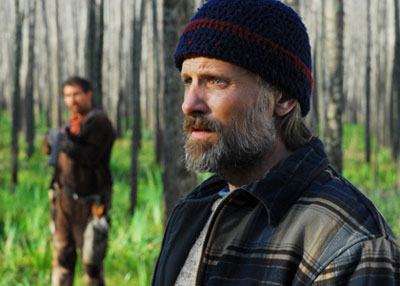 Oscar-nominated actor Viggo Mortensen knows a thing or two about bringing complicated roles to the screen.  He's appeared in dramas like The Road, Lord of the Rings, and A Dangerous Method.  In his new movie, Everybody Has a Plan, Mortensen had to portray a character that carries the movie without a lot of dialogue.
"I think part of it is just how you prepare roles," he said in an interview with Vulture.  "When I prepare, I ask a simple question: 'What happened between the character's birth and page one of the script?'  And right there you can find most of the answers, even before you start shooting.  I find that process really enjoyable.  Just like a kid does when he pretends: It doesn't matter how little they look like a princess or an Indian or a Viking or a sports star, whatever they're pretending to be, they really believe it.  They enjoy playing, basically.  So the goal is always—in a very serious, methodical, detailed, much more layered way, I suppose, intellectually, than kids use for make-believe—to get to the same place where it's just fun and play.  But you have to do your homework first, and that's what I try to do."
Everybody Has a Plan opens in limited release Friday, March 22.
Whether he is playing the king of Middle Earth, or one of the founders of modern psychoanalysis, Viggo Mortensen is always concerned with truth.
The actor was recently interviewed by The New York Times regarding his role as Sigmund Freud in A Dangerous Method (2011), but had a lot to say about his career and the life of actors in the industry.
Mortensen offered up his views about being a celebrity, and why he's so critical: "I don't have lots of friends in the business, and the ones I do have are probably more like me, in that they're not the kind of people to go places just so they can be seen. I see people doing that stuff and to me, it seems pathetic and ridiculous and kind of . . . well, humiliating. Life's too short."
He's not a fan of actors who take up roles in horrible Blockbuster films, saying that, "Sometimes you look at a movie and you can see that the actor or actress said, 'I'm taking this onboard because I'm making a ton of money, and not because it's going to be something special.'"  Read more
It's a risky undertaking to portray such a celebrated figure as psychologist Carl Jung, but as A Dangerous Method's Michael Fassbender explains, it was all about channeling the influential doctor's humor and ego. 
"I tried to bring in some humor," he told the Huffington Post in a recent interview promoting the film, which also stars Viggo Mortensen as Jung mentor Sigmund Freud and Keira Knightley as young psychoanalyst Sabina Spielrein. "When we pick Jung up in this portion of his life, he was very ambitious, determined, and insecure. Like anyone who's starting off with a belief system. But Freud and Jung also both had massive egos. Anyone who questioned their work was dismissed."
A Dangerous Method, which opened in the U.S. late last month, finds Jung and Freud at a turbulent time in their relationship and is set against the beginning of World War I. The actors who portrayed the influential psychologists got along much better off-screen than their characters did on it.  Read more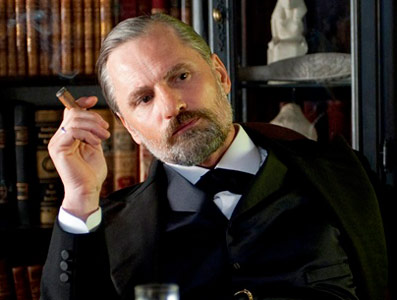 Viggo Mortensen, who became a superstar after his role as Aragon in The Lord of the Rings movies, has won additional acclaim for his roles starring in A History of Violence and Eastern Promises, both directed by David Cronenberg.
He has teamed with Cronenberg again for A Dangerous Method, which was nominated for the Golden Lion award at the Venice Film Festival, but in an interview with the Wall Street Journal Mortensen admits that he almost passed on the opportunity to work with Cronenberg again because he didn't think he was the right choice to play Sigmund Freud.
When Cronenberg approached Mortensen about making a third film together by offering Mortenson the role of Freud in A Dangerous Method, Mortenson initially turned the role down. He explains why by saying, "I just felt it was a stretch, just physically because of the way I look. You might think I'd be more right to play Jung, let's say, or the character that looks more like him, just physically—my face, my type, physically speaking. The other thing is that it was a different kind of role for me because they speak so much. Freud uses words to convey evasion, manipulation, seduction in a way that I usually use gestures. Most of the characters I've been given to play have been relatively non-verbal."   Read more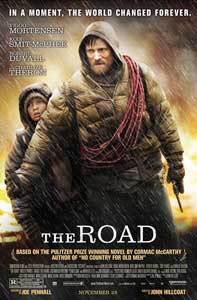 Want the screenplay to The Road?
Sure you do!
Thanks to Script Collector
Was this role something you lobbied for, or were you offered the part?
I was offered the role by the director John Hillcoat, and I had long been a fan of Cormac McCarthy's writing. I had not read 'The Road.' I had read everything up until then. I had always loved in particular his prose description of landscape and the inner thoughts and emotional kind of lives of his characters. The way he describes things — his prose feels like poetry. There are so many gems in that, and all his books — even books that are just barbaric like 'Blood Meridian,' which may be my favorite one. I mean it's different; it's like two sides of the same coin.
Was there any hesitation at all in accepting it?
Yeah, there was. First of all, just because I was shooting a movie at the time and promoting another one, you know. I'm leaving for days off, I was kind of stretched pretty thin. But when I read the story, I thought, well, being kind of tired, that's not wrong for the character [laughs]. But no, it was mainly just because I would regret not taking on the challenge. But once I said "Yes, thank you very much," then I was terrified. Not because of the physical ordeal, but more because it just has to be done right. And the director said we're going to shoot in real locations, and I said, "Great, it will be hard, but it needs to be to feel gritty, not to just be another post-apocalyptic special effects movie." And he goes, "Well, we don't have that kind of budget anyways, so that's great. It will be good, it will be gritty and real and has a chance to match the book for emotion." But then as soon as you say yes, then it's like, "Well, they all think that I can do it; they wouldn't offer me the role if they didn't. [But] I don't know that I can do it." You have to come to grips with that. It took me a while because I'm very dependent on the person I play the story with. Every single scene pretty much I'm with this boy. And I said to John, "I am worried — I don't know about you — about the boy." And he goes, "Yeah, I'm really worried." He said, "We can only go so far in matching the book as far as the look of it, the design, the locations." Even if I do my very, very best and everybody gets lucky each day and does a great job. If the boy isn't close to being a genius actor and really understands this story and is mature beyond his years somehow — if you don't find that kind of boy, we're limited, we can only reach a certain level as far as matching the intensity of the book. But they did find him. [Kodi] is so good and he is such a beautiful person, and I became very fond of him — and he of me I think. That connection, that strong connection we made even before shooting started, only got intensified, became more intense as a result of the difficult emotional things we had to do in the first week or so. It was just, OK, we can do anything. Once I got to know him and realized that, I thought, OK, we've got a chance now. But then you never know how they are going to put the movie together.
On his role in The Road:
"To be honest, I was afraid of the role to start with. I thought, 'Hmm, I don't know if I am up to the task.' But, that was the very reason I thought I should do it, try it. Because even if you screw up up, at least trying something different, something that places demands on you that you haven't dealt with as much or before, it's always good. Even if you screw it up, in trying to do a good job, you are going to learn something, and I did."
How his co-star helped him:
"It's a team sport, making movies. In this case, it's a story about a father and son. If the son (Kodi Smit-McPhee) wasn't a great actor and didn't have a great emotional range, I wouldn't have done a very good job, to be honest with you. I could have only gone so far. But, because he was so beautiful as a boy, such a wonderful person, but also such a talented actor, he helped me get to places that I didn't think I could get to."