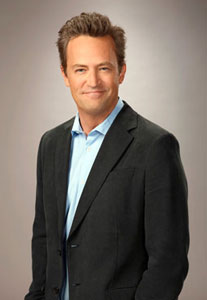 Go On, Matthew Perry's new NBC comedy, is one of the best new shows of the season. If you only caught the pilot, check it out when it airs next, it keeps getting better and better.
In the show, Perry stars as Ryan King, a recent widower and sports talk radio host who is ready to get back to work after the death of his wife. But Ryan's boss, Stephen (John Cho), has a different plan in store, making him attend grief counseling before returning to the air. Ryan finds himself in a support group for "life change," where he meets an oddball cast of characters (Laura Benanti, Julie White, Suzy Nakamura, Tyler James Williams and Brett Gelman), all with their own backstories filled with varying degrees of loss.
I talked to Perry in recent conference call where he talked about what drew him to Go On, working with the cast, the ups and down of his career and the biggest lesson he's learned. 
Go On airs on Tuesday nights on NBC.  Read more