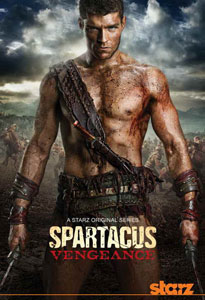 Are you ready to return to the arena?
Then you're in luck because Spartacus is back and this time, with a vengeance.
Spartacus: Vengeance picks up where Blood and Sand left off as the gladiator rebellion continues and they begin to strike fear into the heart of the Roman Empire.
Liam McIntyre takes over the lead role of Spartacus from Andy Whitfield who, before his untimely death, told the cast and crew that he wanted the show to continue. Whitfield even gave the thumbs up to McIntyre, saying that he wanted him to have the role. As McIntyre said in the conference call, "To know that the person who made it so wonderful was on your side, as it were, especially considering all the harrowing personal experience he had to survive at the time. That means more to an actor than you can possibly imagine."
I talked to the cast – McIntyre, Lucy Lawless, Viva Bianca and Peter Mensah – about the upcoming season, the costumes (or lack thereof) and acting in the mud.
Spartacus: Vengeance airs on Fridays at 10pm on Starz
Liam, you played a character that was obviously played by Andy Whitfield. I was wondering, how did you manage to carry on the character that Andy had built, but also leave your own mark as an actor?
Liam McIntyre: Well, I mean I'm very lucky in that I – the writing team is absolutely sensational, and that Starz is really supportive. So Starz early on said, you know, make the character your own, treat it as your own character. You know, that they didn't expect me to copy anything. I did watch all of Andy's amazing work. And so I don't know if any parts was osmosis or kind of like a kind of influenced me in any way. I can't be sure, but I mean hopefully because he was sensational.
But I mean realistically I just tried to be true to the character which, you know, essentially stays the same. Because the writing is the same and all of that lovely humanity and those difficult choices and all that. Then that struggle that Spartacus goes through, it's still there this season. So I didn't get the honor of being able to treat that with respect and truth. And hopefully you have a character that feels the same as the great character that Andy portrayed.  Read more