Podcast: Play in new window | Download (Duration: 9:19 — 6.4MB)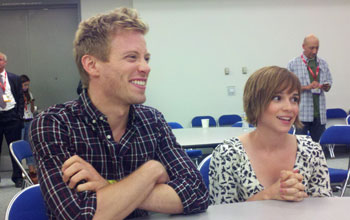 Barrett Foa and Renee Felice Smith, stars of the CBS hit series NCIS: Los Angeles were at Comic-Con 2011 (yes, I know it was almost 4 months ago – don't judge) and I got a chance to talk with them about the show, auditioning and if they feel like they have job security even though they are on a top-rated show.
It's a fun, quick interview and you can tell the two have great chemistry together and it absolutely comes out in their scenes on the show.
NCIS: Los Angeles airs on CBS, Tuesdays 9/8c
Check out our other NCIS: Los Angeles interviews: LL Cool J and Chris O'Donnell
For the full interview, click the audio link above or download it from iTunes
When do you guys get your scripts for the show?
Renee Felice Smith: Probably the day before. We generally have a table read.  So, I would say, generally, we'll get the script a day before and the table read is a day prior to shooting, so maybe two or three days in advance to shooting, that's it.
Barrett Foa: Max.
Renee Felice Smith: Sometimes, it's a day of table read.   Read more