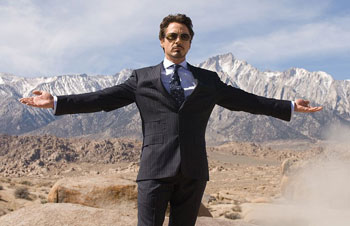 Earlier this week news floated out that Robert Downey Jr.'s long in the works Pinocchio movie might get an odd twist — Downey could end up playing both Geppetto and the famous puppet.  While that might sound like the most terrible idea since Roberto Benigni decided to play the wooden puppet as a fifty year old man, chances are that studios will go for it.
Why's that?  Because Downey's films make a tremendous amount of money, which is why he tops Forbes' annual list of highest paid actors in Hollywood.  According to the magazine, Downey earned $75 million between June 2012 and June 2013, though during that time Downey only appeared in two films.  Of course, those films were The Avengers and Iron Man 3, which have made nearly three billion dollars at the box office combined.  And although The Avengers was an ensemble movie, Downey was paid more than anyone else, including director Joss Whedon. Read more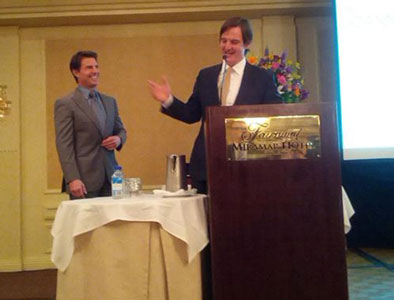 And the only person who spoke at my college graduation was some annoying Senator who gives the same speech every single year…
The sixty graduating students at the Joanne Baron/D.W. Brown Studio in Santa Monica definitely got a much bigger surprise when their commencement speaker last Sunday turned out to be none other than Tom Cruise.  Cruise spoke to the students about his first film and the importance of embracing the atmosphere when doing your first movie. Read more
Every year Forbes releases its list of Hollywood's highest paid actors, and the results are often surprising.  Take this year, for example, with Tom Cruise topping the list at $75 million.  Though Cruise was paid handsomely for Mission: Impossible – Ghost Protocol and Rock of Ages, it seems more likely that he would've topped the list in 1992 rather than 2012.  But Cruise leads the pack with more than double the take of the two actors tied in second place, Leonardo DiCaprio and Adam Sandler, both at $37 million (though I guess I'll add the expected comment about Cruise's pending divorce possibly taking a hit of that income here).  Sandler remains an annual top earner, even if his movies tend to get worse by the year.
Coming in just under DiCaprio and Sandler is Dwayne "The Rock" Johnson ($36 million), who has recently been called "franchise Viagra" based on helping both Fast Five and Journey 2 The Mysterious Island become the highest grossing films in their respective franchises.  Paramount is certainly hoping he can work his magic a third time with the recently delayed G.I. Joe sequel. Read more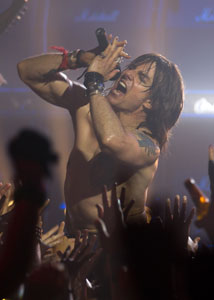 There are a lot of famous actors in the film adaptation of the Broadway musical hit Rock of Ages, but the one who steals the show is Tom Cruise.  Cruise completely owns another role as rock god Stacee Jaxx, even though many wouldn't initially think of Cruise as a good choice for the Axl Rose-like role.
But according to Adam Shankman, the film's director, getting Cruise involved was easier than he expected.  He explains, "I was thinking to myself, 'Wouldn't it be cool if we got one of the biggest movie stars in the world to play one of the biggest rock stars in the world?' And, as luck would have it, I ran into Tom Cruise, told him I was directing this movie, that it was a musical, and that I was going to offer him this part.  He said, 'Are you serious?'  I said I was.  Then I described Stacee to him and he laughed really hard.  The next thing I knew, he was in, and I was making a musical with Tom Cruise." Read more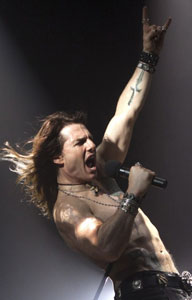 People all over Twitter (and beyond) are slamming Rock of Ages for how cheesy it looks and how it doesn't represent the 80′s they know and love.
I say screw them.
I'm looking forward to this film and I'm hoping that it does really well. It's got a great cast in Alec Baldwin, Paul Giamatti, Catherine Zeta-Jones, Russel Brand, Malin Ackerman, Bryan Cranston and Tom Cruise and some great classic songs. Yeah, it's not going to win any awards but I'm betting it'll be a fun time. 
Anyway, courtesy of People, you can hear Cruise singing the chorus to the Def Leppard song, "Pour Some Sugar On Me" from the soundtrack.
Listen to it below!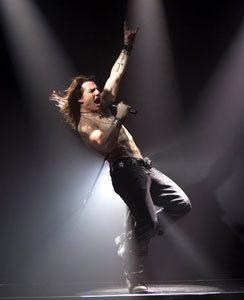 Rock of Ages: Based on the hit Broadway musical, Rock of Ages tells the story of small town girl Sherrie and city boy Drew, who meet on the Sunset Strip while pursuing their Hollywood dreams. Their rock 'n' roll romance is told through the heart-pounding hits of Def Leppard, Joan Jett, Journey, Foreigner, Bon Jovi, Night Ranger, REO Speedwagon, Pat Benatar, Twisted Sister, Poison, Whitesnake, and more.
Cast: Julianne Hough, Diego Boneta, Russell Brand, Paul Giamatti, Catherine Zeta-Jones, Malin Ackerman, Mary J. Blige, Bryan Cranston, Alec Baldwin, Tom Cruise
Director: Adam Shankman
In Theaters: June 1st, 2012 
Read more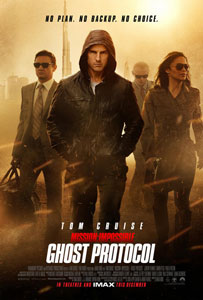 Mission: Impossible – Ghost Protocol: Blamed for the terrorist bombing of the Kremlin, IMF operative Ethan Hunt is disavowed along with the rest of the agency when the President initiates "Ghost Protocol". Left without any resources or backup, Ethan must find a way to clear his agency's name and prevent another attack. To complicate matters further, Ethan is forced to embark on this mission with a team of fellow IMF fugitives whose personal motives he does not fully know.
Starring: Tom Cruise, Jeremy Renner, Simon Pegg, Paula Patton, Ving Rhames, Josh Holloway, Tom Wilkinson
Directed by: Brad Bird
In Theaters: December 21, 2011
Read more
Mission: Impossible – Ghost Protocol: The IMF is shut down when it's implicated in a global terrorist bombing plot. Ghost Protocol is initiated and Ethan Hunt and his rogue new team must go undercover to clear their organization's name. No help, no contact, off the grid. You have never seen a mission grittier and more intense than this.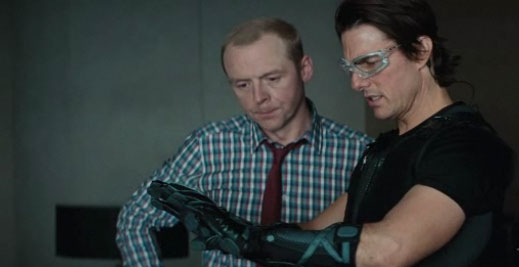 Director: Brad Bird
Cast: Tom Cruise, Simon Pegg, Ving Rhames, Jeremy Renner, Josh Holloway, Paula Patton
In Theaters: December 16, 2011
"The Lincoln Lawyer" star Josh Lucas is considering a move from the big screen to the small one, negotiating to star in NBC's "The Firm."
Lukas Reiter penned the two-hour pilot script, which picks up ten years from the point where the movie left off (starring Tom Cruise) and we see Mitch McDeere leaving the Federal Witness Protection Program after bringing down a Memphis law firm run by the mafia.
This would be the first television series for Lucas, who has been busy with films Life as we Know It, Glory Road and  A Year in the Mooring.