Tilda Swinton started making films with the English director Derek Jarman in 1985; their first was Caravaggio. They made seven more films together, including The Last of England, The Garden,War Requiem, Edward II (for which she was named Best Actress at the Venice International Film Festival), and Wittgenstein, before Mr. Jarman's death in 1994.
Ms. Swinton gained wider international recognition in 1992 with her portrayal of Orlando, based on the novel by Virginia Woolf under the direction of Sally Potter. She established rewarding ongoing filmmaking relationships with Lynn Hershman-Leeson, teaming on Conceiving Ada, Teknolust (playing four roles), and Strange Culture; with John Maybury, on Man 2 Man and Love is the Devil; with Jim Jarmusch, on Broken Flowers and The Limits of Control, both also for Focus Features; with Luca Guadagnino, on The Protagonists, The Love Factory, and the widely acclaimed I Am Love, which she also produced. Read more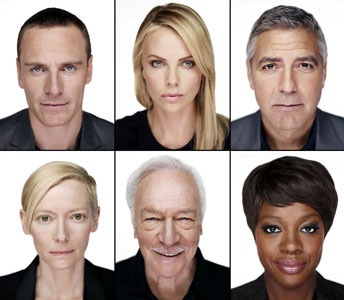 Well, Newsweek got 3 out of 6 right.
In anticipation of today's Academy Award nominations, the magazine gathered George Clooney, Charlize Theron, Michael Fassbender, Viola Davis, Christopher Plummer and Tilda Swinton- all possible contenders – together for a frank and at times hilarious conversation.
As you know, Clooney, Davis and Plummer got the good news today but that doesn't take away from the performances Fassbender, Theron and Swinton did this year.
There are 4 videos and they're all worth watching. You can see Fassbender do his Quentin Tarantino impression, Theron do a South African accent and Clooney will make you laugh.
Best line is from Viola Davis though: "Acting is about problem solving. I don't have a method. I don't have a way of working. It changes with every project."
Check it out below!  Read more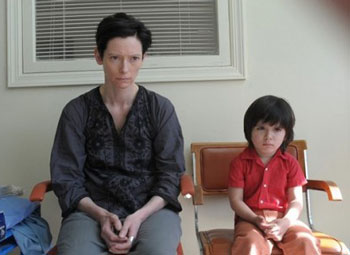 Here's a great clip from We Need To Talk About Kevin.
The film stars Tilda Swinton, John C. Reilly and Ezra Miller in a  psychological thriller that explores the relationship between a mother and her evil son.
It's currently playing in the mythical land know as 'select cities'.
Check it out!  Read more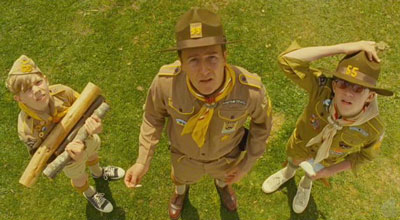 Moonrise Kingdom: Set on an island off the coast of New England in the summer of 1965, MOONRISE KINGDOM tells the story of two twelve-year-olds who fall in love, make a secret pact, and run away together into the wilderness. As various authorities try to hunt them down, a violent storm is brewing off-shore — and the peaceful island community is turned upside down in more ways than anyone can handle. Bruce Willis plays the local sheriff. Edward Norton is a Khaki Scout troop leader. Bill Murray and Frances McDormand portray the young girl's parents. The cast also includes Tilda Swinton, Jason Schwartzman, and Jared Gilman and Kara Hayward as the boy and girl.
Director: Wes Anderson
Cast: Bruce Willis, Edward Norton, Bill Murray, Frances McDormand, Tilda Swinton, Jason Schwartzman, Jared Gilman, Kara Hayward
Writers: Wes Anderson, Roman Coppola
In theaters: May 25th, 2012
Read more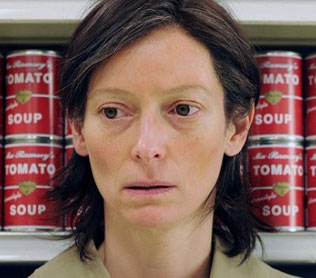 "That's good use of an Oscar, it seems to me. It's a really fair exchange," says Tilda Swinton, speaking about how winning an Oscar allowed films like Julia and We Need To Talk About Kevin to get made and seen by audiences.
USA Today ran an interview with Swinton in which she spoke out about a number of topics, including her peculiar way of picking projects.
"I don't choose roles, I choose people," says the actress, "I generally make work that I've cooked up with some friends around the kitchen table, and so the people come first, and then the project generally comes second… and what I do in it comes third, a poor third."
Swinton is a busy mother saying, "I'm an enthusiastic cook, and I have mouths to feed in my house so I need to cook." It's interesting that the film Kevin is about the absence of "maternal love."  About her children Swinton says, "I remember noticing that I was really into them, that it was interesting to me and I was up for it. It could have gone the other way."  Read more
The actual title of the article is 13 Things You Want To Know About Tilda Swinton but only these two were of interest for this site.
Check out the other 11 here via indiewire

8. Derek Jarman is the reason she's working today (you probably figured that too, but it's always worth mentioning).

"I really don't believe I would be performing in films if I hadn't met [Derek]," Swinton said. "When I first met him… I was a writer, who should have gone to art school, who went to university, stopped writing, wanted to find film, couldn't find film, worked in the theater, was alienated by the theater… I was completely what they would call 'bleeped' [she motions to the screen behind her, which had recently played a clip of 'Julia' that was essentially 50% bleeped 'fuck's]. When I met Derek Jarman, he gave me this place to go to, because I knew I didn't want to be a proper actor. I knew I didn't want to work in theater or on television or industrial cinema."

11. According to her, she doesn't know one thing about acting.

"There's this endless disclaimer that I always feel I honestly have to give about not being an actor," she said in all seriousness. "Because it really does feel most honest. I always feel that real actors are going to stand up and say 'you're a fraud! Confess it!' And I want to be the first to say that I never pretended to be anything else. I always pretended to be a film fan first, and an artist's model second. I'm in front of a camera, because I'm curious, and that's about it. I don't know one thing about acting."