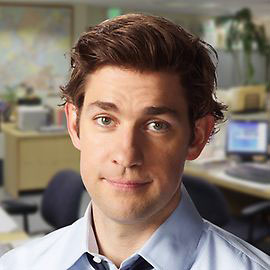 On May 16th, The Office will be closing its doors. After an eight-year run, Jim Pam, Dwight and the rest of the gang will be moving on to bigger and better things (hopefully). I've watched every episode of the long running series and I'll definitely be sad to see the show go.
Before getting the role of Jim, John Krasinski was like almost every other actor in New York. He'd work his job as a waiter during the week then run off to an audition when he could. He had booked a few things but "not anything that would allow me to claim that I was a working actor and didn't need another job," he said during a conference call. Booking The Office was like winning the lottery, "except with a winning lottery ticket you just get money, and with this you get a whole change of your life."
If you're a fan of the show, you'll love this interview. And honestly, even if you're not, there's some great stuff in here about what it's like to go from hustling for auditions to becoming a star on a major network show. In this interview, John and Executive Producer/Writer Greg Daniels talk about the end of The Office, John's audition, his past commercials and more. It's a long one but it's really great.
The Office airs on Thursdays at 9 on NBC – for only 2 more weeks! Read more
The Office filmed its final scene this past weekend and as a gift, casting director Allison Jones gave Rainn Wilson one very cool gift.
Here's what he wrote on his Facebook page:
This is the original sign-in sheet for the first day of casting for The Office given to me by Allison Jones, our incredible casting agent. I was the very first person to audition for the series, 11/06/03. Notice all the amazing talent on the sheet, including the amazing #13! This is perhaps the greatest Office keepsake I have. So grateful for the best job I will ever have.
Take a look at the names on there. Adam Scott auditioned for Jim. So did Hamish Linklater. Alan Tudyk and Ben Falcone were both called in for Michael. And someone named Jenna Fischer auditioned for Pam. Wonder whatever happened to her?
Check it out below! Read more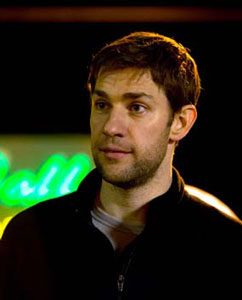 Once an actor has starred in a television series for a number of years it gets a bit difficult to see the actor in other roles — not just for audiences, but also for those who handle casting.  Case in point, I saw John Krasinski in a movie this year in which he was essentially playing his Jim Halpert character from The Office with a different name. That's not exactly the type of role that helps an actor grow.
Krasinski explains that he was inspired by Tom Hanks, who once mentioned on Inside the Actor's Studio that he took the less-than-affable role of the manager in A League of Their Own in order to break away from his typical 1980s "nice guy" roles.  He explains, "What Tom said was that he took the role because he wanted to play a guy with conflict.  He called his agent and said, 'I don't want to play pansies anymore.' That's exactly what I'm headed toward … I want to play something a little more real and gritty." Read more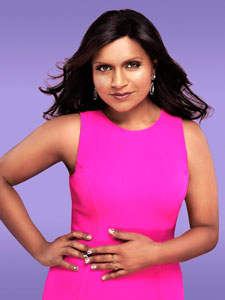 Mindy Kaling has become the It-girl for comedy writing in television.  Now that her show, The Mindy Project (which she created, stars in, writes for, and executive produces) has aired, it's no wonder the girl is busy.
"Now that I'm in Hollywood, I have many friends who run their own shows, and one of the personality traits at a party—being overwhelmed by being a show-runner on a show—is just something people adopt," Kaling told NPR.  "And one thing my mom and dad raised me believing is that everyone is busy, so it's not really a good conversation topic to talk about how busy you are.  And it's a little narcissistic, in fact, to talk about that, because everyone is stressed out no matter what job you're in.  Nobody is like, 'Yeah, I'm doing really well—work is just a total snooze and so easy.'" Read more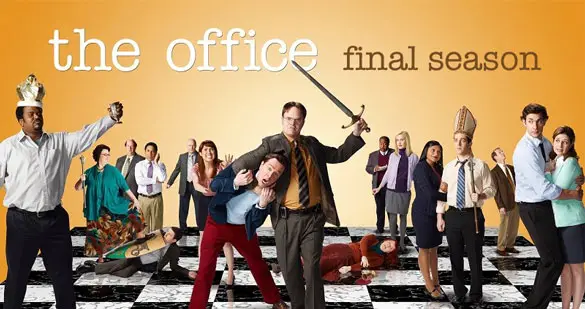 Greg Daniels, the showrunner for NBC's The Office, dropped a bombshell during a recent conference call I participated in: This will be the last season of The Office.
For fans of the show (like me), it was a bit of a shock but definitely not unexpected. This is the 9th season and it's core group of actors, John Krasinski, Jenna Fischer and Ed Helms are in their last years of a contract and would be on the verge of a huge raise. Rainn Wilson is set to leave and spin off his character, Dwight, on the new show, The Farm and Mindy Kalling (who has a new FOX pilot) and B.J. Novak have taken diminished roles this season. So, yeah, a shock but not unexpected.
I'll be sad to see the show go but as you'll read in this interview, they won't leave it's audience hanging. Daniels talks about wrapping up the storylines, finally finding out about the documentary crew that's been following the characters for the past 9 years and if Steve Carell will return.
The Office's final season begins on NBC on Thursday, September 20th at 9/8c Read more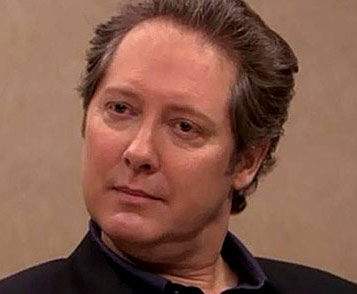 James Spader will clock out of The Office for the final time at the end of the hit NBC sitcom's eighth season.
The former Boston Legal actor, who was brought on to fill the void left by Steve Carrell's departure last year, recently made the decision to leave the show once it wraps production on its current season this spring.
"James came to The Office to play a role that was two scenes long in the season 7 finale. He instantly brought so much life and intrigue to the part that those two scenes became a season," said Paul Lieberstein, an executive producer and actor on the show, in a statement Tuesday. "James always wanted this to be a one year arc, and he now leaves us having created one of the most enigmatic and dynamic characters in television. He's been a great friend to me and the show, helping us successfully transition into the post-Michael Scott years, and I'm grateful for that." Read more
Podcast: Play in new window | Download (Duration: 18:49 — 12.9MB)
Ed Helms had no idea his character on The Office, Andy Bernard, would be promoted until a few weeks before shooting when he and Executive Producer/Writer Paul Liberstein – who also plays Toby on the show – sat down for lunch. "That's where I learned of the news," he said.
Steve Carell's Michael Scott may be hard shoes to fill, but as Liberstein said, Andy is a great choice because "any little problem that anybody's having, he would feel very deeply, which makes him very suited to be a comic lead in the show."
I talked to both Ed and Paul in a conference call where they talked about Andy's promotion, Helm's career path and how The Office might end.
Follow Ed on Twitter!
The Office airs on Thursdays at 9/8c on NBC
For the full interview, click the audio link above or download it from iTunes
How did the process go for you in terms of taking the new job? Did you know ahead of time?
Ed Helms: I knew about three or four weeks before we started shooting. That's when it kind – the news sort of broke internally. And Paul and I had lunch actually and that's where I learned of the news.
Were the actors vying internally for – or lobbying on behalf of their characters to get the managerial position and having your character getting it, was that a way to capitalize on your film career?
Ed Helms: Well I can only – I can speak to the first part. But the – I kind of felt like – I've always really trusted the creative judgment of the show creators, Greg Daniels and Paul Lieberstein and felt like they've gotten us so far. And there was a lot of internal sort of wondering and questioning what was next, who might be the next boss.
But I, you know, I think it's a testament to this cast and the dignity of everyone involved that we all sort of took a little bit of a, I don't know, just a back seat to the creative considerations upstairs. And what – and we're sort of eager to support whatever decision came down.
Paul Lieberstein: I think in terms of vying, you know, I haven't seen an actor want a specific role. I have – I think what an actor wants is in general is something interesting to play and to be challenged and stretched and, you know.
And we intend to do that with all the cast and so, you know, the – a movie can be about the lowliest guy on the street or the President of the United States and if it's – it's not so much who's the manager, you know, you can find something interesting.
So no one really was pressing. They just want to be engaged and challenged. You know, and that's what we wanted to show as well.  Read more
James Spader made an appearance in The Office's eighth season finale as a businessman vying for the fictional Dunder Mifflin Paper Company's regional manager position left empty by the exit of star Steve Carrell, and he must have had one hell of an interview. He officially joined the cast of the show this week although he will play the CEO of Dunder Mifflin parent company Sabre instead of a middle manager.
"James will reprise his role as Robert California, this uber-salesman that has a power to convince and manipulate, like a high-class weirdo Jedi warrior," reported Office executive producer Paul Lieberstein, who also plays HR head Toby Flenderson on the hit NBC comedy. "He'll have been hired over the summer as the new manager, but within hours, got himself promoted. Within days, he took over the company. James has an energy that is completely his own, and The Office has no tools for dealing with this guy. We're thrilled he's joining our cast."
Spader will take the place of Kathy Bates, who has committed to a second season of NBC's Harry's Law, as the face of Sabre when The Office returns Thursday, September 22.
Having played the dimwitted character Dwight on "The Office" for seven seasons, audiences are in for a surprise when they see Rainn Wilson in his new film "Super".
"For me, I think that it's pretty rare to get to play a role like Frank. It's an incredible role. I'm doing absurd comedy wearing a fake beard in one scene and sobbing in another. Then you are in a love scene and then shooting a guy in the head with a shotgun. It's every conceivable color – an actors dream role. You know when I play Dwight on the office it's basically one color, it's one-and-a-half shades that I've been playing for seven years."
Wilson would like to show there is more to Dwight than what we've seen so far. "I hope that especially since Steve is gone, a lot more is going to be called on from the ensemble. I think that they are going to have to find different ways to use me and Jim and Pam and show different colors of our characters to make the show viable and work. So I hope so. This next year will tell."
via wsj.com
When Will Ferrell was asked about the possiblity his four episode guest spot on "The Office" could lead to something more long-term, his response was: "That's a very distinct possibility. It's looking good!"
As Steve Carell prepares to exit the show, Ferrell's role as an incompetent Dunder Mifflin branch manager start's April 14th.
"The Office" co-star Craig Robinson said, it will be "a long breath hold" for him and the rest of the cast as they wait to see if Ferrell will become a permanent fixture on the show.