This is pretty freaking cool. Or disturbing.
Now for your viewing pleasure, you can have Liam Neeson stare, glare and judge you right from your computer screen.
For 10 whole hours.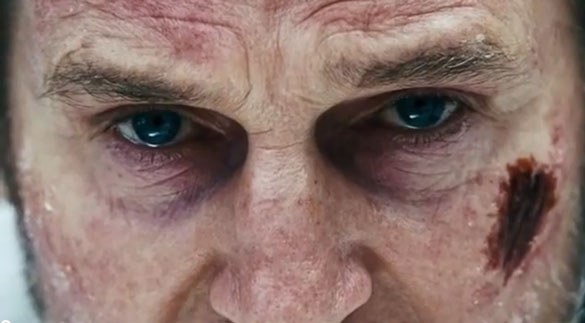 Watch for yourself below. Just don't do anything stupid or he may kill you. You saw what he did to those wolves in The Grey, didn't you? Read more
Podcast: Play in new window | Download (Duration: 18:41 — 12.9MB)
In Joe Carnahan's excellent film, The Grey, Joe Anderson plays Flannery, a loudmouth who constantly gets under the skin of his fellow oil-riggers. When their plane goes down, he and the rest of the survivors (Liam Neeson, Frank Grillo, Dermot Mulroney, Dallas Roberts, James Badge Dale, Ben Bray and Nonso Anozie) are forced to work together to fend of packs of wolves hungry for their blood.
Anderson is the son British theatre actors and he told me that even though he grew up surrounded by the profession, he didn't think he'd ever actually be an actor. After backpacking around the world, he decided he wanted to become a director. But since he couldn't afford coming to America and go to film school, he thought he'd go to drama school to learn about actors. And the rest is history.
Joe talked to me about the shoot and what it was like to work in freezing weather, working with Liam Neeson, and one particularly bad audition where he had to play an espresso machine.
For the full interview, click the audio link above or download it from iTunes 
I saw The Grey the other night. Freakin' fantastic film.
Joe Anderson: It's a fun one. It's intense, right? But it's got a lot of heart in there, a lot of heart.  It took me by surprise, the script.
Before I read it, I was thinking of kind of a dude's movie with guys in the snow and fighting wolves and it is but it's kind of a way more than that. I was kind of really surprised by that.   Read more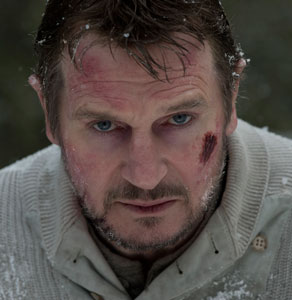 Though mostly known throughout the 1990s as a dramatic actor, Liam Neeson has surprisingly become something of an action hero as he approaches his sixtieth birthday. 
In Neeson's next action film, the action thriller The Grey, he is a member of an Alaskan oil drilling team whose plane crash-lands in the wild.  But filming a movie that takes place in the tundra has a number of physical demands that made the shoot challenging.
In fact, even though he was drawn to the role, Neeson had concerns about his physical ability for the role. 
He confesses,  "The Grey triggered something very primal inside of me.  When I read the script, I was 57 years old, and the little boy inside me thought it would be great to take on such a demanding role.  I wanted audiences to say 'Wow, how did you guys do that?'  At the same time, I was thinking, 'Jeez, can I physically do this?'"
Neeson's concerns were certainly valid: the film was shot in in Smithers,  British Columbia, which is a 12-hour drive north of Vancouver.  The cast and crew had to contend with frigid temperatures and equipment failures.  Neeson recalls, "It was just a physically impossible time during the first few days.  We had lines to memorize and our brains were freezing and all we could think about was how to stay warm."  Read more
Dermot Mulroney has never seemed to have a truly breakthrough role, but chances are you have seen him before: he's been in such varied films as Zodiac, Young Guns, J. Edgar, My Best Friend's Wedding, and the upcoming The Grey — though he actually hopes you don't recognize him!
Set in the Alaskan wilderness after an oil rigging team experiences a plane crash, Mulroney explains that the film's on-location shoot itself provided an extremely challenging environment for the actors.
Mulroney makes an important, logical point: often in a film in which involves characters trying to survive dire circumstances, it is often the most recognizable actors who survive. He points out, "In most films, if you see a bunch of people getting on a plane and you already recognize six of them, then you already know who's going to survive the movie, and that kind of blows it. So Joe [Carnahan, director] cast the film with really strong, dedicated actors — some you might have seen before, but not all of them, not yet." To avoid audiences recognizing him, Mulroney changed his appearance by growing a beard and wearing glasses. Read more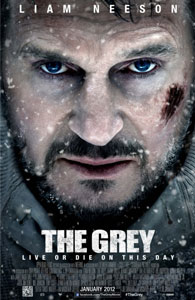 The Grey: A group of oil-rig roughnecks are left stranded on the sub-arctic tundra after their plane experiences a complete mechanical failure and crashes into the remote Alaskan wilderness. The survivors, battling mortal injuries, biting cold and ravenous hunger, are relentlessly hunted and pursued by a vicious pack of rogue wolves.
Starring: Liam Neeson, Dallas Roberts, James Badge Dale, Dermot Mulroney and Frank Grillo
Directed by: Joe Carnahan
In Theaters: January 27, 2012  Read more