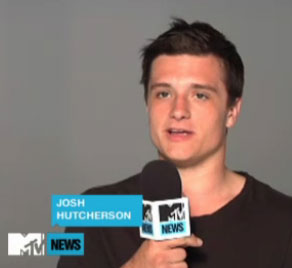 The Hunger Games by Suzanne Collins has become a sensation with readers and very quickly was poised for adaptation into film. The only problem of course with both fans and filmmakers is that the actors have to be right for the part. Casting is already a difficult process but it must be even harden when you're dealing with finding the person that can live up to fan expectations.
Just watching Winter's Bone (2010) showed just how powerful Jennifer Lawrence is as an actress. She's definitely the right choice to play Katniss Everdeen; however, casting the two young actors that will form a love triangle with Katniss must have been an even greater challenge.
Josh Hutcherson will play the part of Peeta Mellark, the boy chosen along with Katniss to compete in a tournament – to the death (hence the film's title).  Read more
Jennifer Lawrence, now on screen as the Mystique in "X-Men: First Class," tells Speakeasy that she had her doubts becoming an actor.
She tells the website that at first-acting was not something she felt she was good at, but then at some point it all just clicked. "The first movie I starred it, "Poker House" (2008), there was a lot of emotional stuff in it. It was very dark. I remember just being able to do it. I wondered if this was some sort of fluke and that tomorrow I'd fail. But somehow I just knew what to do. Then again, I might still suck."
The actress says the emotions she experiences while filming vary significantly when she sits down to watch the finished product. "Before they start the movie I'm sitting there terrified. I always pray that I'll think that I'm good, or think that I'm pretty or that the movie's great even if it isn't, because it's such a bad feeling when you're watching something terrible. There's a lot less mixed emotions when you're making the film than when you're actually watching it. But knowing that the movie is out there, that other people are watching it and liking it–that's why you make movies."
Read more
Suzanne Collins extraordinarily dark trilogy "The Hunger Games" – a beloved book series with fiercely loyal fans, is a tale of children forced to battle to the death,  a 16-year-old heroine named Katniss Everdeen, at the helm of the series . When Lionsgate and director Gary Ross announced 20-year-old Oscar nominee Jennifer Lawrence would take on the role of Katniss, Games fan base took to the social networks to voice their concern with the casting choice. Lawrence was voted too old, too blonde, too pale, too pretty to believably embody their warrior girl.  Lawrence herself hesitated when first offered the role, concerned she would not do justice to Katniss. But her passion for the part won out and now newly brunette and diligently training every day on the  North Carolina set, Lawrence feels she made the right decision.
The actress says Ross approached her about the role at the height of her Oscar whirlwind. "He was asking me what the experience was like," she recalls, "and I just kind of opened up and said, 'I feel like a rag doll. I have hair and makeup people coming to my house every day and putting me in new, uncomfortable, weird dresses and expensive shoes, and I just shut down and raise my arms up for them to get the dress on, and pout my lips when they need to put the lipstick on.' And we both started laughing because that's exactly what it's like for Katniss in the Capitol. She was a girl who's all of a sudden being introduced to fame. I know what that feels like to have all this flurry around you and feel like, 'Oh, no, I don't belong here.'"
Read more