It's nearly impossible after decades of a successful career to imagine Susan Sarandon as a fledgling actress, but the 66-year-old was once the victim of those infamous casting couch sessions.
"I just went into a room, and a guy practically threw me on the desk," she told Elle magazine.  "It was my early days in New York, and it was really disgusting.  It wasn't like I gave it a second though, it was so badly done.  It was not successful—for either of us."
According to EW.com, Sarandon did not identify who the man was, only that the incident occurred when she first arrived in New York to go on auditions.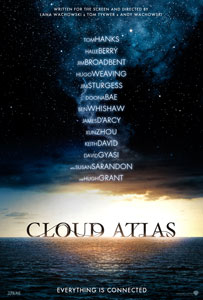 I have no idea what this movie is about…. but I think I already love it.
Cloud Atlas explores how the actions and consequences of individual lives impact one another throughout the past, the present and the future. Action, mystery and romance weave dramatically through the story as one soul is shaped from a killer into a hero and a single act of kindness ripples across centuries to inspire a revolution in the distant future.
Director: Lana Wachowski, Tom Tykwer, Andy Wachowski
Cast: Tom Hanks, Halle Berry, Jim Broadbent, Hugo Weaving, Jim Sturgess, Doona Bae, Ben Whishaw, James D'Arcy, Zhou Xun , Keith David, David Gyasi, Susan Sarandon, Hugh Grant
Writers: Andy Wachowski, Tom Tykwer, Lana Wachowski
In Theaters: October 26th  Read more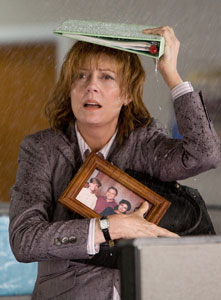 Susan Sarandon has had a prolific career that has included an Oscar win but, the actress she still insists she has no idea what she's doing.
In an interview with The Guardian, Sarandon confessed "I've done everything wrong so there's really no explanation as to why I'm still around.  I work with a lot of new directors—half the time they are not that great but you never know until you try.  I've taken movies that people told me I shouldn't, I've taken years off to have children, I've been outspoken politically, and here I am.  So I'm the last person you should ask [about life tips.]  I'm here because all my plans failed."
Sarandon stars in the recently released indie Jeff Who Lives at Home, a role which has inspired her to check in with her personal growth.  "I hope that I'm always re-evaluating my life," she said.  "The most difficult thing is to try to stay authentic.  The trap is that you become comfortable, stop asking questions and start to go through your life hypnotized." Read more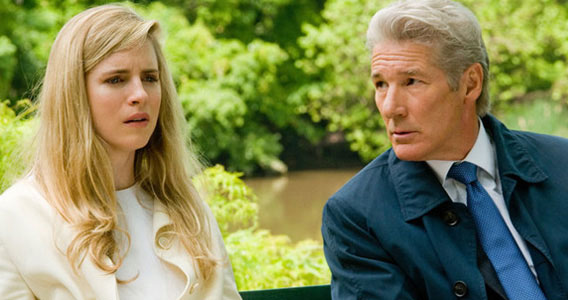 Arbitrage: The feature-directing debut of writer Nicholas Jarecki, is a taut and alluring suspense thriller about love, loyalty, and high finance. When we first meet New York hedge-fund magnate Robert Miller (Richard Gere) on the eve of his 60th birthday, he appears the very portrait of success in American business and family life. But behind the gilded walls of his mansion, Miller is in over his head, desperately trying to complete the sale of his trading empire to a major bank before the depths of his fraud are revealed. Struggling to conceal his duplicity from loyal wife Ellen (Susan Sarandon) and brilliant daughter and heir-apparent Brooke (Brit Marling), Miller's also balancing an affair with French art-dealer Julie Cote (Laetetia Casta). Just as he's about to unload his troubled empire, an unexpected bloody error forces him to juggle family, business, and crime with the aid of Jimmy Grant (Nate Parker), a face from Miller's past. One wrong turn ignites the suspicions of NYPD Detective Michael Bryer (Tim Roth), who will stop at nothing in his pursuits. Running on borrowed time, Miller is forced to confront the limits of even his own moral duplicity. Will he make it out before the bubble bursts?
Director: Nicholas Jarecki
Starring: Richard Gere, Susan Sarandon, Tim Roth, Brit Marling, Laetitia Casta and Nate Parker
In Theaters & VOD: September 14th Read more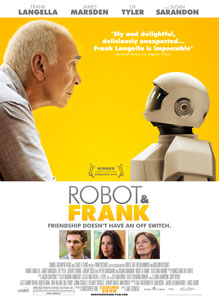 Robot & Frank: The feature film debut of commercial director Jake Schreier, was a festival favorite at the 2012 Sundance Film Festival where it world premiered and was co-winner of the Alfred P. Sloan Feature Film Prize. 
Set in the near future, Frank, a retired cat burglar, has two grown kids who are concerned he can no longer live alone.  They are tempted to place him in a nursing home until Frank's son chooses a different option: against the old man's wishes, he buys Frank a walking, talking humanoid robot programmed to improve his physical and mental health. What follows is an often hilarious and somewhat heartbreaking story about finding friends and family in the most unexpected places.
Starring: Frank Langella, James Marsden, Liv Tyler, Susan Sarandon, Peter Sarsgaard, Jeremy Sisto
Director: Jake Schreier
In Theaters: August 24th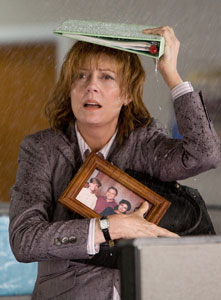 The extremely versatile actress Susan Sarandon brings her own brand of sex appeal and intelligence to every role – – from her fearless portrayal in "Bull Durham" to her Oscar®-nominated performances in "Thelma and Louise," "Lorenzo's Oil," "The Client" and "Atlantic City," to her Academy Award®-winning and SAG Award-winning role in "Dead Man Walking" as Sister Helen, a nun consoling a death-row inmate.
Sarandon has been seen in "Wall Street 2: Money Never Sleeps" for director Oliver Stone; in "Lovely Bones" for director Peter Jackson; "Enchanted"; "Speed Racer" for Larry and Andy Wachowski; "Elizabethtown" for director Cameron Crowe; "Shall We Dance?"; "The Banger Sisters"; "Mr. Woodcock"; "In the Valley of Elah" for director Paul Haggis; "Alfie"; "Moonight Mile"; "Igby Goes Down"; "Romance and Cigarettes"; "Twilight"; "Step Mom"; and "The Hunger"
Sarandon made her acting debut in the movie "Joe," which she followed with a continuing role in the TV drama "A World Apart."  Her early film credits include "The Great Waldo Pepper," "Lovin' Molly," Billy Wilder's "The Front Page" and the 1975 cult classic "The Rocky Horror Picture Show." In 1978 she played Brooke Shields' mother in Louis Malle's controversial "Pretty Baby," and went on to receive her first Oscar® nomination in Malle's "Atlantic City." Read more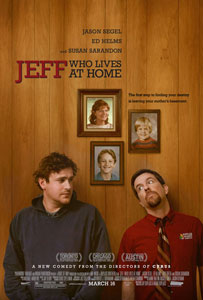 Jeff Who Live At Home: On his way to the store to buy wood glue, Jeff looks for signs from the universe to determine his path. However, a series of comedic and unexpected events leads him to cross paths with his family in the strangest of locations and circumstances. Jeff just may find the meaning of his life… and if he's lucky, pick up the wood glue as well.
Directors: Jay Duplass, Mark Duplass
Cast: Jason Segel, Ed Helms, Judy Greer, Susan Sarandon
In theaters: March 16th, 2012
Read more
They put the old band back together on ER last night. George Clooney, Julianna Margulies, Eriq La Salle and Noah Wyle (with a little help from Susan Sarandon) showed up to say farewell to NBC's long running show.
I thought what Clooney did was very cool. A lot of big names would have never come back and shown love for the show that made them what/who they are. I don't see Tom Hanks doing a cameo on a Bosom Buddies reunion.
I watched the last half of it and thought it was good to see the originals back on the show. I couldn't figure out a reason why Carter's wife wasn't at the hospital for his operation though. And Benton looked puffy – like he had been on a week long alcoholic bender.
Did you watch?