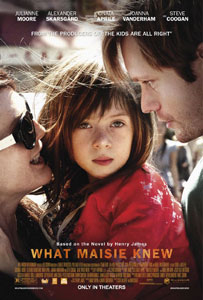 What Maisie Knew is a horrible title for a movie about families and what, ultimately, a family actually is.
Going into the film, I had no idea what the film was about but going from the title, I expected something about a murder and how a child witnessed it.
(Yes, I know this is a modern re-telling of a Henry James story. It's still a horrible title).
Boy was I wrong but in a pleasantly surprised way. And that's thanks to an incredible performance by Onata Aprile as Maisie.
Directed by Scott McGehee and David Siegel, Maisie (Aprile) is the child of two of the most self-centered people in the world. Played by Steve Coogan and Julianne Moore, they definitely win the prize for 'Year's Worst Parents.' In a constant state or arguments, Moore's aging rock star of a mom Susanna, finally decides enough is enough, and kicks him out. This sets off a custody battle where, eventually, Coogan's Beale wins, taking with him Maisie and the family nanny, Margo (Joanna Vanderham).
Both parents quickly marry; Beale woos the nanny with travel and her love of Maisie and Susanna to a local bartender, Lincoln (Alexander Skarsgard). Susanna's reasoning for the quickie marriage? "I married him for you," she tells Maisie. So he can watch her during the day. Which is a perfect reason to get married. Read more
British-born Steve Coogan was on top of the U.S. box office in 2008 with Tropic Thunder, and most recently starred in the comedy The Trip, his third film for director Michael Winterbottom. He was also seen recently in Night at the Museum: Battle of the Smithsonian, reprising his role from Night of the Museum.
Other film credits include The Indian In The Cupbaord; Jim Jarmusch's Coffee and Cigarettes; Michael Winterbottom's 24 Hour Party People and Tristram Shandy: A Cock and Bull Story; Around The World In 80 Days; Happy Endings; Sophia Coppola's Marie Antoinette; Finding Amanda; Hamlet 2; Percy Jackson & The Olympians: The Lightning Thief; and Marmaduke. Later this year, he will also be seen opposite Hilary Duff and Molly Shannon in Safety Glass. Read more
Film students: don't be shy about asking actors or actresses with a bit more experience than the typical cast member of a student film has to appear in your movies.
Seventeen year-old Liam Hooper wrote a letter to Steve Coogan (Tropic Thunder, The Other Guys, Alan Partridge) asking him to appear in his £1,000 student film.  Hooper believed that while the script was very much in the vein of Coogan's humor he wouldn't actually hear back from the popular comedian.  I mean, who knows if the letter would even reach Coogan?
Turns out Hooper was wrong — not only did he hear from Coogan, but even more surprising, Coogan agreed to cameo in the film.
Hooper tells RTE that Coogan's involvement "brings a real wow factor to the movie and it has been an incredible opportunity to work with one of my idols."  About the film he says that Coogan appears in a "pivotal" moment, adding "The film is about a group of pupils who look after a haunted house for a £50,000 reward, but start disappearing one by one. There are some scary moments, and a very high body count, but mostly it's meant to be funny."  Actually that sounds more interesting than most movies coming out in the multiplexes these days!  Read more
Steve Coogan has created, written and starred in some of the funniest TV shows made in Britain. He has starred in "Around the World in 80 Days", indy's such as "24 Hour Party People" and most recently as the exasperated director in "Tropic Thunder." He's back again in "Hamlet 2."