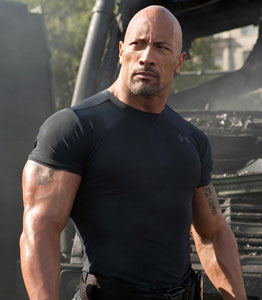 There's a reason why you don't see Dwayne "The Rock" Johnson in a wrestling ring much anymore: he's traded in his wrestling championships to become the 2013 box office champion as the highest grossing actor of 2013 according to Forbes.
Johnson had two major hits in the past year (Fast & Furious 6 and G.I. Joe: Retaliation) and two smaller hits (Pain and Gain and Snitch), with a cumulative box office of $1.3 billion.  That quantity puts Johnson over the top of Robert Downey Jr., who starred in the highest grossing film of the year (Iron Man 3) but only made that single film (still, he comes in right below Johnson at $1.2 million).  Johnson's Fast & Furious co-stars Vin Diesel and the late Paul Walker also made the list (#4 and #6, respectively), mostly because of the success of that franchise's latest entry. Forbes' data looked at worldwide box office earnings for films released between June 2012 and June 2013. Read more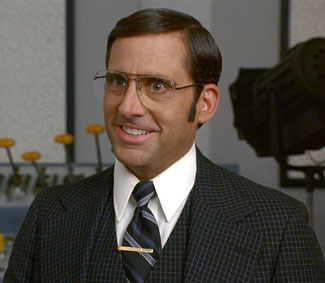 Although I'm a bit wary that the marketing overkill for Anchorman 2 that has gone from viral to outbreak, I still can't wait to see the sequel.  One of the main reasons why is because I absolutely loved the chemistry between the Channel Four news team in the first film: Will Ferrell, Paul Rudd, David Koechner, and, of course, Steve Carell as Brick Tamland, the low IQ weatherman of the news team.  Carell spoke about reuniting for the sequel with The Guardian and explained why the original is so dear to him and why he looks up to comedians like Ferrell and Peter Sellers.
Carell admits that he more-or-less owes his entire career to Anchorman because it served as a breakthrough role for him. He explains, "Adam [McKay, the director] and Will are probably more responsible for my subsequent career than anybody, because they gave me a shot. I wasn't well known – none of us were except Paul– but they took a chance and from there I met Judd Apatow, one of the producers, and we wrote The 40-Year-Old Virgin together. That led to other things, so it was an incredibly important time in my career." Read more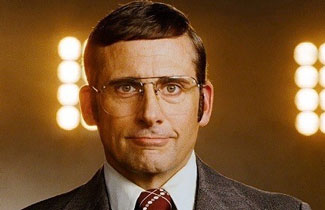 If you haven't been able to tell from the Ron Burgundy overload on your television and computer, the sequel to the beloved 2004 comedy Anchorman is finally coming out this week.  Because star Will Ferrell isn't much of a talker in real life, one of the members of Burgundy's Channel Four news team is doing most of the media rounds — that would be Steve Carell, who plays the mentally challenged weatherman Brick Tamland. 
Carell spoke to The New York Post about getting back into the period wardrobe (the sequel is set in 1980) and why his fellow Channel Four news team actors — Ferrell, Paul Rudd, and David Koechner — work so well together. Read more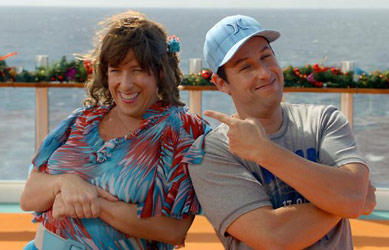 Each year Forbes releases a list of the most "overpaid" actors — in other words, actors who deliver the least amount of box office for the investment to cover their hefty paychecks.  Last year the list was topped by Eddie Murphy (big surprise), who doesn't make the list this year because he wisely decided to take a little break from movies.  But this year another Saturday Night Live veteran took his spot at the top: Adam Sandler.
Adam Sandler had the two biggest bombs of his career back-to-back with 2011′s Jack and Jill and 2012′s That's My Boy, but had a massive worldwide hit with the animated Hotel Transylvania (however, the Forbes list does not count animated films).  The struggling box office of those two movies suggests why Sandler made his first sequel, Grown Ups 2 (which was a big hit for him), and is reuniting with Drew Barrymore for Blended, with whom he made two hit romantic comedies.  However, Forbes' data "looked at the last three movies each actor starred in over the three years to June 1," so the July release of Grown Ups 2 did not make the cut.  Forbes estimates that for every dollar Sandler was paid, the films returned $3.40.  Still, Sandler at least can take comfort in knowing he probably won't be #1 next year because of Grown Ups 2… unless he has another bomb in the first half of 2014. Read more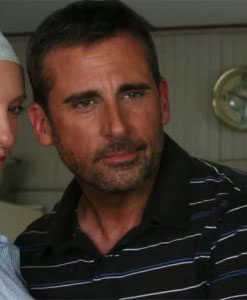 Steve Carell didn't always know he was going to be a comedic actor.
"I wasn't a class clown, I never developed this comedic flair as a kid," he said to Interview.  "Even when I decided to become an actor, it was just to be an actor, not necessarily a comedic actor.  I wasn't that guy who struck out with women so he became really funny, and that's when the women started to like him."
Carell is stretching his dramatic acting muscles in his latest film, The Way, Way Back.  He did a few preparations to get into character.  "I got a haircut, I grew a little stubble, and I got a tan," he explained.  "I think this guy sort of fancies himself as being a bit of a stud, at least in his own mind.  I think he's definitely an alpha male, and I tend not to play that kind of guy, either.  Someone who's in charge when he walks into a room, it's his way." Read more
Even though Steve Carell has made his name as a comedic actor, he has never been worried about getting typecast as Michael Scott from The Office.
"I've done big commercial movies and little independent movies, and I've played jerks and suicidal Proust scholars, and I feel like I've been really lucky to play all the different types of characters I play, so no, I don't worry about [being typecast.]  If I do get pigeonholed, it's nothing I can really control," he admitted in an interview with Yahoo! News.
Carell has been taking on many challenges, including his voiceover work in the new animated film, Despicable Me 2.  "I've been doing some more dramatic work, I'm writing something now and eventually I might direct something," the 50-year-old said.  "I've got some other things in the fire, but that's just to keep it interesting and exciting. Read more
Here's the newest trailer for Anchorman 2!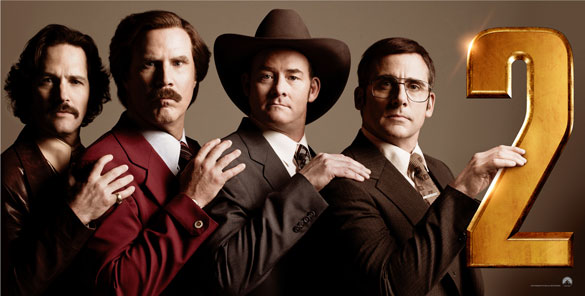 Anchorman 2: The Legend Continues -  With the 70′s behind him, San Diego's top rated newsman, Ron Burgundy (Will Ferrell), returns to the news desk in "Anchorman 2: The Legend Continues."  Also back for more are Ron's co-anchor and wife, Veronica Corningstone (Christina Applegate), weather man Brick Tamland (Steve Carell), man on the street Brian Fantana (Paul Rudd) and sports guy Champ Kind (David Koechner) – All of whom won't make it easy to stay classy… while taking New York's first 24-hour news channel by storm.
In theaters: December 20th  Read more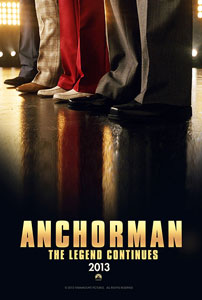 Here's a new teaser trailer for Anchorman 2: The Legend Continues!
Starring Will Ferrell, David Koechner, Paul Rudd and Steve Carell, it's pretty much the same as the first teaser trailer but who cares, right? It's still funny and it's just making me wish it were already December.
In theaters on December 20th! Read more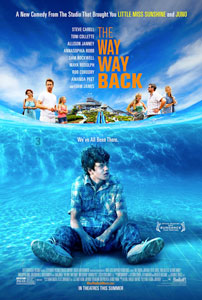 Synopsis: The Way, Way Back is the funny and poignant coming of age story of 14-year-old Duncan's (Liam James) summer vacation with his mother, Pam (Toni Collette), her overbearing boyfriend, Trent (Steve Carell), and his daughter, Steph (Zoe Levin).  Having a rough time fitting in, the introverted Duncan finds an unexpected friend in gregarious Owen (Sam Rockwell), manager of the Water Wizz water park. Through his funny, clandestine friendship with Owen, Duncan slowly opens up to and begins to finally find his place in the world – all during a summer he will never forget. 
Written & Directed by Nat Faxon & Jim Rash
Starring Steve Carell, Toni Collette, Allison Janney, AnnaSophia Robb, Sam Rockwell, Maya Rudolph and Liam James, Amanda Peet and Rob Corddry
In Theaters July 5th Read more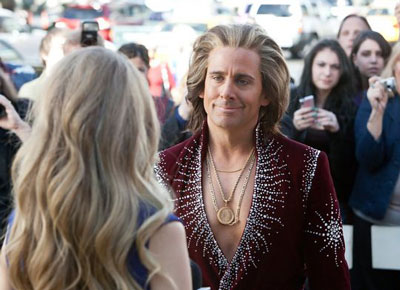 Though The Incredible Burt Wonderstone hasn't received the best pre-release reviews, it seems most people are happy just to see star Steve Carell doing a full-out comedy again after several turns as a dour man having a mid-life crisis.  In a lengthy interview with Time magazine, Carell elaborates on his performance in Burt Wonderstone, working with co-star Jim Carrey, and how he shifted his mindset for his upcoming dramatic turn in Foxcatcher… and then right back to comedy for Anchorman 2.
Though Carell was inspired by Vegas-style magicians, he explains that his character wasn't based on a single particular trickster.  He says, "It was more of an aesthetic thing. I was really just trying to get the sense of the showmanship and the performance quality that these guys have. There are different styles. There are more comedic-based magicians, there are close-up, sleight-of-hand magicians, there are big-prop magicians, there are shows ranging from incredibly spectacular to intimate. You kind of pick and choose, and you try to emulate different aspects of each of them. What I was doing was a conglomeration of a bunch of different things I observed." Read more