Podcast: Play in new window | Download (Duration: 11:33 — 7.9MB)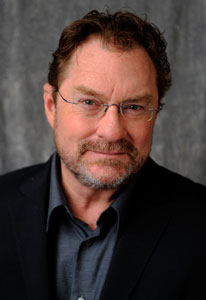 If someone asked you to name your Top 5 favorite character actors and Stephen Root isn't on that list, then something is wrong with you.
My keyboard would explode from typing too much if I started to list his credits, but from roles in films like O Brother, Where Art Thou?, Dodgeball, and of course, Office Space, he has never turned in a bad performance. As I told him in the interview, every time he's on screen he is just so interesting to watch.
In this week's episode of Fringe, Stephen and his wife, Romy Rosemont, guest star as a couple  who may have answers to the team's investigation of time loop anomalies.
I got a chance to talk to Stephen about working with his wife for the first time, choosing his roles, how his Shakespeare training helped him when he played a Klingon and more.
Fringe airs tonight at 9/8c on FOX
For the full interview, click the audio link above or download it from iTunes
I walked past you at Actorfest last weekend.
Stephen Root: Yes, I was happy to do that. It's always good to come and tell your horror stories to the younger actors and tell them not to do it unless they really love it.
I was going to ask you, I'm sure you said this there, but what's your advice to actors?
Stephen Root: That you shouldn't be doing it unless you have to do it, not to do it because you think it would be cool, or you think you're going to make a lot of money, but because this is an artistic expression of yourself that you have to do.
You have to be able to stick it out for a number of years. It's a hard thing. I think probably determination is the greatest thing and talent isn't. I've seen a lot of talented people go by the wayside who couldn't stick out the day-to-day. It's determination and guts and luck—have a lot more to do with it than anything else.  Read more