Here are a handful of interviews from the SAG Awards Media Room featuring Daniel Day-Lewis, Dick Van Dyke, Tina Fey and the cast of Modern Family.
Once again, Ben Affleck gives the best answers in this group of backstage interviews, particularly the first question he's given.
Check them out below! Read more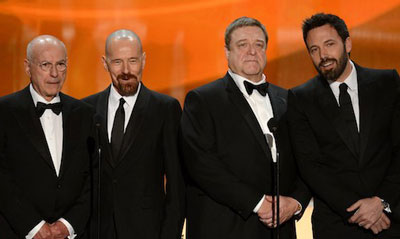 The SAG Awards are always, I think, the classiest of all the awards shows. Plus, they clock in at 2 hours and everyone is always happy to be honored by their peers.
Here are all of last night's acceptance speeches, including Daniel Day-Lewis, Jennifer Lawrence and Anne Hathaway and my favorite one of the night, Ben Affleck.

Check them out below! Read more
Here are the transcripts of the speeches t he winning actors gave from the Film portion of the 19th Annual SAG Awards, featuring Ben Affleck, Daniel Day-Lewis, Jennifer Lawrence and Anne Hathaway. My favorite of the night was Affleck's.
Check them out below! 
OUTSTANDING PERFORMANCE BY A CAST IN A MOTION PICTURE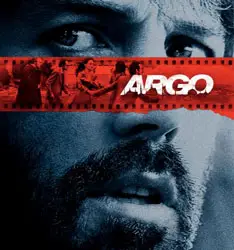 BEN AFFLECK: Wow, thank you all so much. I can't believe I'm standing in the place where Daniel Day-Lewis just was. I feel like maybe I'll be a better actor just for the, like, radiation. [laughter] I am really amazed and stunned, there are so many great actors here and this is voted on by our brothers who are actors. There's a hundred and some thousand people in SAG-AFTRA. Some of them never get, you know, to come to a place like this. And they vote from home, you know.
First, I want to thank my wife, who I love, and our kids who I also love. You know, and Warner Bros. who I love. Not quite as much, but I do love them. You know, there is so many people who are actors, who want to be actors. I got in SAG in 1986 and I always wanted – just like so many people who came up and made these speeches, and to me this has nothing to do with me, it has to do with the incredible people who are in this movie.
The people you see on stage, we had more than a hundred and fifty actors. They spoke in English, they spoke in Farsi, and the one thing that they had in common was that they came to work every single day, whether they had a line or a look to somebody, or two lines or 10 lines, or a bunch of stuff I couldn't understand in Farsi, and they wanted to "kill" it to make the movie better.
Because that's what actors do all over the world, every day. God bless you. Thank you so much for making the movies that you make, and the television you make, and the theater you make. We are in your debt. Thank you. God bless you. Thank you all and thank all these incredible films who were nominated with us. Read more
Here are the transcripts of the speeches the winning actors gave from the Television portion of the 19th Annual SAG Awards, featuring Bryan Cranston, Claire Danes, Alec Baldwin, Tina Fey and Julianne Moore.
Check them out below!
OUTSTANDING PERFORMANCE BY A MALE ACTOR IN A DRAMA SERIES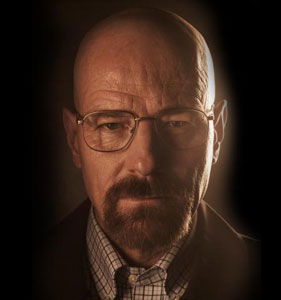 BRYAN CRANSTON: Thank you. Oh, it is so good to be bad. [cheers] I am so pleased and so honored to receive this award. I'd love to thank our very courageous network, AMC, and our all- supportive studio, Sony Television. Our writers, directors, our beautiful crew in New Mexico who work so hard. Also, Vince Gilligan who wrote… [applause]…he wrote the role of my career and I am forever grateful to you, sir.
To my lovely wife and daughter, Robin and Taylor, who wrote…who created the role of my life, I love you guys so much. I am so pleased that I am here with this table of great actors, with Aaron Paul and Anna Gunn, [applause throughout] Jonathan Banks, Bob Odenkirk, RJ Mitte, Dean Norris, Laura Fraser, Jesse Plemons, Steven Michael Quezada, Betsy – I'm so excited.
Thank you all for – and all the actors who have graced our stage with their talent. Thank you for making me a better actor and a richer man for knowing you. Thank you to Sharon Bialy and Sherry Thomas, our beautiful casting directors. [applause] What a wonderful job. And to my brothers and sisters in SAG-AFTRA who have endowed me with this wonderful, wonderful award. And so, tonight at least I'm well endowed. Thank you very much and goodnight. [applause] Read more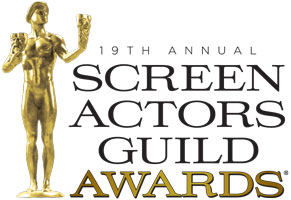 There weren't a lot of surprises at the SAG awards but of the awards presented, the only one that I thought was wrong was the Outstanding Performance by a Male in a Supporting Category given to Tommy Lee Jones for Lincoln.  I thought he was fine but was his performance better than Philip Seymour Hoffman's in The Master?
The actors honored with awards were Daniel Day-Lewis, Anne Hathaway, Jones and Jennifer Lawrence for performances in motion pictures and Alec Baldwin, Bryan Cranston, Kevin Costner, Claire Danes, Tina Fey and Julianne Moore for performances in television.
The Actor® for a motion picture cast performance went this year to Argo, while the Actors® for television drama and comedy ensemble performances went this year to Downton Abbey and Modern Family.
Check out the full list below.  Read more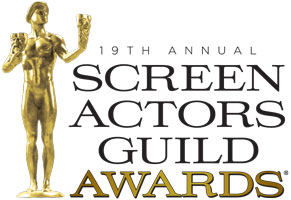 The nominees for the 19th Annual Screen Actors Guild Awards were announced early this morning by an energetic Busy Philipps (Cougar Town) and Taye Diggs (Private Practice).
The only WTF of the awards is that Christoph Waltz wasn't nominated in the Supporting Actor category for Django Unchained. Screeners weren't sent to the nominating committee because the film wasn't finished in time but I do know that it was screened. The committee should be ashamed of themselves because his performance 1,000 times better than Robert De Niro's for Silver Linings Playbook or Tommy Lee Jones for Lincoln.
The Screen Actors Guild Awards® will be simulcast live on TNT and TBS on Sunday, Jan. 27 at 8 p.m. (ET)/5 p.m. (PT).
The nominees are below.  Read more
Finding out that you've been nominated for an acting award in the same category as Glenn Close and Meryl Streep must be like finding out you're running the 100 meter dash against the gold medal and the silver medal winners of that event at the last Olympics. 
That's the predicament that Viola Davis, star of The Help, found herself in during this year's Screen Actors Guild Awards.  However, Davis was not only awarded Best Actress, but also won Best Ensemble with her talented co-stars.
"I feel pretty overwhelmed with my name being called," Davis said about the film's best ensemble win.  Yet, when it came to her winning the award for Best Actress, Davis was more talkative.  She admits she doesn't feel up to the award's caliber, saying, "I just don't see the 'best' thing going on.  It's hard. Every time I start a new job, I feel like I start with a clean slate. … I feel like everyone is going to find out what a hack I am. And it's strange to triumph over Meryl Streep."  Read more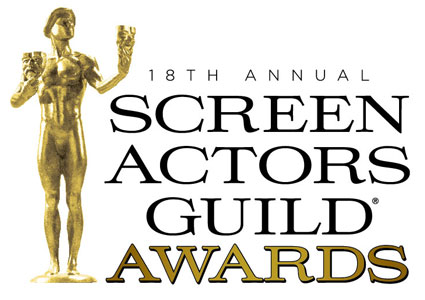 I liked the SAG Awards last night. They were short and sweet and didn't have the fluff that most awards ceremonies force you to sit through. My favorite moments were the acceptance speeches from Octavia Spencer and Viola Davis and the cast of Bridesmaids yukking it up.
But, out of all the things I liked, there were 2 things that bugged me.
The first was something about the show in general. As SAG member Pam Munro pointed out to me in an email, the tickets for the awards were, according to their website, $800. "Who can PAY that? Certainly not most of the rank & file!" she said.
I absolutely agree. For most of us, $800 is a lot of change. That's headshots and prints. Rent. 3 Months of acting classes. One drunken night on Sunset. It's almost like the powers that be want to keep you and me from attending by keeping the price high, isn't it?  Read more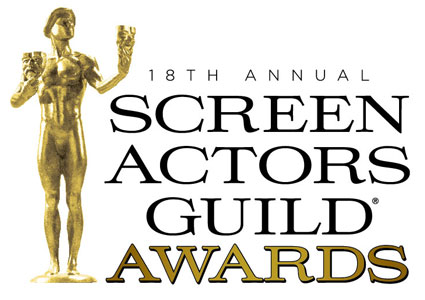 The SAG Awards have just announced that Ed Helms, Julianna Margulies and Natalie Portman will join Actor nominee Armie Hammer, SAG Awards® social network ambassador Regina King and SAG President Ken Howard as presenters at the 18th Annual Screen Actors Guild Awards®.
The SAG Awards® will be Simulcast Live on TNT and TBS on Sunday, Jan. 29, 2012 at 8 p.m. (ET) / 5 p.m. (PT)
Read more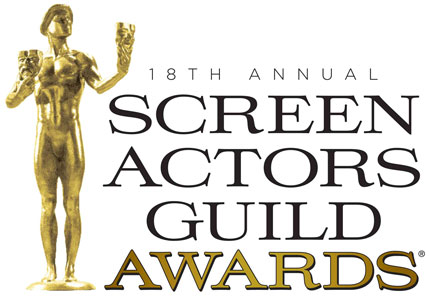 The nominations for the 18th Annual SAG Awards were announced this morning while I was patiently sitting in an airport waiting to board my flight to JFK.
Congrats to all the nominees!
But, I just have one WTF as I go through the list: Glee was nominated as in the Ensemble category? The cast is fine with Jane Lynch, Heather Morris and Matthew Morrison being the standouts but nominating the cast for best ensemble? Seriously?
Check out the nominations below!
Read more