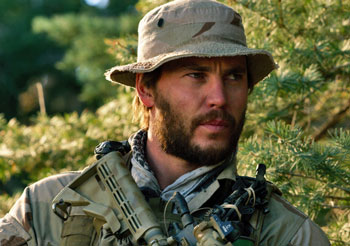 Taylor Kitsch will forever be known as Tim Riggins in the beloved TV series Friday Night Lights, but he has a big year ahead of him with two important films Lone Survivor and The Normal Heart.
Lone Survivor follows four Navy SEALS who do their best to stay alive while on a mission in Afghanistan. Kitsch co-stars with Emile Hirsch, Mark Wahlberg and Ben Foster. The actors found the shoot to be an emotional experience. It was even tough to watch the final cut.
The 32-year-old star said, "I broke down three times. You just hold all this energy in as an actor, and I didn't truly let it go until then. Knowing all the families and getting to be a part of it and tell the story … yeah, it fuckin' crushed me. That's what takes you out of your head when you're watching yourself." Read more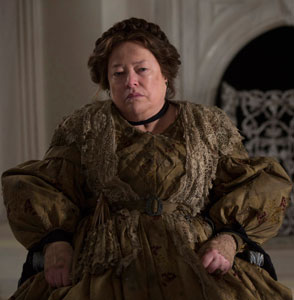 Actress Kathy Bates has had tremendous success on the big and small screen. Harry's Law fans rejoiced when she returned to television this season in the third installment of the American Horror Story anthology on FX.
Her role in American Horror Story: Coven as 1800s-era serial killer Madame Delphine LaLaurie has entranced audiences for her haunting performance. She spoke to Vulture about her role just as she was about to do a rather mundane chore.
Bates laughed, "My manager was horrified I was doing my laundry in a laundromat. I was like, 'Susan, I enjoy it! It's a lot less expensive than the hotel. C'mon! What's the big deal?"
Even with an Oscar on her mantel, the 65-year-old actress is grateful that creator Ryan Murphy is writing characters that appeal to all ages because not everyone is writing for women over the age of 50. Read more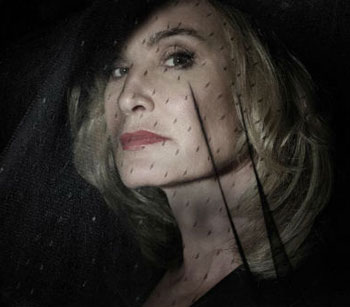 For Jessica Lange fans, brace yourself for the news she recently revealed to the Los Angeles Times, she's ready to retire. Don't worry though, it's a five-year plan for the 64-year-old actress.
She shared how she wants to end her successful career.
Lange said, "I am coming to the end of acting. I have a list: another stage production, maybe one or two more movies, one more season of American Horror Story…and then that is it for me. Because I think that's enough. I want to go out with a bang …or should I say, a scare?"
Her work on FX's American Horror Story has been a wonderful bonus to a career that has been prolific with two Oscar-winning turns in Blue Sky and Tootsie. Even with those Oscars on her mantel, working on  Ryan Murphy's horror anthology has been incredibly rewarding for her. Read more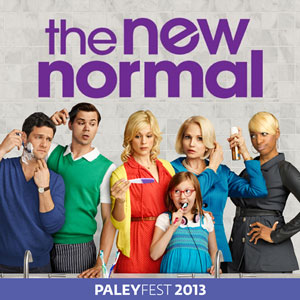 Ryan Murphy believes television can change the world. So, with the three shows he has on the air now (Glee, American Horror Story, The New Normal), Murphy is working to change people's perceptions about the status quo.
At the PaleyFest in Beverly Hills, television fans can gather to celebrate some of the best shows over the past year.  On Wednesday, the cast and creative team behind The New Normal gathered at the Saban Theater to discuss why the show means so much to modern audiences.
"People feel that they know gay couples more than ever," Murphy said, citing shows like The New Normal and Modern Family.  "If you know someone and you know what their struggle is, you're less likely to have prejudice against them.  [Gay rights] is the biggest civil rights movement of our time and the reason we've had the quick leap forward is because of television."
Murphy admitted that the show is loosely based on his own experience adopting a baby via surrogate with his partner, David.  Along with co-creator, Ali Adler, the two worked to create a show that would encompass "all our 'new normals'," Adler said.  "We wanted to address what's happening now." Read more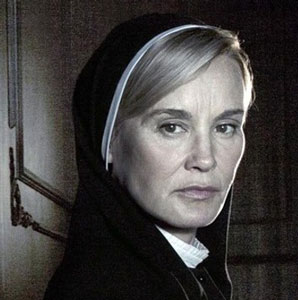 The sophomore season of FX's hit show, American Horror Story: Asylum has had a major turning point plot-wise and has seen its star, Jessica Lange, go from playing a take-no-crap nun to mental patient. Lange has been so good in the series that she was nominated for a Golden Globe and SAG Award and if you've seen her work on the show, you'll know that she absolutely deserves it.
The Oscar, Emmy and Golden Globe winning actress recently did a Q&A for the show and she mentioned how she loves creator Ryan Murphy's approach to the series. "I think what Ryan had in mind is this kind of Mercury Theatre, this idea of having a repertory company and moving them from one project to another, and there's something kind of great about that, watching these actors come in and create a different character." She said that she is really enjoying the chance its given her o create a new characters and that her time on the show has made her "a better actor."
In the interview, Lange talks about acting on the show, not knowing her character arc in advance and how she's surprised that young actors don't know film history.
American Horror Story: Asylum airs at 10pm on FX Read more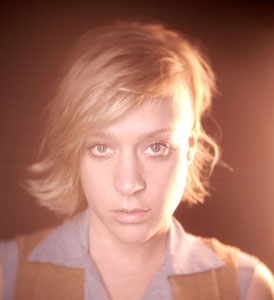 When Ryan Murphy was looking for an actress to play a nymphomaniac who gets her legs amputated by crazy Doctor for season 2 of American Horror Story: Asylum, Chloe Sevigny was at the top of his list.
Academy Award nominated Sevigny is perfect in the part of Shelly, one of inmates at Briarcliff Manor, and she said in a recent conference call that Murphy called her up, spoke for an hour about the part and character and after watching a handful of season 1 episodes, she was "hooked right away and that's when I signed on." She then went on to say "Thank God," she didn't have to audition "because I'd never gotten the role auditioning, I'm terrible at it."
In this Q&A, she talks about her character and how more craziness is yet to come, working with James Cromwell and her approach to acting.
American Horror Story: Asylum airs on Wednesdays at 10pm on FX. Read more
The New Normal: Tune In
While the premise for this show might have been scandalous a few decades ago, it says a lot for how far the entertainment world has come that a series centered around a gay couple adopting is somewhat mundane.
Ryan Murphy's new NBC comedy makes up for lack of shock factor with its impeccable cast.  Andrew Rannells (hilarious as Elliot on Girls) is spot-on as the flashy, more fashionable half of the couple.  Justin Bartha (The Hangover) provides a reliable straight man (no pun intended), who is the necessary, more level-headed partner.  The show would be lost without the perfect chemistry between the two central characters. 
The show picks up speed as the couple decide to make a baby using a surrogate mother—enter Goldie (Georgia King), a woman who's at the end of her rope after finding out her husband is cheating on her. But what comedy would be complete without a supporting cast of crazies?  Ellen Barkin is a shining example of how to pull off a bitchy, bigot—she provides some of the show's most outrageously funny lines as Goldie's grandmother. (You should tune in merely to see how many analogies she can come up with for being a homosexual.) 
Casting also got it right with the little girl who plays Goldie's daughter.  Bebe Wood is adorable without being cloying.  Add NeNe Leakes, from The Real Housewives of Atlanta fame, to the mix, and you have an ideal comedy maelstrom. Read more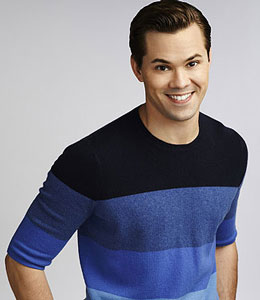 There has already been quite a bit of controversy surrounding Andrew Rannells' new show, The New Normal.  Ryan Murphy's (American Horror Story, Glee) NBC comedy is about a gay couple who decide to have a baby via a surrogate mother.  A Utah syndicate already decided to ban the show from airing because of the content.  So Rannells feels a certain responsibility to represent the show's positive qualities.
"It's a rather serious and loving subject matter, so I didn't want to dumb it down with stereotypical over-the-top gay flash and sass," Rannells told NPR.  "I certainly didn't want to be a gay clown on this, you know, because the subject matter is actually a very sweet one, and I think a very lovely one about these people who are so in love and so committed to each other that they realize that what's missing in their life is to share that love with a child."
Rannells was convinced he wouldn't get the role after pitching himself as the lead to Murphy, who didn't call the actor back for over a month.  "I was like, 'Oh my God, I've completely overstepped—I've over-Oprah-ed this,'" he said.  "I've ruined my chances of working with this man because I was too bold." Read more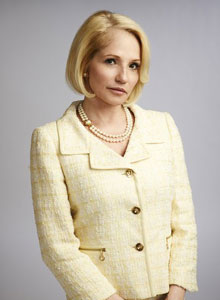 Ellen Barkin is set to make her debut as a series regular on NBC's new comedy, The New Normal. Created by Ryan Murphy (Glee, American Horror Story), the show also stars  Justin Bartha, Andrew Rannells, and Georgia King and follows a successful gay couple (Bartha and Rannells) who set out to find a surrogate (King) to have their baby. Barkin plays the surrogates "small-minded grandmother".
Barkin first appeared on-screen in Barry Levinson's iconic film Diner and since then has been featured in over 50 films; Steven Soderbergh's Ocean's 13, This Boy's Life opposite Robert De Niro and Leonardo DiCaprio, Sea of Love opposite Al Pacino  and Bruce Beresford's Tender Mercies opposite Robert Duvall to name a few.
She's a Tony and Emmy Award-winner, who, like the character she plays in the show, has no trouble speaking her mind and I love that about her. I saw her in the Broadway production of Larry Kramer's, The Normal Heart – he show the she won the Tony Award for – and she was fantastic. I still think about that show and the monologue she delivered towards the end. It was one of those theater experiences I'll always remember.
In this Q & A, she chats about the show, her outspokenness and why she's not a fan of improvising.
The New Normal premieres on NBC on September 11th at 9:30 Read more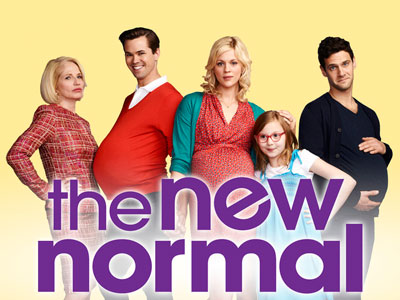 Here's your chance to check out NBC's The New Normal before it airs on September 11th.
The show, created by Glee's Ryan Murphy, stars Justin Bartha, Andrew Rannells, Ellen Barkin and Georgia King and is about a successful gay couple (Bartha and Rannells) who set out to find a surrogate (King) to have their baby.
Check it out below! Read more