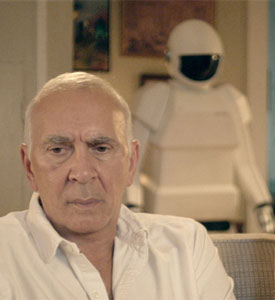 Frank Langella is one of those veteran actors who I would love to share a few drinks with (I'd even pay the tab!)  He seems to be so full of great stories about his long career in theater and film.  He also stars in one of my favorite films of 2012, Robot & Frank, which he talks about Reuters.  He opens up about the importance of working from a good script, acting against a robot, and whether or not the Hollywood of his youth has changed.
On Robot & Frank Langella was working with first-time director Jake Schreier.  However, Langella wasn't bothered about working with an inexperienced director because he really enjoyed Schreier's script.  He explains, "I agree to do a film first on what's on the page. There is an old expression – and I started out in the theater and go back to the theater every year if I can – the expression is, 'If it ain't on the page, it ain't on the stage.' I once did a play in England, and the venerable old actress Joan Plowright walked into my dressing room with a very strange look on her face and I knew the evening didn't work and she said, 'I know what you are thinking, dear, you were thinking, I will fix it in rehearsal. But you can't. If it's not there, you can't. You need the words.'" Read more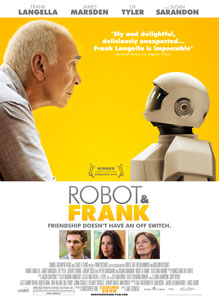 Robot & Frank: The feature film debut of commercial director Jake Schreier, was a festival favorite at the 2012 Sundance Film Festival where it world premiered and was co-winner of the Alfred P. Sloan Feature Film Prize. 
Set in the near future, Frank, a retired cat burglar, has two grown kids who are concerned he can no longer live alone.  They are tempted to place him in a nursing home until Frank's son chooses a different option: against the old man's wishes, he buys Frank a walking, talking humanoid robot programmed to improve his physical and mental health. What follows is an often hilarious and somewhat heartbreaking story about finding friends and family in the most unexpected places.
Starring: Frank Langella, James Marsden, Liv Tyler, Susan Sarandon, Peter Sarsgaard, Jeremy Sisto
Director: Jake Schreier
In Theaters: August 24th