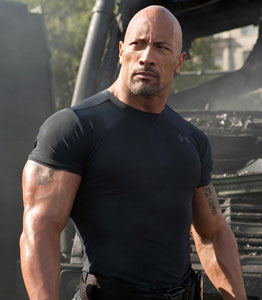 There's a reason why you don't see Dwayne "The Rock" Johnson in a wrestling ring much anymore: he's traded in his wrestling championships to become the 2013 box office champion as the highest grossing actor of 2013 according to Forbes.
Johnson had two major hits in the past year (Fast & Furious 6 and G.I. Joe: Retaliation) and two smaller hits (Pain and Gain and Snitch), with a cumulative box office of $1.3 billion.  That quantity puts Johnson over the top of Robert Downey Jr., who starred in the highest grossing film of the year (Iron Man 3) but only made that single film (still, he comes in right below Johnson at $1.2 million).  Johnson's Fast & Furious co-stars Vin Diesel and the late Paul Walker also made the list (#4 and #6, respectively), mostly because of the success of that franchise's latest entry. Forbes' data looked at worldwide box office earnings for films released between June 2012 and June 2013. Read more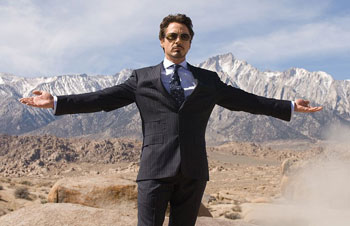 Earlier this week news floated out that Robert Downey Jr.'s long in the works Pinocchio movie might get an odd twist — Downey could end up playing both Geppetto and the famous puppet.  While that might sound like the most terrible idea since Roberto Benigni decided to play the wooden puppet as a fifty year old man, chances are that studios will go for it.
Why's that?  Because Downey's films make a tremendous amount of money, which is why he tops Forbes' annual list of highest paid actors in Hollywood.  According to the magazine, Downey earned $75 million between June 2012 and June 2013, though during that time Downey only appeared in two films.  Of course, those films were The Avengers and Iron Man 3, which have made nearly three billion dollars at the box office combined.  And although The Avengers was an ensemble movie, Downey was paid more than anyone else, including director Joss Whedon. Read more
As most parents can tell you, kids can be hard to please.  For example, most adults would find it pretty cool to meet Robert Downey, Jr.  After all, he's a fantastic actor and comes off as quite the character in interviews.
But not for one and a half year-old Jaxson Denno, who cried when he met Downey.  But I guess I could understand it — he was told he was going to meet Iron Man and Downey didn't show up in costume.  Well, it's probably a bit more difficult for Downey to bring Iron Man's gear around than it is for Johnny Depp to bring his Captain Jack Sparrow costume to visit children.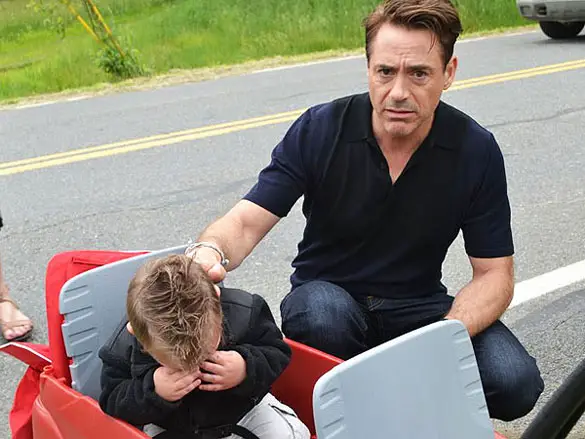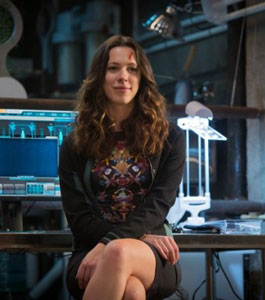 One of the most surprising members of the cast of Iron Man 3 is Rebecca Hall, who plays scientist Maya Hansen.  Hall has had a prolific career since her first film in 2006, but had never been in any sort of big budget film until appearing alongside Robert Downey, Jr. in Iron Man 3.  She spoke to The Los Angeles Times about preparing for the role
Hall was able to get a feel for her character's personality by reviewing the 2005 comic book storyline that introduced her character.  She reveals,  "I went and had a look at the Extremis comic books and found out who she was, because I just felt like I'd be at a tremendous disadvantage if I didn't. I'd be very ignorant, and I wouldn't want to be in that position. And also, you do a disservice to people if you don't respect where it's coming from. But the moment I looked at them properly, that was kind of it. I just thought she had very little to do with the script that I've got to work on, there's no point really beyond just sort of the respectful action of looking at it." Read more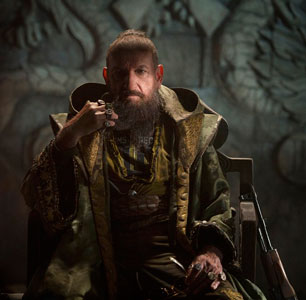 Without spoiling much, Ben Kingsley absolutely steals the show in Iron Man 3.  He plays the Mandarin, a terrorist who controls the television airwaves in order to broadcast his vicious acts.  However, there is so much more to the Mandarin than his mysterious yet oddly-accented warnings to the Western world, and much of that comes from the really effective performance of Kingsley. 
He spoke to GQ about playing such an offbeat character opposite Robert Downey, Jr. as the superheroic Iron Man. Read more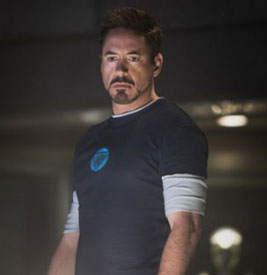 Though Robert Downey, Jr. is an acclaimed actor, in an interview with GQ he shrugs off the acclaim to point out how normal he thinks he really is what he calls a "ridiculous industry."
In particular, he enjoys the surprise people have at finding out that he isn't some kind of genius artist.  He explains, "Nothing pleases me more than when somebody who was awe-inspired to be working with me realizes I'm just another schmuck that they're bored of hanging out with on a set. I love that moment. I like it when that persistent illusion is smashed." Read more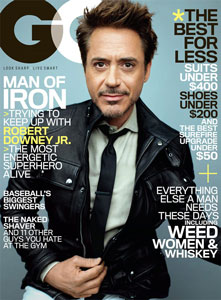 In his in-depth interview with Robert Downey, Jr. for GQ, correspondent Chris Heath ends with asking Downey if he aspires to win an Oscar.  Naturally, the twice-nominated Downey responds with the familiar "it doesn't really matter to me" answer we're used to hearing from actors. 
However, his reasons for that conclusion are a bit different from the norm — he explains he doesn't care much about it because he's convinced he'll eventually win one… and if not, he'll simply get awarded one after a long career of acclaimed performances! 
Check out the humorous exchange below: Read more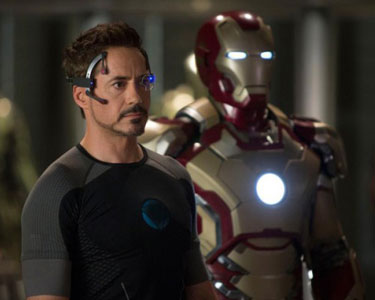 Though now it seems that it would be wrong for anyone else but Robert Downey, Jr. to play Tony Stark, when Iron Man was going through casting Downey was only a few years removed from a very public battle with drug addiction and hadn't been a high profile name in even longer.  He spoke to GQ about how he landed the role despite strong resistance on the part of Marvel Comics and how long he thinks he'll be starring in movies as Marvel's Armored Avenger.
When he heard about the film being in production Downey was convinced that the role should be his, even after Marvel passed on him — in fact, director Jon Favreau recalls that Marvel told him, "Under no circumstances are we prepared to hire him for any price."  On his pursuit of the role Downey confesses, "I don't know why. I do like a bit of Jung, and it was just this kind of numinous thing."  When his persistence was rewarded with the opportunity of a screen test, he went into an extreme preparation process, which he refuses to detail besides immersing himself into the script.  He explains, "The missus says she could've woken me up in the middle of the night and I'd have recited the audition dialogue in double time." Read more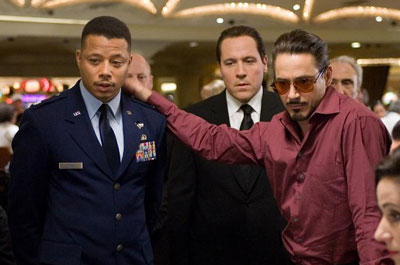 Being that Marvel Comics — which is now owned by Disney — has created an ongoing connected universe of franchises with its Avengers movies, it's become clear now that once you sign up to play a Marvel character your character will potentially pop up in other films.  For example, Robert Downey, Jr. does not only star as Tony Stark in the three Iron Man movies, but he also has appeared as Stark in The Avengers and The Incredible Hulk.  And it's well-known that if the film has anything to do with the Avengers, it's pretty much guaranteed that Samuel L. Jackson's Nick Fury will be showing his face.
However, one actor in particular seemed to have escaped the Avengers franchise — Terrence Howard, who played Stark's friend James "Rhodey" Rhodes in Iron Man, was replaced by Don Cheadle for Iron Man 2 and 3 (which allowed Cheadle to step into the armor of Rhodey's superhero alter ego, War Machine).  There were many rumors about why Howard didn't reprise the role in Iron Man 2, including ones that claimed Howard was the highest-paid actor in Iron Man and that he caused problems on the set. Read more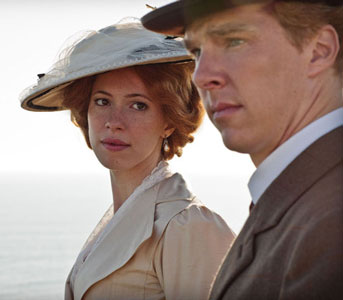 Rebecca Hall has tried to stay away from blockbuster movies, preferring smaller fare like The Town and Vicky Cristina Barcelona.  But, in a departure, she'll be appearing in Iron Man 3 in May.
"The question became, Why not?" she told The Wall Street Journal about starring in the franchise.  "I kept not doing them and got to a point where I was like, actually, instead of deciding that it's not going to be for me, I should find out if I might enjoy it."
It turns out, she does.  Hall loved working alongside the cast as scientist Maya Hansen.  "One of the great things about the Iron Man franchise is that they employ fascinating actors who don't necessarily do action movies," the 30-year-old said.  "Before Iron Man you didn't associate Robert Downey Jr. and Gwyneth Paltrow with those kinds of films.  There's an emphasis on repartee and wit." Read more