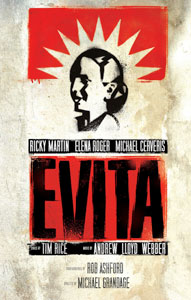 Even though Evita — starring Ricky Martin and Elena Roger — was the top-selling show of the 2012 Broadway season, it closed on Saturday.  Why?  Looking at the show's expenses tells a similar story to other large revival musical productions with big-name stars: there is a very small margin of profit.
The original 1979 Broadway production, which starred Patti LuPone and Mandy Patinkin, ran for almost four years.  In contrast, this revival ran just under a year (46 weeks).  It would have taken at least 63 weeks for the production to break even, though it would have likely taken longer because of declining sales.  Sales were expected to decline even further when Martin opted not to renew his expiring one-year contract and a performer of similar drawing power could not be found.
Even though the show averaged about $1.03 million per week in ticket sales grosses, it still could not recoup investors $9.6 million investment.  That's because the weekly expenses of the production were about $880,000.  Many of these expenses are attributed to the fact that since Evita was a revival, money was owed to the creators of the musical.   These expenses included significant payments to composer Andrew Lloyd Webber's Really Useful Group, which received fees and royalties of about $70,000 a week in addition to an upfront payment of $100,000 (part of the royalty money went to lyricist Tim Rice).  Really Useful also received 15% of merchandise sales.  Read more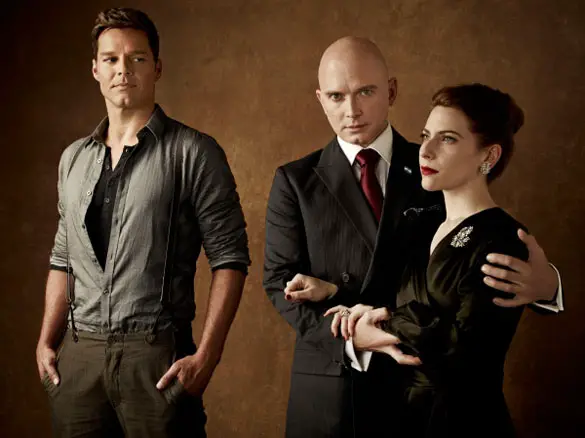 It was announced yesterday that the 2012 Tony Award-nominated production of Evita, starring Ricky Martin (Che),  Elena Roger (Eva) and Tony Award-winner Michael Cerveris (Perón), will play its final performance on Saturday, January 26th.
The musical will have run a total of 26 previews and 337 regular performances at Broadway's Marquis Theatre. 
It was previously announced that the show would recast following the departure of its original stars, and continue its open-ended run but Producer Hal Luftig said that finding talent to take over the roles was becoming an issue. 
"Our extensive search for a new cast presented the significant challenges of not only replacing a high-caliber trio of stars but also synchronizing the schedules of potential replacements with that of the production," said Luftig.  "Despite going down the road with a variety of artists, the planets have simply not aligned for us to engage the right talent at the right time.  Therefore, we have made the decision to end this incredible journey on a high note on January 26 with our original stars intact."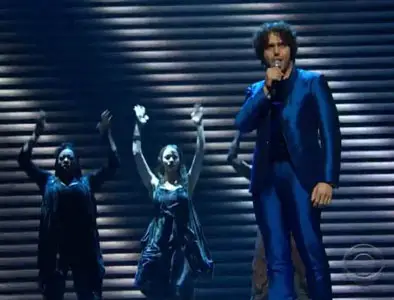 You want the musical numbers from last night's Tony Awards? Well, here they are!
From the opening numbers, Once, Porgy & Bess, Jesus Christ Superstar and Godspell. Yup, watch Godspell just to see the Corbin Bleu and the cast destroy their number. And I don't mean destroy in a good way.
Check 'em all out below! Read more
Here is a first look at the cast of the upcoming Broadway revival of Andrew Lloyd Webber and Tim Rice's Evita.
Starring Ricky Martin as Che, Michael Ceveris as Juan Peron and Argentinean actress Elena Roger in her Broadway debut as Eva Perón, the show begins previews March 12th, 2012 with the opening night slated for April 5th.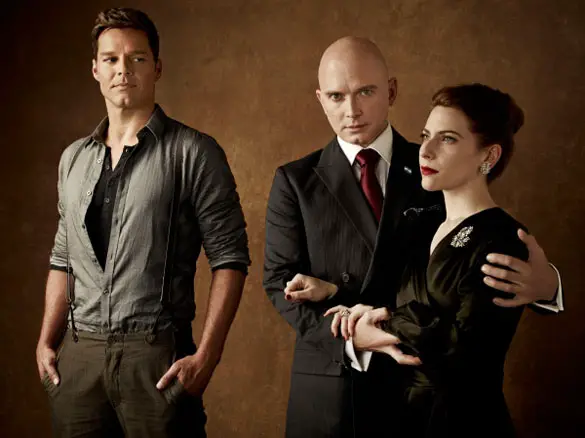 Gotta say, I'm not feeling this. The only reason I'm even a bit interested is because Michael Ceveris is in it.
Tickets go on sale this Saturday via Ticketmaster.