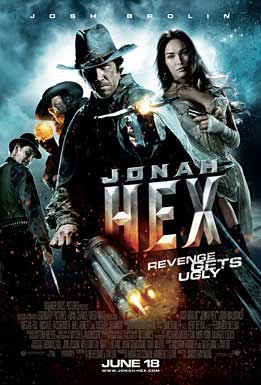 Here's how to determine if you'll want to see Jonah Hex:
Do you like the DC comic it's based on?
Do you like Josh Brolin?
Do you like explosions?
Do you want to kill 80 minutes of your life?
Then you will most likely want to see Jonah Hex. Everyone else, stay home.
Josh Brolin stars as Jonah Hex – a civil war veteran turned bounty hunter with mystical powers that allow him to talk to the dead.
There's nothing really spectacular about the film except the name actors that appear in small roles. I'm not talking about Megan Fox as his love interest Lilah or John Malkovich and Michael Fassbender as the villans. I'm talking about Will Arnett, Aiden Quinn, Lance Reddick, Michael Shannon and Jeffrey Dean Morgan.
Good actors right? But what the heck were they doing in this movie?
Will Arnett and Aiden Quinn were in 3 scenes. Lance Reddick – 2 scenes. Jeffrey Dean Morgan – a whopping 1 scene and Michael Shannon? I don't even remember seeing him in the movie.
Maybe all these guys were fans of the comic? I'm betting not.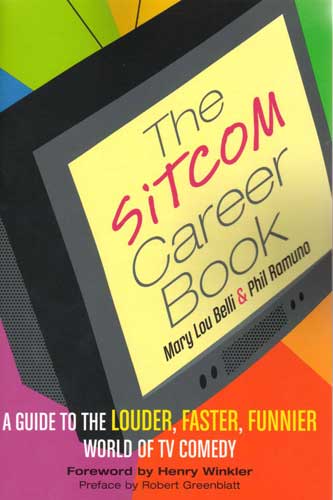 The intro to the book, The Sitcom Career Book is written by Henry Winkler and in it, he describes how he got the job of the Fonz:
"If you're going to an audition, you can't be right, you can't be wrong. The producers might know exactly what they want, but most of the time they don't. If you go with your instinct… just go with your muse… you can change their minds. I say that because I did. The Fonz was based on someone that Garry Marshall grew up with in the Bronx. As written on the page, the Fonz was much larger, much more imposing, much more Italian than I was. I never researched this character but I lived in New York City and knew these people. I just improvised. The person that read with me was standing. I made a decision that I was going to use the six lines that I had to make him sit down. That was my objective. He did. Now I was the only one standing in the room. Then I stayed in character, turned around, threw the script in the air and walked out of the room with my muse."
That paragraph alone is worth the price of the book.
Mary Lou Belli and Phil Ramuno, two veteran sitcom directors, have written a book for anyone who wants try have a career in the half-hour world.  They detail what happens on the set of a sitcom day-to-day – from the time you audition to the time you film the part.
From the script supervisor, costume coordinator and the writer & director anyone who plays an integral part in the creation of a show gets their due.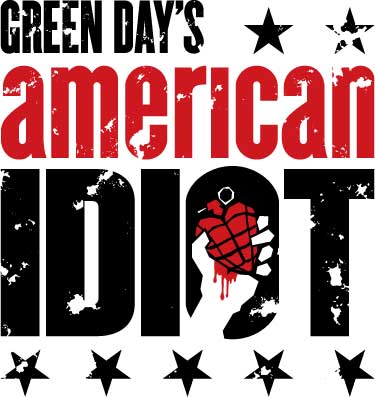 After hearing all the buzz about American Idiot, I was really excited to see the show when I was in New York the other week.
I love the Green Day album it's based on and from all the press it's generated it seemed like a mashup of Rent and Spring Awakening. It even stars John Gallagher Jr. from Spring Awakening, so it had to be great, right?
Wrong. I'm sorry to say that I didn't like it. Actually, that's too strong. I just thought it was ok and definitely not worth the ticket price they're asking ($127!)
Don't get me wrong, there were aspects of it that were wonderful. The set was amazing, the songs obviously rocked (I mean, its Green Day) and the actors voices were perfect; not to mention it seemed like they each drank a case of Red Bull before they came on stage – their energy flowed throughout the house.
The 1st 10 minutes were like the going to the greatest show you can imagine; energy, lights, pulsating music! But then the story sets in and that's where the problems start.
There is a story but only a shred of one. The main characters, Johnny (Gallagher), Will (Michael Esper) and Tunny (Stark Sands) start out as bored kids who then head off in separate directions. Tunny enlists and goes to Iraq, Will knocks up his girlfriend and is forced to stay at home and Johnny leaves town only to get mixed up in drugs.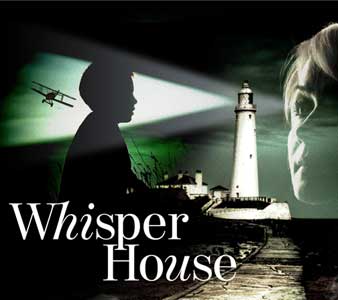 This past weekend I saw Duncan Sheik's new musical, Whisper House at The Old Globe Theater in San Diego. I say musical, but it's not really a musical in conventional terms. The cast don't burst out in song and dance across the stage. No, they leave the singing to the Ghosts.
Set in World War Two (1942), Christopher (Eric Brent Zutty) is sent to live with his aunt Lilly (Mare Winningham) in a remote lighthouse. Christopher soon begins to hear music that no one else can hear and to top it off, he begins to suspect his aunts Japanese worker, Yasuhiro (Arthur Acuna), of being a spy.
And that's all I'm giving away.
The Ghosts played by indie rockers, Holly Brook and David Poe, come and go in the scenes, singing and pretty much doing whatever they want. They take off lampshades and turn the stand into make-shift microphones, fling off Christopher's covers when he's trying to sleep and make general mischief for the cast. They act as… narrators of the show? I'm hesitant to say narrators because at some points they deliberately sing their songs to screw things up. And that's what makes this show so great. The Ghosts are having a fantastic time messing with everyone. And usually to a bad outcome.
Richard Roeper tells it like it is in his review of Steven Soderbergh's, The Girlfriend Experience, and especially in his grilling of porn star Sasha Grey's performance.
I love it.

As for Ms. Grey: she is not a good actress. She photographs well. She does a decent enough job of hitting the on/off switch in her eyes when she's feigning interest in a man—and when she's tired of his narcissistic ramblings. (Like almost all johns in the movies, these guys have at least as much interest in talking about themselves as they have in the sexual act itself. Some don't even consummate with Chelsea. It's the old cliche about the man who pays a woman for her time so she can give him oral, but also because she HAS to listen to him go on and on about his problems at work, etc.

She doesn't have the girlfriend/wife option of saying, "Will you PLEASE just shut up!") But her line readings are flat, and a pivotal scene in which she has to display authentic emotion rings false, especially because it's shot mostly from a distance, as if Soderbergh knew Grey couldn't handle too many close-ups on her face. Faking an orgasm onscreen is one thing; conveying true heartbreak is something else.
I've been reading the reviews of last night's Oscars and I really didn't think it was as bad as people are saying.
I think it's probably cool to rip the show every year but it wasn't terrible.
The funny moment's were few and far between. There was Ben Stiller as Joaquin Phoenix. And Steve Martin and Tina Fey presenting the screenwriting awards. Oh, and I almost forgot Robert DeNiro introducing Sean Penn – that was good.
That's it from what I remember. Did I miss anything?
The acting awards pretty much went as expected. A lot of people thought that Mickey Rourke should have gotten Best Actor but I think they got it right by giving it to Sean Penn, don't you?
Other than that, it was pretty uneventful. I thought Hugh Jackman was great (I could have done without the opening number) and how they did the awards in order of the movie-making process was inventive.
And, the ratings were up 6% so obviously it wasn't as bad as everyone has written.
Katie Holmes received mixed reviews on Friday for her Broadway debut in the revival of Arthur Miller's "All My Sons." It's ok though, Xenu will teach those reviewers a lesson.