As an actor, preparation for any role can require a great deal of research, analysis, and identification of character objectives. Many of these processes are greatly tied to an emotional outcome, as emotions and feelings are connected to any event in a person(or character)'s life.
However, there are exceptions to the average emotion-driven member of a story.
In Ridley Scott's new scifi thriller, Prometheus, Michael Fassbender conquered an entirely different kind of character.
Fassbender recently chatted with Time Magazine to discuss his transformation into "David," a new breed of android. Read more
Idris Elba had to endure some odd security issues while he was preparing for Ridley Scott's much-anticipated sci-flick Prometheus. 
"They sent a security guard, policeman type person on a plane with the script to my house in London.  They gave me the script and sat outside while I read it, and then they took it back," he told Collider. 
The entire process had been surreal for the actor known for his role on BBC's Luther.  "I got a phone call from my agent saying, 'You'll never guess who's on the phone.'  I was like, 'Who?" and they were like, 'It's Ridley Scott.'  And then, he got on the phone and said, 'Idris, hello mate.  How are you?  I'm sending you a script.'"  Read more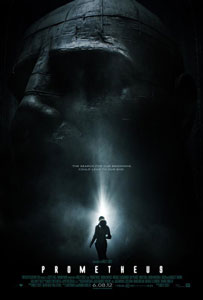 If you follow a lot of the online critics, then you probably already know how much Prometheus sucks.
It's awful! What was Ridley Scott thinking! Damon Lindelof (who wrote the film) is a hack! Too many plot holes! Blah, blah, blah. Complain, complain, complain.
Here's what I think: Prometheus is pretty damn good.
Set in the late 21st century, a pair of archaeologist's, Emily Shaw (Noomi Rapace) and Charlie Holloway (Logan Marshall-Green, who is a dead ringer for Tom Hardy), discover ancient cave paintings that seem to indicate a link between early man with a set of far off planets deep in the solar system.
Eager to see if their discovery will give them the answers to our evolution, they team up with the aging Peter Weyland (a heavily made-up Guy Pearce), who eagerly funds the mission. When the team of 17 crew members eventually get to their (final?) destination, they explore the strange world and guess what? What they find isn't in the brocheure. 
And that's all I'll say, you won't get any spoilers from me. Read more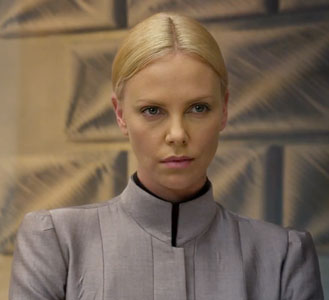 Charlize Theron is starring in the highly anticipated sci-fi film, Prometheus, as Meredith Vickers and when speaking to Collider, she talked about working on the film and collaborating with Ridley Scott and co-stars Michael Fassbender and Guy Pearce.
She said, "I always have a good time because God, I mean, we're just a bunch of kids who never got to grow up, and now we're playing on a spaceship.  How can you not enjoy that, you know?  So yeah, I had a great time making this film." Read more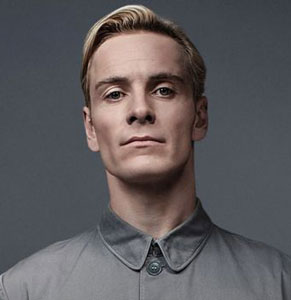 A couple of years a go, Michael Fassbender was a relatively unknown actor. However, a whole spectrum of performances in recent movies like Inglourious Basterds, Jane Eyre, and X-Men: First Class changed all that. Ridley Scott's new highly anticipated movie, Prometheus, has Fassbender playing an entirely different kind of role: an android named David.
Fassbender recently discussed his unique characterization for "David" in an interview with Collider.
Fassbender explained that he did not go his normal "route" for developing his character. "I watched Blade Runner and I looked at the replicants. [I] looked at Sean Young. There was something in her character, a quality that I kind of liked for David, this longing for something or some sort of a soul at play there, a sort of vacancy also, a sort of vacant element." Fassbender went on to explain how 2001: A Space Odyssey inspires quite a bit of his character, as well. "I don't know exactly what, I just knew there was a quality that I liked … Hal from 2001." Fassbender also mentions that "Peter O'Toole's character of Lawrence [of Arabia]" was in "the mixture," as well. Read more
Actor Guy Pearce is gearing up for the release of Ridley Scott's Prometheus, the much talked about sci-fi movie of the summer.  In an interview with Collider, Pearce spoke about playing Peter Weyland, (a role which required him to wear prosthetics to appear older with the makeup taking five hours to apply and an hour to have it removed) and choosing his roles.
Pearce admitted to some challenges with the role.  He said, "Ultimately the movement and to try not to overdo it, to really actually go 'Okay, well…'  I found myself following old people around London…just understanding the difficulty that sort of older people who are struggling physically are going through.  Trying to get that stuff right, I think…And I'm not sure how well I did that, but trying to get that sort of stuff right." Read more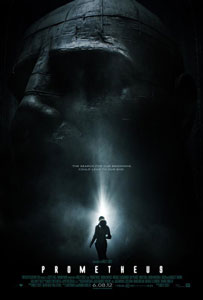 I was at WonderCon this past weekend and by far, this trailer and the panel for Prometheus was the hot news of the weekend.
So, it figures I was stuck in interviews while it was happening. But as with most Con's, the trailer was released soon after. And it looks great!
Below is the trailer from this weekend and the shorter IMAX version.
Synopsis: Ridley Scott, director of "Alien" and "Blade Runner," returns to the genre he helped define. With PROMETHEUS, he creates a groundbreaking mythology, in which a team of explorers discover a clue to the origins of mankind on Earth, leading them on a thrilling journey to the darkest corners of the universe. There, they must fight a terrifying battle to save the future of the human race.
Director: Ridley Scott

Cast: Noomi Rapace, Michael Fassbender, Guy Pearce, Idris Elba, Logan Marshall-Green, Charlize Theron

Writers: Damon Lindelof, John Spaihts
In theaters: June 8th Read more