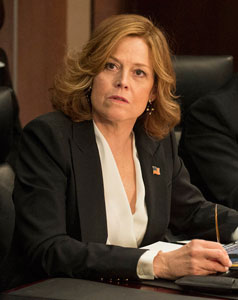 Though she'll always be best known as Ripley, the Alien franchise extraterrestrial ass-kicker and one of film's most iconic female protagonists, Sigourney Weaver has had a prolific career in film.  She now stars in her first television mini-series Political Animals as Elaine Barrish, the current U.S. Secretary of State and ex-wife of a former president. 
In an interview with NBC News, Weaver speaks about her new role, its obvious connection to Hillary Clinton, and how fortunate she has been in her career.
Weaver admits that her main attraction to the role was the fact that it isn't something she is usually offered.  She explains, "The writing was wonderful. It was the kind of story I'm not often offered. I wouldn't be surprised if I was offered, you know, 'mountain woman in Alaska' or something, but to be offered this sort of mainstream matriarch who was a first lady, is now Secretary of State, who has this problematic family — two sons, an ex-husband, a foul-mouthed mother — it was just really like after eating salad for a couple of years, I was offered a big juicy steak. And I just took out my fork and knife and went, 'All right, I'm going for it.'" Read more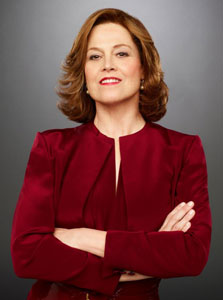 Why do Americans watch political dramas – especially during an election year? What kind of comment do they offer on the realities of campaigning and governance?
Perhaps the narrative of budget cuts and partisan acrimony is too just too grim for some viewers. Even the star of new USA Network mini-series "Political Animals" calls the fictional alternative "easier to watch."
When asked how she felt about the ongoing campaigns, Sigourney Weaver ("Aliens," "Gorillas in the Mist") put it delicately: "I think it's a pretty daunting thing to watch. It's our dysfunctional political process front and center, and I actually think it'll be one of the reasons people will tune into 'Political Animals.' As dysfunctional as we are, it's fiction." Read more