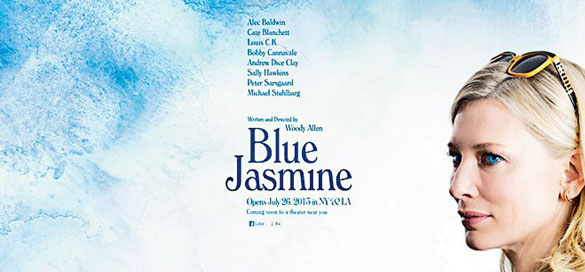 Blue Jasmine: After everything in her life falls to pieces, including her marriage to wealthy businessman Hal (Alec Baldwin), elegant New York socialite Jasmine (Cate Blanchett) moves into her sister Ginger's (Sally Hawkins) modest apartment in San Francisco to try to pull herself back together again. Read more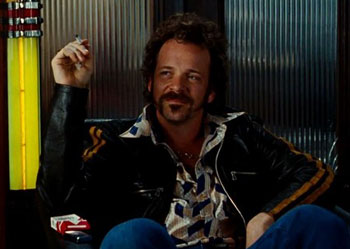 Peter Sarsgaard always chooses interesting roles, whether they're death row inmates like on The Killing or his newest part as an abusive husband in Lovelace.
"I look at what comes in front of me and try to pick the best material," he said in an interview with Yahoo! News.  "I'm usually attracted to roles where I think I will have room to carve out someone that has some degree of reality to who they are." Read more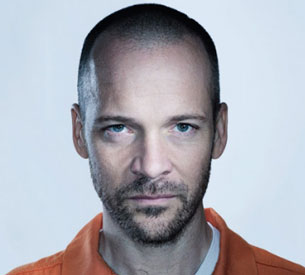 Peter Sarsgaard was initially reluctant to sign onto the third season of AMC's The Killing…mostly because he thought the series had already been cancelled.
"I was in Ireland—my wife [Maggie Gyllenhaal] was doing a film.  I got a call that they were interested in me doing it, and I was like, 'Oh, I didn't think it was on the air,'" he recalled in an interview with The Hollywood Reporter.  "But, obviously, it is.  That was at some point in January.  [Creator] Veena [Sud] and I Skyped.  I wasn't positive that I wanted to be on the show just because I liked it—it's two different things.  It was really the character and the issues surrounding my character that made me want to be on the show.  It's hard to get into it because everyone is into surprise, and you don't want to ruin everyone's birthday." Read more
I saw Robot and Frank back in July and it's still among my favorite films of 2012 (check out my review here!)  That is entirely because of Frank Langella, who turns in yet another wonderful performance as an a former jewel thief in the near future whose son gets him a robot companion to assist him as he suffers from memory loss.  In an interview with The Los Angeles Times, Langella talks about how he feels about still getting great roles at his age and how he managed to act against the "robot."
Langella confesses that he feels blessed that he continues to get such high-quality work at his age.  He says, "It's a very rewarding feeling. For the most part, I've really tried to choose things that would cause me to grow as an actor. I'm 74, and there are, for some reason, more parts available to me in these years than I ever thought would be. I've been very lucky. Also, I like first-time directors; I don't think I'd work as much if I didn't."  Robot and Frank is the first film directed by Jake Schreier, and Langella points out that he enjoys working with first-time directors because, "Their enthusiasm is infectious." Read more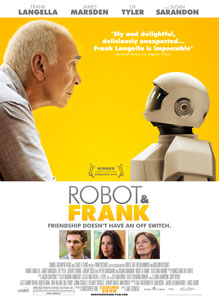 It seems like almost every septuagenarian actor is required to do at least one "grumpy old man" movie role in which its pretty typical for such a character to go from a cranky and surly old coot to a smiling, kindly grandfather with a young heart by the end of the film.  Thankfully, in Robot and Frank director Jake Schreier and writer Christopher D. Ford, with a great performance by Frank Langella, find a way around that cliche by sticking the grumpy old man with… a robot pal.
Set in "the near future," Frank (Langella) is one of those cranky old men who is affable in his demeanor for two reasons, both which set this character apart from typical "grumpy old men" characters: first, he is suffering from the early stages of Alzheimer's, and second he is a former jewel thief who still feels compelled to shoplift trinkets because it's all that he can do at this point.  To help with the first problem, Frank's son Hunter (James Marsden) gives his father a robot caretaker (voiced by Peter Sarsgaard), which Frank is initial opposed to using (Langella's "Oh, fuck this shit" in regard to the healthy meals the robot prepares is priceless).  However, Frank soon bonds with the robot by teaching it all of his old burglary tricks.  What follows is alternately exciting, funny, and heartbreaking as Frank embraces his former life feverishly while occasionally stopped by moments of confusion. Read more
According to the clips below, Green Lantern is about to save us from some hideous looking smoke-like monster (Parallax) and I, for one, can't wait to watch him do it.
Granted, after watching some of these clips, the weapons our G.L. conjures up do seem kind of cheesy (a catapult?) but I'm still crossing my fingers that this movie's gonna rock.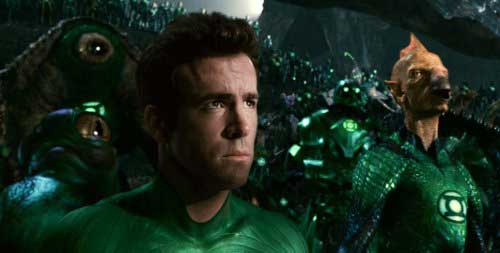 Starring Ryan Reynolds, Blake Lively and Peter Sarsgaard, the film is centers on a test pilot who is given a mystical green ring that bestows him with otherworldly powers, as well as membership into an intergalactic squadron tasked with keeping peace within the universe.
Check them out below!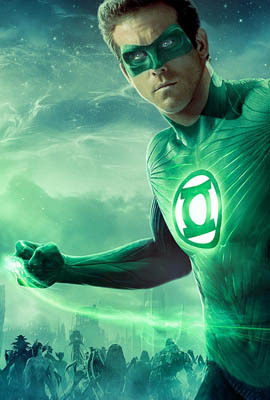 Green Lantern: In a universe as vast as it is mysterious, a small but powerful force has existed for centuries. Protectors of peace and justice, they are called the Green Lantern Corps. A brotherhood of warriors sworn to keep intergalactic order, each Green Lantern wears a ring that grants him superpowers. But when a new enemy called Parallax threatens to destroy the balance of power in the Universe, their fate and the fate of Earth lie in the hands of their newest recruit, the first human ever selected: Hal Jordan. Hal is a gifted and cocky test pilot, but the Green Lanterns have little respect for humans, who have never harnessed the infinite powers of the ring before. But Hal is clearly the missing piece to the puzzle, and along with his determination and willpower, he has one thing no member of the Corps has ever had: humanity. With the encouragement of fellow pilot and childhood sweetheart Carol Ferris (Blake Lively), if Hal can quickly master his new powers and find the courage to overcome his fears, he may prove to be not only the key to defeating Parallax…he will become the greatest Green Lantern of all. from trailers.apple.com
Director: Martin Campbell
Cast: Ryan Reynolds, Blake Lively, Peter Sarsgaard, Mark Strong, Jay O. Sanders, Temuera Morrison, Taika Waititi, Jon Tenney, Angela Bassett, Tim Robbins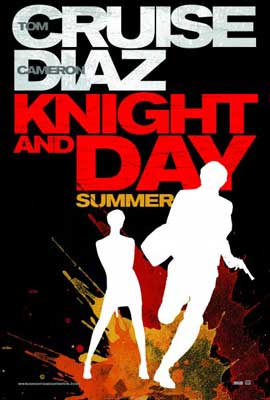 Want the screenplay to Knight and Day?
Sure you do! (Ok, maybe not judging how much it made this weekend).
Director: James Mangold
Cast: Tom Cruise, Cameron Diaz, Peter Sarsgaard, Viola Davis, Olivier Martinez, Paul Dano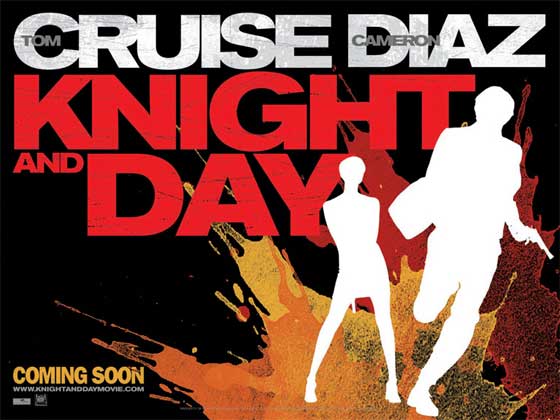 Knight and Day, starring Tom Cruise and Cameron Diaz,  opens today.
My 3 sentence review: It's not going to win any awards but this is a great summer movie. Light and breezy, it kept me totally entertained throughout it's 109 minutes. It's good to see Tom Cruise in this mode and he and Cameron Diaz have great chemistry together.
The film also stars Peter Sarsgaard as Cruise's former CIA partner. He's great in the film, as he always is. Here's a bit of video where he talks about working with Tom Cruise.