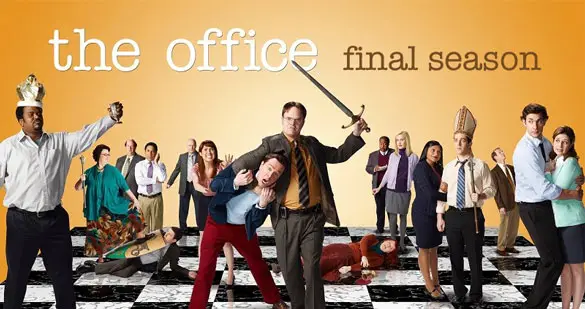 Greg Daniels, the showrunner for NBC's The Office, dropped a bombshell during a recent conference call I participated in: This will be the last season of The Office.
For fans of the show (like me), it was a bit of a shock but definitely not unexpected. This is the 9th season and it's core group of actors, John Krasinski, Jenna Fischer and Ed Helms are in their last years of a contract and would be on the verge of a huge raise. Rainn Wilson is set to leave and spin off his character, Dwight, on the new show, The Farm and Mindy Kalling (who has a new FOX pilot) and B.J. Novak have taken diminished roles this season. So, yeah, a shock but not unexpected.
I'll be sad to see the show go but as you'll read in this interview, they won't leave it's audience hanging. Daniels talks about wrapping up the storylines, finally finding out about the documentary crew that's been following the characters for the past 9 years and if Steve Carell will return.
The Office's final season begins on NBC on Thursday, September 20th at 9/8c Read more
James Spader made an appearance in The Office's eighth season finale as a businessman vying for the fictional Dunder Mifflin Paper Company's regional manager position left empty by the exit of star Steve Carrell, and he must have had one hell of an interview. He officially joined the cast of the show this week although he will play the CEO of Dunder Mifflin parent company Sabre instead of a middle manager.
"James will reprise his role as Robert California, this uber-salesman that has a power to convince and manipulate, like a high-class weirdo Jedi warrior," reported Office executive producer Paul Lieberstein, who also plays HR head Toby Flenderson on the hit NBC comedy. "He'll have been hired over the summer as the new manager, but within hours, got himself promoted. Within days, he took over the company. James has an energy that is completely his own, and The Office has no tools for dealing with this guy. We're thrilled he's joining our cast."
Spader will take the place of Kathy Bates, who has committed to a second season of NBC's Harry's Law, as the face of Sabre when The Office returns Thursday, September 22.