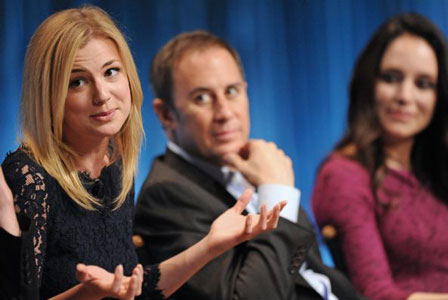 The creators of the hit ABC show Revenge were more than generous providing teasers for the rest of season one, promising more flashback episodes (including one set entirely in 2002) and another giant cliffhanger, when they gathered for the 2012 Paleyfest (William S. Paley Festival) in Beverly Hills on Sunday. 
The cast and creative team behind the drama/soap held a panel, moderated by TV Guide's Debra Birnbaum, at the Saban Theatre as part of the festival's celebration of quality television.
On hand to answer questions were executive producers Mike Kelley (Swingtown) and Marty Bowen and members of the cast including: Emily Van Camp, Madeline Stowe, Josh Bowman, Henry Czerny, Nick Weschler, Gabriel Mann, Connor Paolo, Christa Allen, and Ashley Madekwe. The event began with a special screening of the first half of episode 17, which is set to air April 11.
Kelley explained that the show won't get caught in the common trap plaguing other dramas—the long dragging out of storylines.  The trial of Daniel Grayson will end by episode 18, and the plot will speed up, so that the audience checks back in with the story around December.  By the end of the 22-ordered episodes the main plot will be resolved, but Kelley said they will "tease another giant event, and set up new drama and new alliances" to intrigue viewers to come back for a second season. Read more
The cast and creative team behind FOX's hit comedy New Girl gathered Monday night at the Saban Theatre in Beverly Hills as part of PaleyFest (the William S. Paley Television Festival) that is in its 29th year of celebrating television. 
A brand new episode, "Injured," was aired for the audience — which airs tonight —and the cast was more than happy to answer questions about their work on the show. 
Zooey Deschanel, said she had no problem switching from film to television roles.  She said, "I connected to the character…and there's good material in television."
The panel, which was moderated by TV Guide's Rob Moynihan, also featured actors Jake Johnson (Nick), Lamorne Morris (Winston), Max Greenfield (Schmidt), and Hannah Simone (Cece).  The executive producers Katherine Pope, Jake Kasdan, Brett Bayer, and Dave Finkel were also on hand.  Many of the questions were directed towards the creator/writer of the show, Elizabeth Meriwether, who sounds and acts a lot like Deschanel's character, Jess. Read more