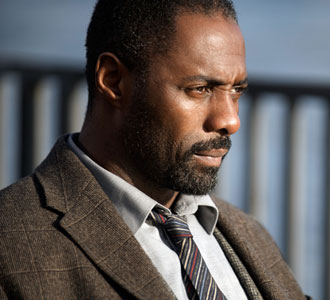 Idris Elba talks to Gold Derby editor Daniel Montgomery about his incredibly busy year. He's starred in Pacific Rim, Luther, Thor: The Dark World and the upcoming Mandela: Long Walk to Freedom.
In the interview, he talks about the research he did to play Nelson Mandela, the prosthetics he wore and tons more. 
Interestingly about the prosthetics, he said when he wore the them, he literally became Mandela. Good stuff, especially if you like Elba. Which I do.
Check it out below! Read more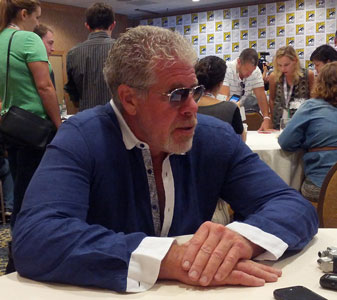 With Sons of Anarchy almost finished filming this seasons episodes, Ron Perlman will soon be out of work. "I don't have to go back to work until May," he said. "So, I spend all that time when I'm free, instead of vacationing, I'm working on other movies. I love working."
He has been working quite a bit, appearing most recently in the fantastic Pacific Rim. He was also in the very funny Frankie Goes Boom where he played a transsexual. Like he said in a roundtable interview at Comic-Con: "Dude, I'm up for anything."
I love his choices as an actor; both in choosing his roles and the way he portrays a character on-screen. He's always smart, interesting and sometimes damn funny.
In the interview, he talks about the possibility of another Hellboy movie, choosing his projects, if he watches his own work and of course, Sons of Anarchy.
For the full interview, check out the video below.
Sons of Anarchy premieres on Tuesday, September 10th at 10pm Read more
Though Charlie Day is best known for his comedic role on It's Always Sunny in Philadelphia, he takes a heroic turn as an eccentric scientist in his big-budget summer blockbuster, Pacific Rim.  However, Day wanted director Guillermo del Toro to return the favor and put in a cameo appearance on It's Always Sunny in Philadelphia.  He spoke to The Los Angeles Times about del Toro's cameo and his Pacific Rim character.
Day explains how he managed to get del Toro on the show, saying, "I did Pacific Rim first, and then I got Guillermo on the eighth season of It's Always Sunny in Philadelphia. He was a big fan of the show which is how I got the part. All through the course of shooting the movie, he kept talking to me about what he wanted his cameo to be and oftentimes they were ideas that I wasn't quite sure what to say to. But … we found what we thought was the perfect part for him. He came in and he improvised — he even had a little googly eye made up for the character. He said to me the other day that he wants to do another cameo, I said, 'All right, you've got to put me in another movie first.'" Read more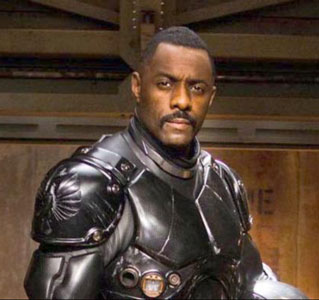 Who doesn't like Idris Elba?  He's often one of the best parts of any project he's associated with, and Pacific Rim is no different. In the film he stars as the leader of the international robot resistance force.  With that and his recent role in Prometheus one might think Elba is committing himself to sci-fi films.  However, he will also be playing a major historical figure, Nelson Mandela, in an upcoming film.  Elba spoke about the casting of Pacific Rim and the honor of playing Mandela.
Elba points out that Pacific Rim director Guillermo del Toro specifically chose to cast actors better known for their television work than movie stars.  He explains, "The days of movie stars, so to speak, is just behind us. What is a movie star? We've got people on the Internet that are bigger than television stars. I think the landscape is changing a little bit … Before there were movie stars. There were people who were just actors and they said their lines and they became movie stars because people liked them. For me, I think that's the healthy way to make film." Read more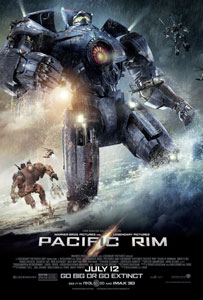 Pacific Rim is the movie of the summer. It'll turn you into a kid again, smiling from ear to ear as you leave the theater.
Written and Directed by Guillermo del Toro, this film has everything I've ever wanted in a summer movie: Robots battling monsters. And it's glorious.
When monsters, called Kaiju, start coming up from the oceans destroying city after city, the world bands together to create the only thing that will rid us of the deadly beasts: Jaegers. Named after Jagermeister, that wonderful alcoholic concoction I drink on occasion… 
It's not actually but I like to think that they are.
Jaegers are massively huge robots that have to be controlled by two people at once. The reason is that they are so big, so technologically powerful, one humans brain can't handle the overload. So, they need two people, two people who's minds are locked together in what they call a neural bridge. And you can't lock just anyone's brains together. You must be a match. Father and son, brother and brother and so on work perfectly. Read more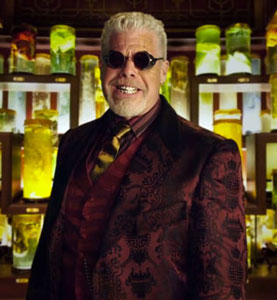 There are plenty of naysayers who seem to think Pacific Rim is some kind of Transformers ripoff, but they must not be paying attention.  First of all, Pacific Rim has a lot more in common with Godzilla movies and, more importantly, it is directed by visionary filmmaker Guillermo del Toro.  Naturally del Toro found a role in the movie for frequent collaborator Ron Perlman, whom del Toro has directed in four previous films (most notably the Hellboy movies).  Perlman spoke to The Los Angeles Times regarding his role in the film and his working relationship with del Toro.
Perlman admits he did not have much to do with the development of the character, to the point of saying, "I was probably as little involved in the creation of it as you can possibly imagine."   He later adds, "Hannibal Chau was completely [del Toro's] creation all the way down to the outer trappings, the kind of croupier adornments, the dark glasses, the hole in his left eye. All I had to do was kind of just show up and not trip over anything." Read more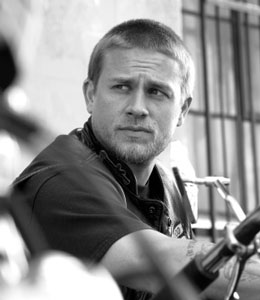 Comic-Con: The next 12 months, you're going to be seeing a lot of Charlie Hunnam.
Along with season 5 of FX's Sons of Anarchy (which starts September 5th), he's got Frankie Goes Boom (featuring fellow Sons star, Ron Perlman, Chris O'Dowd and Lizzie Caplan) and then, he'll star in quite possibly one of the biggest films of next summer, Guillermo del Toro's Pacific Rim. He also just completed his first screenplay, VLAD, which will soon start to film.
In this interview, Hunnam talks about his character Jax, his upcoming projects and how he'd be perfectly happy to film the show forever as long as "all the guys are there with me." And don't miss a cameo by fellow SOA actor, Mark Boone Junior!
Unfortunately, the audio in the video isn't the best – sorry! – but you can still hear most of the interview. Check it out below!