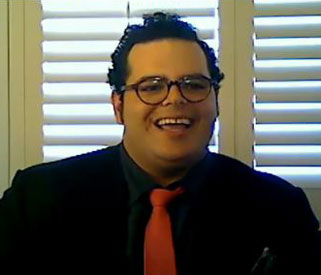 The Wall Street Journal talked with Josh Gad about his role in the Vince Vaughn and Owen Wilson comedy, The Internship, and the upcoming Steve Jobs biopic, Jobs.
He calls his role as Headphones in The Internship, a kind of "Jewish Yoda" and talks about how cool it was to work with Vaughn and Wilson.
He also talks about Steve Wozniak's, who he plays in Jobs, criticism of of the film and how he did his research on the co-founder of Apple.
Check it out below! Read more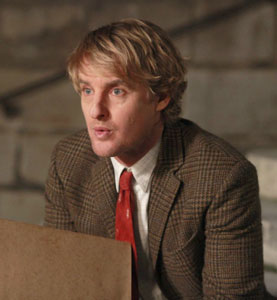 Known as an actor's director — which is why dozens of actors have gladly sacrificed large paychecks to work with him — Woody Allen is enjoying some of the best reviews and box office success of his career with Midnight in Paris. 
Benefiting from that is Owen Wilson, the star of the film, who was recently nominated for a Golden Globe for his role in the movie.  But as Wilson tells NBC New York, he wasn't sold on the film's plot even if he wanted to work with Allen.
Naturally, Wilson says that part of what attracted him to the project was Allen himself, even if he had reservations about the film's plot. 
He explains, "It was working with Woody Allen. That was kind of an exciting idea, and some of the people that were going to be in the movie. Also, making a movie in Paris. I would say that those were all sort of attractive ideas to me, more than did I read the script and go, 'Okay, this is great.' I really enjoyed reading it, but like I was saying, I just didn't have a sense of how this time travel element was going to work. So that was always sort of the wildcard for me. Then that ends up being one of the things that people liked the most about the movie. So Woody pulled that off."  Read more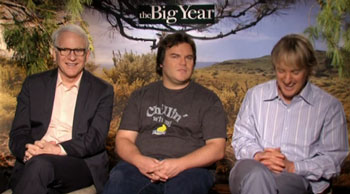 The Big Year came out this past weekend and I can safely say that 99% of you reading this didn't see it because it flopped at the box office. Unfortunately, I'm in that 1% and saw it and yes, it did in fact stink.
I wish it didn't because I love Steve Martin. I grew up idolizing him – still do – and regardless of what he's in, I'll still see it. Owen Wilson and Jack Black aren't too shabby either but the film was just boring and kind of pointless.
That being said, here's a video of Martin, Wilson and Black talking about the film (you can skip that part), the process that enabled them to work together as a comedic ensemble and how they bring 'real life' into their performances. 
Skip to the 1:25 mark for the good stuff.   Read more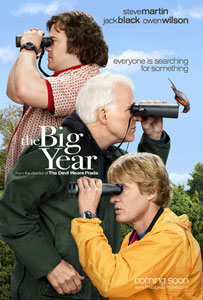 The Big Year: Steve Martin, Jack Black and Owen Wilson are at a crossroads — one is experiencing a mid-life crisis, another a late-life crisis, and the third, a far from ordinary no-life crisis. From David Frankel, the director of The Devil Wears Prada and Marley & Me, comes a sophisticated comedy about three friendly rivals who, tired of being ruled by obligations and responsibilities, dedicate a year of their lives to following their dreams. Their big year takes them on a cross-country journey of wild and life-changing adventures. courtesy of trailers.apple.com
Director: David Frankel
Cast: Steve Martin, Jack Black, Owen Wilson, Brian Dennehy, Rashida Jones, Rosamund Pike, Dianne Wiest
In Theaters: October 14th, 2012
Read more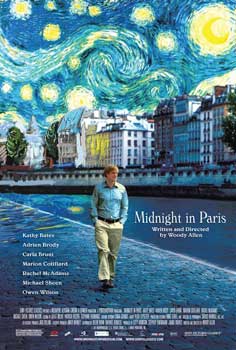 Midnight in Paris: A romantic comedy set in Paris about a family that goes there because of business, and two young people who are engaged to be married in the fall have experiences there that change their lives. It's about a young man's great love for a city, Paris, and the illusion people have that a life different from theirs would be much better. from trailers.apple.com
Director: Woody Allen

Cast: Kathy Bates, Adrien Brody, Carla Bruni, Marion Cotillard, Rachel McAdams, Michael Sheen, Owen Wilson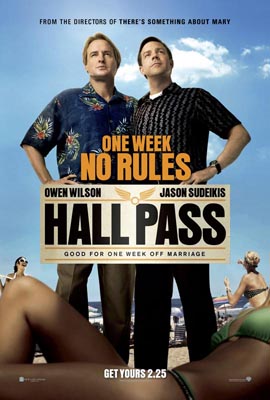 When I was in High School, getting a hall pass was like a gift from above. You could roam the halls, do anything you wanted and you felt like a king for a brief moment. If someone of authority came up to you questioning what you were up to, you just flashed your golden ticket and you were free.
So, imagine you're married and your wife decides to give you a hall pass. One week off from marriage. You're free to do anything you want!
That's the premise for the Farrelly Brothers new movie, Hall Pass. Starring Owen Wilson, Jason Sudeikis, Jenna Fischer, Christina Applegate, Stephen Merchant and the great Richard Jenkins, the movie is at times incredibly hilarious and unfortunately, incredibly slow.
The funny parts, I won't go into *cough* masturbating in cars, naked guys in jacuzzi's *cough* so please don't even ask me because I won't tell you.
The only problem I had with the movie were the scenes with the wives. Jenna Fischer and Christina Applegate are two great comedic actresses but they were wasted here. Most of their scenes are slow and grind the film to a halt. After they give the guys their hall pass, they realize they have one as well. Their story is almost from another movie and I wish it weren't the case.
But, don't let that stop you from seeing the film. Sudeikis and Wilson bring it and bring it hard. And they easily get an assist with Stephen Merchant, J.B. Smooth and Larry Joe Campbell as their 'wing-men.' Add in Richard Jenkins as their booty-guru and you can't miss.
And if you really want to laugh, do not miss the end credits. Stephen Merchant has about 3 minutes of screen time you wont want to miss. At some point, someone is going to have to give him his own movie.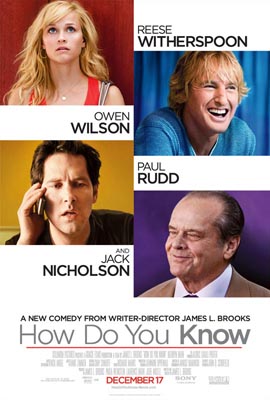 How Do You Know: Feeling a bit past her prime at 27, former athlete Lisa Jorgenson finds herself in the middle of a love triangle, as a corporate guy in crisis competes with Lisa's current, baseball-playing beau.
Director: James L. Brooks

Cast: Reese Witherspoon, Owen Wilson, Paul Rudd, Jack Nicholson
In theaters: December 17th, 2010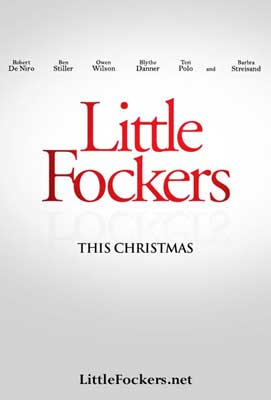 Little Fockers: It has taken 10 years, two little Fockers and countless hurdles for Greg to finally get "in" with his tightly wound father-in-law, Jack. After the cash-strapped dad takes a job moonlighting for a drug company, however, Jack's suspicions about his favorite male nurse come roaring back. When Greg and Pam's entire clan—including Pam's lovelorn ex, Kevin (Owen Wilson)—descends for the twins' birthday party, Greg must prove to the skeptical Jack that he's fully capable as the man of the house. (from apple.trailers.com)
Director: Paul Weitz
Cast: Robert De Niro, Ben Stiller, Owen Wilson, Blythe Danner, Jessica Alba, Laura Dern, Harvey Keitel, Teri Polo, Barbra Streisand
View the trailer after the jump