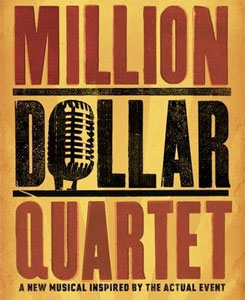 MILLION DOLLAR QUARTET, the hit musical with productions in New York, Chicago and touring across North America, is launching a national casting search seeking musicians/actors for the roles of Elvis Presley, Johnny Cash, Jerry Lee Lewis, and Carl Perkins for future replacements and understudies for the Chicago and touring productions.
Open casting calls will be held in the following cities:
LAS VEGAS, NV – Thursday, June 14 (11 AM – 3 PM) at BackStage Dance Studio II (3425 BackStage Blvd).
LOS ANGELES, CA – Sunday, June 24 (11 AM – 3 PM) at Screenland Studios (10501 Burbank Blvd in North Hollywood).
AUSTIN, TX – Wednesday, June 27 (11 AM – 3 PM) at the Long Center for the Performing Arts (701 West Riverside Drive).
Candidates should prepare a song that was made famous by one of the four members of the MILLION DOLLAR QUARTET and they must be able to accompany themselves on acoustic guitar, electric guitar, or piano. Acting experience is not essential, but candidates must be able to convincingly portray the characters. Candidates for Elvis Presley, Johnny Cash, or Carl Perkins should bring their own guitar (acoustic or electric). A piano will be on site for anyone auditioning for the role of Jerry Lee Lewis. Read more
Casting Directors, Filmmakers, Theaters, etc -
please contact me if you'd like your project, workshop, show or event listed.
There is a small fee.
Lance@dailyactor.com