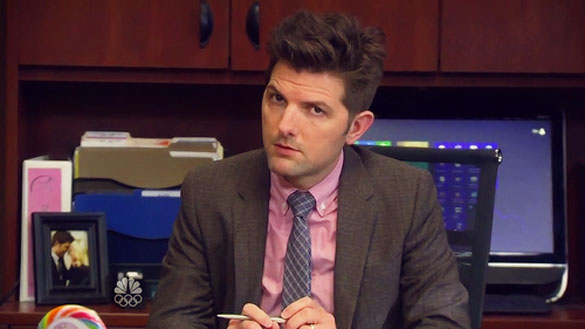 Adam Scott has enjoyed his time on NBC's sitcom Parks and Recreation, but this season he is taking it to the next level by directing one of the episodes. The 40-year-old actor talked to Vulture about going behind the camera when his character, Ben Wyatt, had a lot to do on-camera.
He talked about how the directing opportunity came up with the show. Read more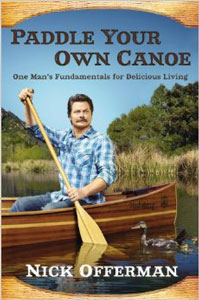 One of the funniest character actors working today is Parks and Recreation star Nick Offerman. Fans of his work will be able to enjoy more of his comedy beginning Oct. 1 when his hilarious memoir Paddle Your Own Canoe: One Man's Fundamentals for Delicious Living is released.
The 43-year-old comedian talked with USA Today about his NBC sitcom, his new book and how he approached the writing process.
On the hit sitcom, Offerman plays the deadpan Ron Swanson, the director of parks and recreation department in Pawnee, Indiana. His interaction with Amy Poehler's character, Leslie Knope, is the center of the show's comedy.
He talked about how easy it was for him to get into the Swanson character.
"Oh, nothing particularly illuminating. I don't eat a pound of bacon or drink a big glass of scotch. I spend some time in the makeup chair and it actually takes quite a while from the very talented Helena to fashion my coif edifice we call the full deuce," Offerman joked. "Other than that, the writing on the show is so good that all I have to do is learn my lines." Read more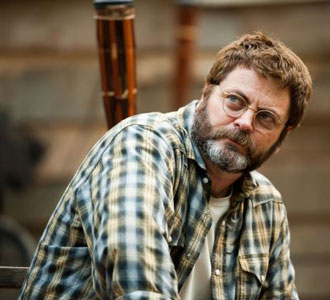 Nick Offerman is living the good life as an actor—taking on meaningful projects and enjoying fame on a network sitcom.  He recognizes he's fortunate to keep getting a chance to appear on NBC's Parks and Recreation.
"When we come back every fall, we feel so lucky," he said in an interview with Dispatch.  "We're in this interesting time when we're experiencing the conundrum of the death of the Nielsen rating system.  One of the reasons we stick around, which doesn't get a lot of publicity, is that the television business doesn't want the world to find out that ratings no longer have any accuracy at all.  We have this huge, rabid audience of young people.  Really, everybody from age 30 down is watching the show on their computer, and the networks have not yet figured out how to monetize that." Read more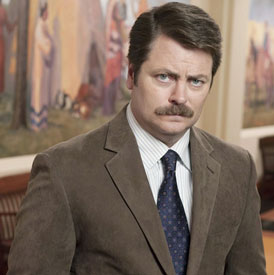 Nick Offerman made a career appearing in small roles in sitcom to sitcom for about a decade before gaining steam in the late 2000s, which eventually led to his starring role on the NBC sitcom Parks and Recreation.  He is now a unique comedic element of thee show that has led to roles in both comedic and dramatic films.  In a conversation with The New York Times, Offerman speaks about his late-blooming career
Offerman has become known for his deadpan delivery on Parks and Recreation.  He explains that he developed this comedic approach because he didn't think he could equal the crazy energy of other comedians.  He says, "Something about stentorian authority figures has always made me laugh. I also noticed that lots of the performers I was working with had a big, obnoxious energy that I quickly realized I could never match — and that when they finally finished being loud, with one well-placed remark I could also achieve some sort of comic victory." Read more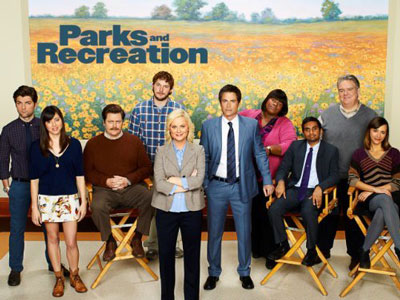 If you're like me and can't wait for the upcoming season of Parks and Recreation, then these bloopers from Season 4 are just what you need to satisfy you till the September 20th premiere.
The entire cast is featured, including an introduction of the clips from town newsman, Perd Hapley. You can never go wrong with Perd!
Check them out below!  Read more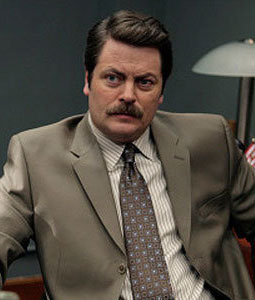 At first glance, one wouldn't expect macho-looking actor Nick Offerman to care about being polite.  But the star of NBC's Parks and Recreation attributes his niceness to getting ahead in the industry.
In an interview with GQ, Offerman was happy to share some rules he thinks will help people in Hollywood.  "I would say, first of all, be prepared.  I can't say enough about that.  Right now I'm traveling in New York City, but I still have my Swiss army knife on me.  I grew up among farmers in Illinois and so you always have to have the tools you might need in the eventuality of a flat tire or a broken window. In the traditional role of man, it falls to you to keep the weather out and fish in the boat," he said.
"Two: be polite. Good manners have gotten me as far as anything else in this business. The first film I did, Chain Reaction, was with Keanu Reeves and Morgan Freeman.  I had some really nice scenes as Keanu's building super, which were then completely cut from the film.  Anyway, at the end of my day on set, I hung up my costume in the trailer, and the wardrobe assistant came to pick it up.  I said something involving please and thank you.  She stopped, put her hands on her heart, and said, 'Can I just say thank you so much for treating me like that, and for hanging up your clothes?'  I said, 'Are you kidding me?'  And it quickly became clear, as I continued working, that having manners was equivalent to a superpower in the business." Read more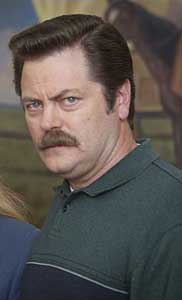 How did Parks and Recreation breakout star Nick Offerman rise to the top of the sitcom world? As he explained in a recent Playboy interview, by trying to look as ugly as possible, of course.
"I want and like to stand out, because when I got into the business, I quickly saw that the majority of people striving to get ahead were trying to be as good-looking or as cute as possible. I was like, Man, what a drag, especially in L.A., where so many people get paid just to be good-looking. It seemed smarter to go in the opposite direction. There's always room for the freak," said the unique Offerman, who plays a libertarian government employee on the hit NBC series and shares a real-life love of hunting and woodworking with his character.
He's unparalleled even in his own family. "My family is so nice, and their list of vocations — schoolteacher, paramedic and a bunch of farmers — shows how solid they are. Any layman would have a difficult time understanding what could be hard about a job like acting and what makes 12-hour days exhausting," offered Offerman, the only actor in his family. "I remember at one point, to sort of break away from my conservative family upbringing, I was nude in a play. I had to show my genitals to an audience, get tattoos and prove to myself that I was a cutting-edge artist. But it played its part. Acting should be approached fearlessly."  Read more
Before he was cast as anti-government, mid-level city employee Ron Swanson on Parks and Recreation, Nick Offerman's career was just how Swanson prefers his: unnoticed and unassuming.
Until a couple of years ago, the 41-year-old earned his keep as a journeyman actor in Los Angeles and Chicago, never aspiring for more and always leaving time for his woodworking – again, just how Swanson makes it through life.
"I'd been making a really nice living for about 10 years here in L.A. I always felt successful just doing that… I wasn't well known in the public, but I was a dependable working journeyman," he told The Hollywood Reporter in a recent interview.
"I was working more than all the people I knew from college and my Chicago theater community, so I didn't notice that I wasn't 'successful' enough. When I got my job on Parks, it was so dreamy, kind of unfathomable. I didn't think a job that excellent could exist for me."  Read more
Podcast: Play in new window | Download (Duration: 27:38 — 19.0MB)
After what I thought was a sluggish first season, NBC's Parks and Recreation has now become one of my favorite TV shows thanks in no small part to Nick Offerman.
In one of the funniest conference calls I've ever been a part, I talked to Nick and Co-creator Michael Schur about the show and the upcoming season. When asked what he loved about his character, Nick said that he loves everything about it. "Every time I'm handed a new script," he says, "I feel like a largemouth bass at a nightcrawler convention."
After giving my condolences for Lil Sebastian (which they greatly appreciated), Nick talked about his preparation, what makes Swanson so loveable and his penchant for 'the ballet.'
If you love the show and want some serious laughs, listening to the full audio interview is a must!
Click the audio link above or download from iTunes
Parks and Recreation premieres on Thursday, September 22 at 8:30/7:30c
First of all, I just wanted to say, rest in peace Lil Sebastian.
Michael Schur: Amen.
Nick Offerman: Amen.
Nick, how do you prepare for a scene because you're so freaking hilarious and I'm sure what you kind of disregard as not good enough in your preparations is like my idea of perfection?
Nick Offerman: Well, I'm still in a moment of silence for little Sebastian. Just a second. All right, I'm ready. I – you know, I think – I don't know. I don't think I'm particularly special. I think that I'm just so lucky that my writing is so good that my main focus is to stay out of the way of the writing. If I had a bad tendency it would be to add something hilarious.
Maybe, what if I make a really funny face when I look at this poster of breakfast food and then I say, it's clobbering time. And then I think, no, you know what, I'm just going to do what they've given me. And so, you know, if there's a lesson to be had for the readers of the DailyActor.com it's stay out of the way of the script. Don't have the ego to think you need to add a little dash of Nick. Trust the great writing. Whether it's (Checkoff) or Mike Schur.   Read more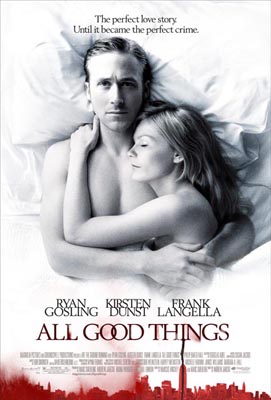 All Good Things: Inspired by the most notorious missing person's case in New York history, ALL GOOD THINGS is a love story and murder mystery set against the backdrop of a New York real estate dynasty in the 1980s. Produced and directed by Andrew Jarecki (director of the Academy Award-nominated doc Capturing the Friedmans and producer of Catfish), the film was inspired by the story of Robert Durst, scion of the wealthy Durst family. Mr. Durst was suspected but never tried for killing his wife Kathie who disappeared in 1982 and was never found. From trailers.apple.com
Director: Andrew Jarecki
Cast: Ryan Gosling, Kirsten Dunst, Frank Langella, Lily Rabe, Philip Baker Hall, Nick Offerman, Kristin Wiig