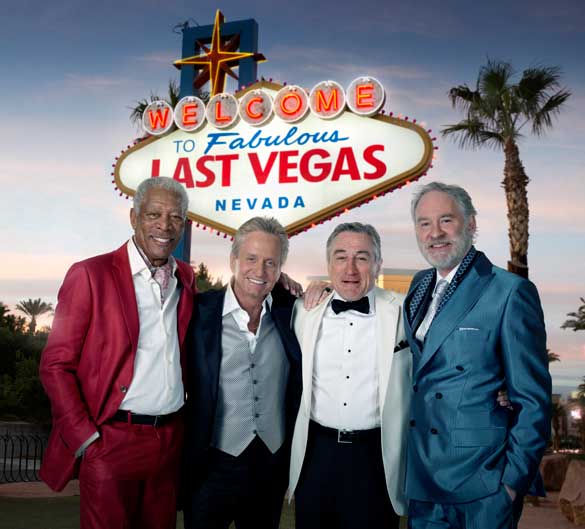 Last Vegas: Billy (Academy Award®-winner Michael Douglas), Paddy (Academy Award®-winner Robert De Niro), Archie (Academy Award®-winner Morgan Freeman) and Sam (Academy Award®-winner Kevin Kline) have been best friends since childhood. So when Billy, the group's sworn bachelor, finally proposes to his thirty-something (of course) girlfriend, the four head to Las Vegas with a plan to stop acting their age and relive their glory days. However, upon arriving, the four quickly realize that the decades have transformed Sin City and tested their friendship in ways they never imagined. The Rat Pack may have once played the Sands and Cirque du Soleil may now rule the Strip, but it's these four who are taking over Vegas.
Directed by Jon Turteltaub
Written by Dan Fogelman
Starring Michael Douglas, Robert De Niro, Morgan Freeman & Kevin Kline
In Theaters: November 1st Read more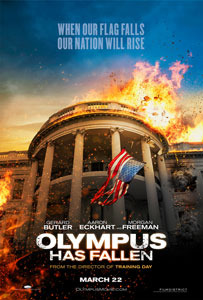 Olympus Has Fallen: When the White House (Secret Service Code: "Olympus") is captured by a terrorist mastermind and the President is kidnapped, disgraced former Presidential guard Mike Banning finds himself trapped within the building. As our national security team scrambles to respond, they are forced to rely on Banning's inside knowledge to help retake the White House, save the President, and avert an even bigger disaster.
Director: Antoine Fuqua
Cast: Gerard Butler, Aaron Eckhart, Morgan Freeman, Angela Bassett, Dylan McDermott, Ashley Judd, Melissa Leo, Rick Yune
Writers: Creighton Rothenberger, Katrin Benedikt Read more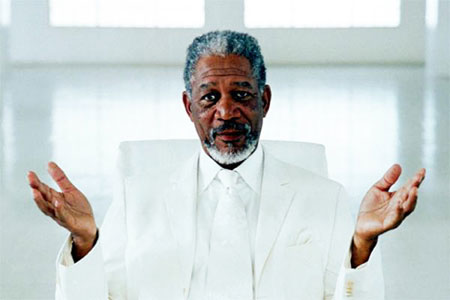 When all else fails, the only thing left to do is… stalk Morgan Freeman?
Canadian college student Ian MacDougall seems to think so.
In April of 2012, MacDougall discovered that he lost a year's worth of editing on his project for a film class at Simon Fraser University in British Columbia because of a hard drive crash.  Even worse, this happened a week before the project was set to screen.  In a panic, MacDougall decided to instead go with a rejected project once thought up by friend MacKenzie Warner: to make a documentary about trying to get Morgan Freeman to narrate their documentary, which would be about… trying to get Morgan Freeman to narrate their documentary, of course.  Read more
Here is the first photo of the cast of Last Vegas, the new film starring Michael Douglas, Robert De Niro, Morgan Freeman and Kevin Kline. The film comes out Christmas 2013.  2013??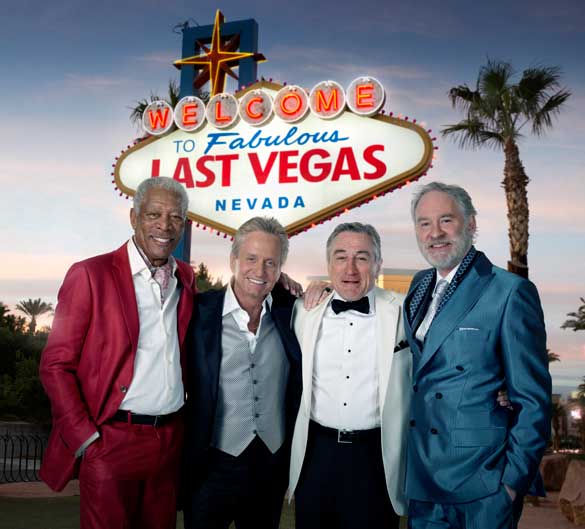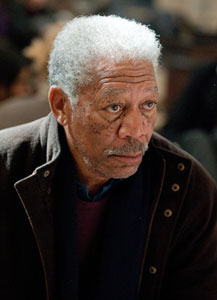 Morgan Freeman won an Academy Award® for Best Supporting Actor for his role in Clint Eastwood's Million Dollar Baby, for which he also won a Screen Actors Guild (SAG) Award® and received a Golden Globe nomination.
In 2009, he reunited with Eastwood to star in the director's true-life drama Invictus, on which Freeman also served as an executive producer under his Revelations Entertainment banner. For his portrayal of Nelson Mandela in the film, Freeman garnered Oscar®, Golden Globe and Critics' Choice Award nominations, and won the National Board of Review Award for Best Actor.
Freeman has been honored with three additional Oscar® nominations, the first for his chilling performance in the 1987 drama Street Smart, which also brought him Los Angeles Film Critics, New York Film Critics, and National Society of Film Critics Awards, and an Independent Spirit Award for Best Supporting Actor, as well as his first Golden Globe Award nomination. He earned his second Oscar® nomination and won Golden Globe and National Board of Review Awards for Best Actor for the 1989 film Driving Miss Daisy, in which he recreated his award-winning off-Broadway role. He gained his third Oscar® nod, as well as Golden Globe and SAG Award® nominations, for his performance in Frank Darabont's 1994 drama The Shawshank Redemption. Among his many other accolades, Freeman was named a Kennedy Center Honoree in 2008, and, in 2011, was honored with the 39th AFI Lifetime Achievement Award, and the Cecil B. DeMille Award at the Golden Globe Awards. Read more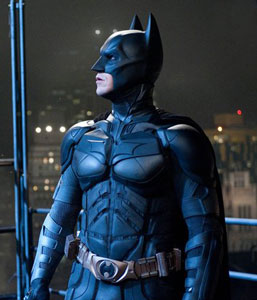 The latest trailer for The Dark Knight Rises was released last night and it looks appropriately moody, dark and I, for one, can't wait to see it.
The Dark Knight Rises: As Batman deals with his new status as a wanted vigilante, he must also contend with two new enemies, Bane and Catwoman.
Director: Christopher Nolan
Cast: Christian Bale, Michael Caine, Gary Oldman, Morgan Freeman, Anne Hathaway, Joseph Gordon-Levitt
In Theaters: July 20th Read more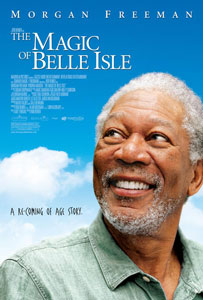 The Magic of Belle Isle: Reuniting with his director from the hit film, The Bucket List, Morgan Freeman plays Monte Wildhorn, a famous Western novelist whose struggle with alcoholism has sapped his passion for writing. He takes a lakeside cabin for the summer in picturesque Belle Isle, and befriends the family next door–an attractive single mom (Virginia Madsen) and her young daughters–who help him find inspiration again.
Director: Rob Reiner
Cast: Morgan Freeman, Virginia Madsen, Kenan Thompson, Fred Willard, Madeline Carroll
Writers: Rob Reiner, Guy Thomas
In theaters: July 6th Read more
Tonight, Hollywood will honor the best in the business at the 69th Annual Golden Globe Awards.  One of film's most esteemed actors, Morgan Freeman, is receiving the Cecil B. DeMille Lifetime Achievement Award. 
At 74 years old, Freeman still believes he has a lot left to do.
In an interview with USA Today, Freeman says, "I'm getting a lot of end-of-the-career awards, that lifetime achievement stuff.  I'm beginning to feel like I'm being told, 'OK, time to hang up your cleats and sit down.'  Once you start getting them, it's like, 'What do you—what?! What is this lifetime achievement?  Have I done it already?  There's no more achieving for you?'  You just ask, you know.  You have to get up when they give these things to you and say, 'Now, wait a minute; I don't consider myself done yet.'"
In fact, Freeman is busier than ever.  His career dates back to the 70s and includes star-making performances in Shawshank Redemption, Driving Miss Daisy, and his brave undertaking of the role of God in Bruce Almighty and Evan Almighty.  He's been nominated for four Academy Awards, and won best supporting actor in 2004 for Million Dollar Baby.  His next project is The Dark Knight Rises, the much-anticipated third and last film in Christopher Nolan's Batman series.  Read more
Forbes Magazine always likes to put together all kinds of "most successful" lists.  Of course, Forbes' latest list, which is supposed to list the Hardest Working Actors in Show Business, has interesting criteria.  "To come up with our list we looked at all movies that earned more than $20 million since 2007″ and picked the actors who have appeared in the most $20 million+ grossing films since (not counting animated films). 
Some of the choices are the usual suspects, but there are also some surprises.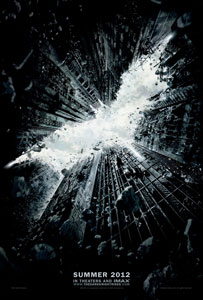 The Dark Knight Rises: As Batman deals with his new status as a wanted vigilante, Dr. Hugo Strange, a villainous psychiatrist, concocts a plan to destroy him and become the new Batman.
Director: Christopher Nolan
Cast: Christian Bale, Morgan Freeman, Tom Hardy, Anne Hathaway, Michael Caine, Gary Oldman