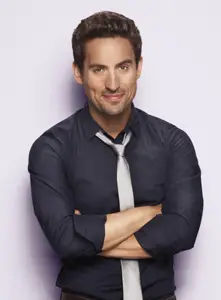 Ed Weeks has had the opportunity to grow along with his character, ladies' man Dr. Jeremy Reed, on FOX's The Mindy Project.  But before his audition, Weeks wasn't sure he would be able to land the part on Mindy Kaling's sitcom.
"The part of Jeremy was initially written as a 'Bradley Cooper' type,' in quotes," he said in an interview with Vulture.  "So I was kind of preparing my American accent, which I'd been going into my previous auditions with.  And my roommate Maria, who I was practicing it with, said, 'Mmm, your American accent is fine, but maybe just go in as yourself because this character would work so much better in your accent.'  It had that caddish, Hugh Grant kind of air.  So I went, 'Well, sod it, I haven't had very much luck thus far over-preparing, so I'll trust my gut. Read more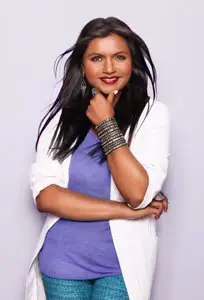 Mindy Kaling's The Mindy Project is back on the air tonight and Thursday and to get the word out, she did a press call to chat about the show.
I'm a big fan of Mindy's and talking to her is always a treat. She seems to work non-stop and has a bunch of projects in the works. In fact, the day after The Mindy Project wrapped, she was back at her laptop working on a follow up to her debut book, Is Everyone Hanging Out Without Me? (And Other Concerns).
In the interview, she talks about the show, working with guest star Seth Rogen, where her inspiration came from, The Office finale and how a picture of Liz Lemon (Tina Fey) ended up in The Mindy Project.
The Mindy Project airs at 9:30 on Tuesday (and Thursday) on FOX
You have such a great dynamic with all of the cast on the show, but you have a cuter dynamic sometimes with your brother Rishi.  Is that based on your real experiences of your family?
Mindy Kaling: Well, I have an older brother who is very different than the character Rishi on the show, but I just love Utkarsh who plays the character.  I have a very like, we immediately slipped into like a very big sister/little brother relationship with him and I like how his character…he just always calls me "woman."  He's like, "Woman, what are you doing?" which I find very funny and appealing. Read more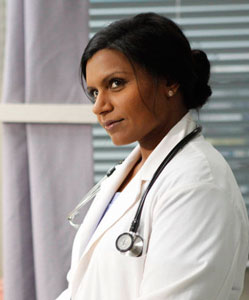 Mindy Kaling is the first one to admit that she doesn't really know how to handle her success.
"I don't know how to process enjoyment, it's like a personality defect," she said in an interview with The Guardian.  But it looks like she'll have to learn how, considering what a hit her show, The Mindy Project, has turned out to be.  Although the comedy didn't have stellar ratings when it started, it's already been picked up for a second season on FOX. 
Kaling works as the writer, producer, director, and star of the show—but she's not letting her achievements go to her head.  "I get the sense that when you revel in something you make yourself vulnerable to attack or criticism," she said.  "Sitting back in an overstuffed leather chair and saying, 'Life is great!'  That's kind of gross.  I just keep my head down." Read more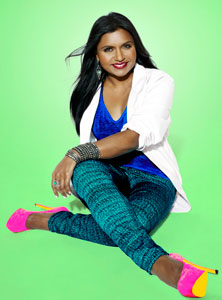 Mindy Kaling's new FOX comedy, The Mindy Project, about a OB/GYN who is "navigating the tricky waters of both her personal and professional life", just got a welcomed full season pickup. Kaling, I think, is someone who has an original comedic voice so the pickup is pretty great news. The cast, featuring Chris Messina and Stephen Tobolowsky, is fantastic and the series has so much potential that it's good to see that FOX is giving it a shot. After all, The Office didn't catch fire until its second season.

Mindy got her start in 2003when she co-wrote the play, Matt & Ben. The play became a huge hit off-Broadway and was named one of Time Magazine's "Top Ten Theatrical Events of The Year". Following that, she appeared in an episode of Larry David's Curb Your Enthusiasm and the film, The 40-Year-Old Virgin with Steve Carell. Soon after, she landed the combo punch of writer/actor in The Office, the show she left to create, The Mindy Project.
Mindy recently joined in on a conference call where she talked about her many hats (star, executive producer, writer and creator), what a typical day is like for her and how she misses live theater.
The Mindy Project airs on Tuesdays on FOX  Read more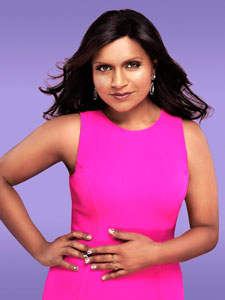 Mindy Kaling has become the It-girl for comedy writing in television.  Now that her show, The Mindy Project (which she created, stars in, writes for, and executive produces) has aired, it's no wonder the girl is busy.
"Now that I'm in Hollywood, I have many friends who run their own shows, and one of the personality traits at a party—being overwhelmed by being a show-runner on a show—is just something people adopt," Kaling told NPR.  "And one thing my mom and dad raised me believing is that everyone is busy, so it's not really a good conversation topic to talk about how busy you are.  And it's a little narcissistic, in fact, to talk about that, because everyone is stressed out no matter what job you're in.  Nobody is like, 'Yeah, I'm doing really well—work is just a total snooze and so easy.'" Read more
FOX has 5 new scripted shows coming this fall: The Following, The Mindy Project, The Goodwin Games, Ben & Kate and The Mob Doctor.

I put all of the trailers in order of my favorites. The Following stars Kevin Bacon and looks pretty damn good. The Mindy Project with Mindy Kaling is a show that I'll definitely try out.
Check them all out below! Read more
Mindy Kaling is a quadruple threat to be reckoned with.
Kaling is an actor, producer, writer and director on the critically acclaimed and Emmy Award-winning NBC show The Office. Additionally, she is a New York Times best-selling author and has recently written a pilot for FOX, which she will star in, write and executive produce.
Kaling can currently be seen on the eighth season of The Office, where she stars as Kelly Kapoor. She has written more than 18 episodes for the show, including Niagara, for which she received an Emmy nomination.
She has also ventured into directing and was recently named an executive producer of The Office. In 2009, she debuted as a director with the episode Subtle Sexuality.
In early 2004, Kaling was hired as a writer and performer for the American version of The Office. At first, executive producer Greg Daniels wasn't sure where to use her on screen in the series, until a point in the episode Diversity Day required Steve Carell's insensitive character, Michael Scott, to be slapped by a minority character. In a 2007 interview with The A.V. Club, Kaling stated that the Kelly character is "an exaggerated version of what I think the upper-level writers believe my personality is." Read more