Podcast: Play in new window | Download (Duration: 23:36 — 16.3MB)
Twilight: Breaking Dawn Part 2 opens in theaters this weekend, and by all accounts, this film is the best of the bunch.
I talked with Maggie Grace and Mia Maestro, who star in the film as part of the Denali Clan, and they both told me that they can't wait for the fans to see it. "It's a much more grownup film," Maggie told me. "It stands out from the others in terms of theme. It's more about community and the community banding together."
They also talked about much they loved working with Director Bill Condon. "He's a fantastic actor's director," Maggie told me.  With Mia adding that "he even added a special surprise at the end for fans. It's a really moving gesture that he gave all the actors and all the fans and he gave to the saga."
I really enjoyed talking to these two; they were so warm and nice. We talked about Twilight, working with Michael Sheen and those hand-painted contacts they had to wear during filming. We also talked about acting; Maggie tells a great story about watching Liam Neeson on Inside the Actors Studio and we end the interview with a one of the best conversations I've had about auditioning.
Check it out below and don't forget to catch Twilight: Breaking Dawn Part 2! 
For the full interview, click the audio link above or download it from iTunes
These days it seems like indie actress Lizzy Caplan is popping up everywhere, from her new movie, Bachelorette, to a guest stint on New Girl.  The actress also has two upcoming projects: the film 3,2,1…Frankie Go Boom and the TV series, Masters of Sex.
Caplan admits she was drawn to Frankie because "I needed a job!  That was definitely part of it."  But the paycheck wasn't the only reason she wanted to do another indie.  She also added, "I read the script and really fell in love with it and really wanted to go after it because I thought it was so strange and yet so funny.  Just real laughs when reading a script are difficult to come by.  And I also thought it would be a very challenging character because even though for the second half of the movie she's pretty straight and sweet, those first early scenes, I knew would be something that would terrify me right before he yelled 'Action.'  And that's the kind of stuff I seek out." Read more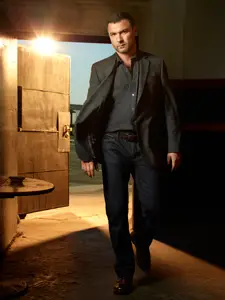 Showtime has picked up two new series, Ray Donovan and Masters of Sex, that will start to air in 2013.
Ray Donovan, a one-hour drama starring Emmy® and Golden Globe® Award nominee Liev Schreiber, and Masters of Sex, a one-hour drama starring Emmy and BAFTA Award nominee Michael Sheen and Lizzy Caplan, have both received 12 episode orders and will both film in Los Angeles for air in 2013. Read more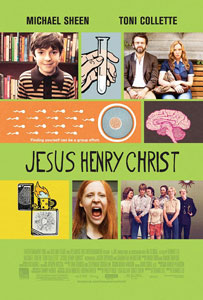 Jesus Henry Christ: Precocious doesn't even begin to describe Henry James Herman, a petri dish child who writes rabble-rousing manifestos on the nature of truth… at age 10. This boy-genius misfit's world turns upside down when–to the dismay of the doting single mother who raised him–he embarks on a search for his biological father.
Director: Dennis Lee
Cast: Toni Collette, Michael Sheen, Jason Spevack, Samantha Weinstein
In theaters: April 20th Read more
Michael Sheen — the often praised star of Frost/Nixon and Midnight in Paris, and also known as the best Tony Blair out there (he's appeared as Blair three times, including in The Queen) — is one of those actors who has a long list of impressive credits but is far from a household name. 
It's an interesting dynamic that Sheen admits he is fascinated by in an interview with The Guardian, although he does confess a certain desire to have a bit more fame than he does now.  Or does he?
Sheen, though highly praised for his acting abilities, actually claims that he is "increasingly repulsed by acting."  What does he mean by that remark?  He can't stand it when he sees himself deliberately acting.  He clarifies, "I mean 'ac-ting' as opposed to reacting. The first time you watch yourself on screen you think, oh my God, is that really what I look like, is that really what I was doing? And I pushed myself to get through that, to be able to watch it as objectively as I can, so I can learn from it. And the more I've done that, the bits that repulse me the least are the ones where it doesn't appear like I'm trying to do anything. I'm not having an idea. Otherwise I'll watch it and I'll think, I remember I had an idea about that bit – and now I'm watching it, all I can see is me having an idea. I'm not connected to what's going on, it's just not happening.  There's a time for ideas, but it's earlier on. You have the ideas, you put them all in a pot, and at a certain point you have to forget about them all, and the ones that stick on the whole work, and the ones that don't you have to let go of – and it doesn't matter how fantastic an idea you think it is, you just have to let go of it. And then slowly, hopefully, it becomes a very fluid thing. And when I watch myself now I can tell the difference between things that have that quality, and things that don't. And the things that don't, I call acting. And I've become more and more repulsed by that."   Read more
As an actor, Michael Sheen has played a variety of interesting and varied characters: he has portrayed a pompous Brit on the sitcom "30 Rock" and made 3 films playing the former British Prime Minister Tony Blair.  But it would be Sheen's biographical portraits he is best known for: Mozart in a stage version of "Amadeus,"  journalist David Frost in "Frost/Nixon" and controversial soccer coach Brian Clough in "The Damned United".
In Woody Allen's latest film "Midnight in Paris," which opens Friday, Sheen plays a self-important scholar who spouts facts – at times inaccurately – about Rodin and Monet. In stark contrast, Sheen takes a dark turn in "Beautiful Boy", a film that opens June 3  in which he plays the father of a college student who goes on a killing spree.
The 42-year-old Welsh actor grew up in Port Talbot, Wales, the childhood home of Richard Burton and Anthony Hopkins. He says while he works steadily, he is not inundated with scripts. "Often I'm booked up in advance, so it's pointless to read them. But, certainly in America, I think people are unsure how to cast me because I haven't branded myself. I don't just play the bad guy or play British. I don't think I'm necessarily the person that first comes to mind for any character in particular, and that's a dangerous thing career-wise to do, but I enjoy metamorphosis and not being obvious. That's allowed me more variety."
Read more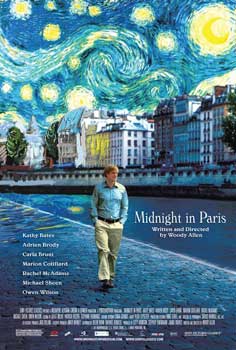 Midnight in Paris: A romantic comedy set in Paris about a family that goes there because of business, and two young people who are engaged to be married in the fall have experiences there that change their lives. It's about a young man's great love for a city, Paris, and the illusion people have that a life different from theirs would be much better. from trailers.apple.com
Director: Woody Allen

Cast: Kathy Bates, Adrien Brody, Carla Bruni, Marion Cotillard, Rachel McAdams, Michael Sheen, Owen Wilson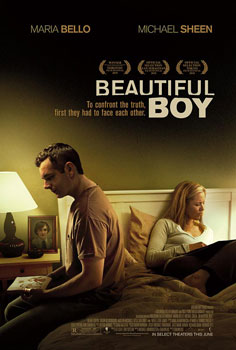 Beautiful Boy: An unconventional love story that explores the journey of a married couple on the verge of separation, who must live with unimaginable heartbreak, and find healing through the darkest days of their lives. Bill (Michael Sheen) and Kate (Maria Bello) hopelessly try to find some hint of an explanation after finding out that their only son committed a mass shooting at his university before taking his own life. They struggle numbly through the funeral, the media onslaught, and the awkward pity from relatives and friends. Their already strained marriage is tested as they realize all they have left with each other is their shared grief and confusion-and the unfortunate legacy of their son. This life-altering event forces Bill and Kate to face their feelings of guilt, rage, blame, self-discovery – and ultimately hope – so that they can finally see each other and their chance for happiness again with clear eyes.
Director: Shawn Ku
Cast: Michael Sheen, Maria Bello, Kyle Gallner, Alan Tudyk, Moon Bloodgood, Austin Nichols
Writers: Shawn Ku, Michael Armbruster
Michael Sheen is starring in the UK film, The Damned United about legendary, opinionated football manager Brian Clough, with Timothy Spall as his right hand man, only friend, and crutch Peter Taylor.
The normally reserved Sheen transforms so convincingly into the late soccer firebrand Brian Clough, a man fans loved to hate, it's almost as if another actor were standing in for him.
But it's all Sheen, best known on these shores as the dapper actor who played Tony Blair in The Queen and David Frost in Frost/Nixon, two roles he also aced. Clough is his first major sports figure, whom Sheen depicts during 44 tumultuous days in '74 when he was the outspoken and ultimately turfed coach of Leeds United Football Club.
"It's just a case of osmosis," Blair, 40, said last week during the Toronto International Film Festival, where The Damned United had its North American premiere. It opens Friday.