I think just about any actor would love to pick the brain of Meryl Streep, who is widely recognized as one of the best actresses of all time. 
Benedict Cumberbatch admits that he approached Streep on the set of August: Osage County, which is due out later this year, to ask her about how she would approach a multi-layered character like his Star Trek Into Darkness villain John Harrison.  Unfortunately, Streep didn't have much advice for him — but as he tells New York magazine, that was oddly exactly what he was hoping for! Read more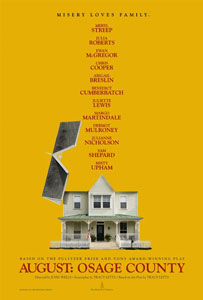 August Osage County: A look at the lives of the strong-willed women of the Weston family, whose paths have diverged until a family crisis brings them back to the Midwest house they grew up in, and to the dysfunctional woman who raised them.
Starring Meryl Streep, Julia Roberts, Margo Martindale, Sam Shepard, Chris Cooper, Benedict Cumberbatch, Ewan McGregor, Juliette Lewis, Abigail Breslin, Dermot Mulroney Read more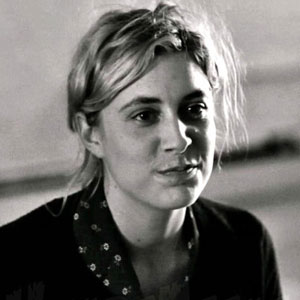 Most actors — no matter how successful — likely have played some role that they're not exactly proud of for various reasons.  Maybe it had to do the with the quality of the film, or they did something embarrassing in it, or maybe it was a commercial for an awkward product (nobody really wants to be the smelly person in a deodorant commercial, right?)  When it comes to indie star Greta Gerwig, she has gone through phases of regretting some of her past films — particularly when the offers weren't coming in.
Gerwig admits that she has changing perceptions on her past work, and some films she previously regretted she no longer does.  She explains, "I've never worked on anything that I haven't in some way enjoyed. I've gone through times where I regretted movies that I now don't regret. I was naked in lots of stuff for a while. And it was like, 'Why have I been naked in everything, and I'm a whore, and everybody thinks I'm a softcore porn star.' I was so ashamed. I remember going through all these like great actresses, like Cate Blanchett's never been naked, Meryl Streep's never been naked… Even when people would present me with like, 'Well, Kate Winslet was naked,' I was like, in a period piece! Now I don't feel ashamed of it. So much of it is based on where you are as a person." Read more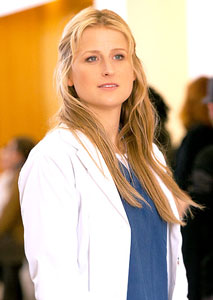 Mamie Gummer knows what it's like to be accused of getting parts just because she has a famous parent (her mom just happens to be Meryl Streep).  But Gummer notes that she wasn't given any special treatment in landing her new role in the CW series, Emily Owens, MD.
"For most people starting out, it's really tough," Gummer told USA Today.  "But it was the one thing I always loved to do.  Nothing can prepare you for the reality of the business side of it and what that life really entails.  I've seen it firsthand but my mom's experience, for as long as I've known her, has been pretty extraordinary.  She's had a lot of choices.  I don't think I could possibly be compared to her.  We look and sound alike.  But I can't get too hung up on that.  That would make anyone crazy." Read more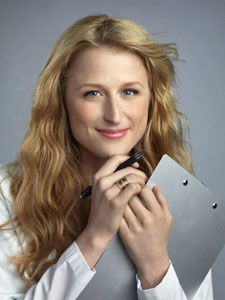 These days there's more to launching a new show than merely showing up for the premiere.  In the case of Mamie Gummer, star of The CW's new Emily Owens, MD, appearances at Fashion Week are also key.
"This whole idea of making appearances, it's become a business," Gummer told The New York Times.  "You're vying for people's focus and attention at a time when it seems anybody can get a little bit of fame."
Bumble Ward, Executive Vice President for Publicity at 20th Century Fox, admitted that being present in the fashion world is "all part of the game.  It's no longer, sadly, good enough to just be a brilliant actress.  It's not just about the movie, but what kind of double cuff is on your wrist." Read more
In recent years, Bradley Cooper has become one of Hollywood's most successful leading men. Despite this, there was a time when not getting work was a normal part of life for Cooper. Scott Huver with NBC 4 New York reported on Cooper's start in the industry, rejection, and subsequent success as an actor.
For many actors, auditioning, with no results, is a standard part of starting an acting career. In the beginning, it was no different for Cooper. "When I first started auditioning, I didn't realize – and I'm not even kidding – that you actually could book a job. I remember like after a week, I was hanging out with my friends and yeah, I got a couple callbacks. That was a very successful weekend because I always had another job." Read more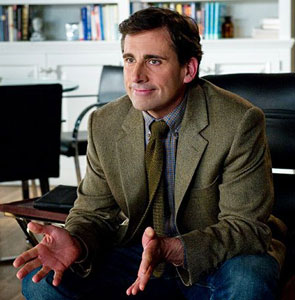 Although movies like The 40 Year Old Virgin are hilarious, I think Steve Carell is at his best in supporting roles.  In fact, in the Meryl Streep and Tommy Lee Jones movie Hope Springs about an aging couple that is looking to put the spark back into their relationship, Carell plays a more subdued role than usual as the couple's therapist. 
He speaks to MovieFone about working with the two respected veterans and why he sometimes chooses roles that are a bit out of his element.
When asked if he felt nervous acting with Oscar winners Meryl Streep and Tommy Lee Jones, Carell reveals that he was, but only at first.  He explains, "There was when I [first] read the script, but not actually in the execution. It was really just fun and exciting to be there with them. A lot of these scenes were sort of lengthy — they could be 8-10 minutes long — and [the director] David Frankel shot them uncut, so we went and would do the scene in its entirety. So that, to me, was fun and exciting, as well, to be able to do a little one-act play with these two. I guess I try not to be nervous, because I didn't want that to be reflected in what I was doing at all, because the character I was playing had to be very much in control and poised and confident and calm. So that's sort of where I tried to get my head." Read more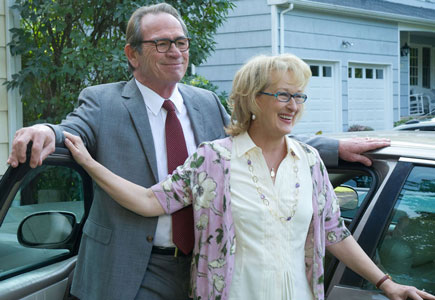 Tommy Lee Jones is known for playing some iconic roles with real bravado—the marshal in The Fugitive, Agent K in the Men in Black series—so his newest part in the marriage drama Hope Springs is a bit of a departure.
Jones told The Olathe News, "It seemed to be about real people: very common, widespread, with real difficulties: namely complacency, dedication to a day-in, day-out routine, deadened emotions.  Just the ordinary, miserable qualities of a normal person.  The originality was to discover how preposterous and funny that is.  I thought it might be a chance to make a real movie that would give people the opportunity to laugh at something that made them cry yesterday." Read more
To this day, the battle over gender equality continues to struggle on, even though women have come quite a long way. The workplace continues to be a place of inequality, whether intentional or unpremeditated.
Hollywood is no exception, as women are still paid far less, on average, than men. In addition, fewer female leading roles — and female roles, in general– are available at any given time. Truly, men still rule the town, the industry, and the end product, even if women are slowly creeping up into equal positions and pay.
Meryl Streep seems to have a strong opinion on the matter. At the annual Women In Film Crystal + Lucy Awards, Streep was highlighted as a speaker. Reuters reported on Streep's presence at the prestigious event. Read more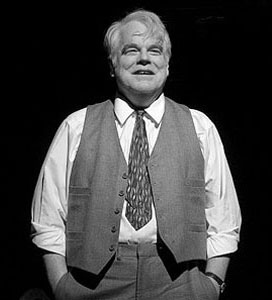 The cast of Death of a Salesman held a panel for Tony Award voters recently with none other than Meryl Streep moderating. The panel included the cast (Philip Seymour Hoffman, Andrew Garfield, Linda Emond) and Director Mike Nichols and while the press wasn't admitted, the New York Post's Michael Riedel dispatched some of his operatives to ferret out the happenings. 
You can read the article here, but the one thing I found interesting was a quote from Hoffman on playing Willy Loman.
Willy Loman takes over your life, he said. "You wake up, you're Willy Loman. You go to lunch, you're Willy Loman. You go to dinner, you're Willy Loman. You're Willy Loman all the time." Read more