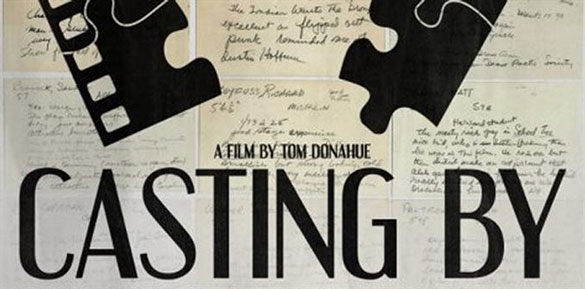 Casting By is a documentary by Tom Donahue that features Martin Scorsese, Woody Allen, Clint Eastwood, Glenn Close, Robert Duvall, Jeff Bridges, Al Pacino, Robert De Niro, Diane Lane, Jon Voight, Bette Midler and John Travolta all discussing Hollywood's unsung heroes – the casting director.
Synopsis: The doc is about the history and impact of the Hollywood Casting Director featuring the accomplishments of the "one-woman casting revolution" Marion Dougherty. One of the last of the true Hollywood originals, legendary casting director Marion Dougherty had a career in movies and television that spanned 50 years. Marion Dougherty's legacy, well-represented in over 100 motion pictures  and over 1000 television programs, brought to the screens, large and  small, the likes of Al Pacino, Glenn Close, Robert Redford, Dustin Hoffman, Gene Hackman, Richard Gere, Christopher Walken, Mel Gibson, Debra Winger, Robert Duvall, Diane Lane, Brooke Shields, Brendan Fraser, Martin Sheen and Bette Midler, and enduring, timeless movie unforgettables such as The Sting, Midnight Cowboy, Slaughterhouse-Five, Lenny, Pretty Baby, The Last  Picture Show, The Killing Fields, A Little Romance, The Great Gatsby, The Man Without A Face, Lethal Weapon and Batman.
HBO Documentary Films has just acquired U.S. rights to the film and plans to premiere it in the near future.  Read more
20-year-old Best Actress Oscar nominee, Jennifer Lawrence recalls growing up in Louisville, Kentucky, where her dad owned a construction company and her mom ran a summer camp.  Her family had land and horses, she loved to fish and was a total tomboy: field hockey, softball, basketball on an all-boys team. "I was so dykey," she says. The actress now lives in Los Angeles, but "little redneck things still come out, like I'm attracted to my brother. Stuff like that."
Lawrence was 14, when she admits she "dragged" her mom to New York for auditions, including one for the role of Bella in "Twilight". And she would have been perfect for the part, if Bella were a badass, instead of a frightened waif. She now views losing out on that part as a great thing, because the role she did get was in "Winter's Bone", a role she has received glowing reviews for : she is both harrowing and tender as the 17-year-old daughter of an Ozarks meth-cooker who's fighting to take care of her little brother and sister.
While prepping for the part, Lawrence learned how to shoot a gun and field-dress squirrels. She ­already knew how to chop wood: "I went through a wood-chopping phase when I was nine or 10." Has she been preparing an Oscar speech?  "I have been practicing my losing face."
To read more of this interview, go to: rollingstone.com
Screenwriter Benedict Fitzgerald has filed a lawsuit claiming he was screwed out of $10 million from the 2004 film ' The Passion of the Christ'.
According to Fitzgerald's court documents, Mel Gibson got the writer to accept a lower-than-normal fee to cowrite the film by insisting it was a very low-budget indie production and that Gibson himself would refrain from taking any revenue until he had properly compensated his crew.
Then it went on to become a blockbuster and gross $600 million. So now, Fitzgerald wants some 'Payback'.
Click here for the story