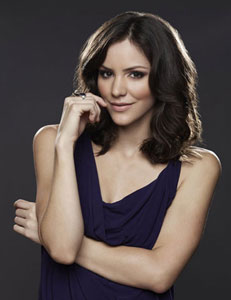 Katharine McPhee has had a rough start to her career after placing second on American Idol in 2007.  She was dropped from her record label only a year after being introduced to the public, and had only previously appeared in supporting roles in movies like The House Bunny and Shark Night. 
But all of that is about to change—McPhee is starring in a breakout role in NBC's Smash, set to premiere tonight.
The actress will play a young performer fighting to be cast as Marilyn Monroe in a Broadway production.  The type of show fits perfectly into McPhee's wheelhouse as a former musical theater student. 
In an interview with Reuters, McPhee said, "I have intentionally not pursued musical theater.  I toyed with the idea of doing some stage but over the years, there wasn't the right projects for me… In this part I get to live the best of both worlds.  I get to play a character who wants to live on stage.  It is pretty rare.  If someone had told me five years ago you will get to be on a show where you get to do it all, I'd have said, 'You are crazy!  It's not going to happen.'"  Read more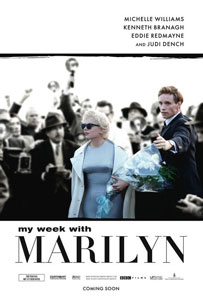 My Week With Marilyn: Colin Clark met Marilyn Monroe while working as a young assistant on Laurence Olivier's "The Prince and the Showgirl." When Marilyn experienced emotional difficulties during shooting, the 23-year-old third assistant director came to her aid and romance developed. But one week of honesty and fun was not enough to save the doomed star from self-destruction.
Starring: Michelle Williams, Eddie Redmayne, Kenneth Branagh, Julia Ormond, Dougray Scott, Judi Dench, Dominic Cooper, Emma Watson, Toby Jones
Directed by: Simon Curtis
In Theaters: November 4, 2011
Read more
For six seasons, she played the beautiful yet complicated Jen Lindley on Dawson's Creek. Flash forward t0 2011 and this teenager is now a woman in her thirties with many award nominations, including an Oscar nod for her turn as a lonely, trapped wife in Brokeback Mountain.
Now, after playing these deeply depressing characters, she is beginning to embrace her "new life," which can only come from growing up and understanding who she is. It doesn't hurt that she was chosen to play iconic sexpot/actress, Marilyn Monroe in the film My Week With Marilyn. But what hides underneath this willowy, Mia  Farrow-esque actress? "I think Nabokov once said that genius is finding the invisible link between things.  And that's how I choose to see life. Everything's connected, and everything has meaning if you look for it." 
The idea of playing such an iconic figure was daunting. "As soon as I finished the script, I knew that I wanted to do it, and then I spent six months trying to talk myself out of it," she says. "But I always knew that I never really had a choice. I've started to believe that you get the piece of material that you were ready for."
She's also intrigued by Monroe's way of being both an adult and a little girl, a dichotomy hard to genuinely find in this world. "I've always thought of her as that woman-child, not an icon, which is probably why I let myself approach the role."  Read more